Why is it that women are allowed to find others of their own sex attractive but, if us guys do it, it means that we're gay? Invariably when the wife & I are out & about, she's quick to point out sexy girls she finds particularly hot. However, should I do the same about some handsome fit bloke within earshot of anyone other than my missus, I get skewed glances from men & women alike as if to question my (not so) fragile sexuality!
Honestly, if I were the sexually insecure sort, I'm sure these blatant instances of reverse sexism would have more of a psychological impact than merely getting mildly on my nerves. But annoy me though it does, it's hard for me to resist passing the odd complimentary comment when I see such examples of masculine or feminine beauty. In fact, there's this one stunning young couple we know whose sheer fuckability is beyond compare and of whom I've never been shy about singing their sexual praises should the opportunity arise. She's a mere 23 and fit as fuck (albeit in a bit of a muso goth chick manner, which is fine by me) whilst he's a little older in his early 30's who, in addition to his rugged good looks, has got a nice big cock whose impressive length & girth are most certainly not lost on my wife. ;~)
Last time we saw them, Vix was lying in bed next to the boyfriend and, having successfully liberated his cock from their trouser prison, was casually playing with his penis whilst I occupied myself feeling up his girlfriend on the floor – you know, the one whom I'd ended up accidentally fucking (well, I suppose saying it was an "accidental fuck" is a bit o a misnomer since, later on when she bent over to blow her boyfriend – now bottomless on the bed with his massive mast of a cock at full erection and pointing straight toward the sky by virtue of Vix' helping hand – I came up from behind, took firm hold of this gorgeous girl's sweet little ass and fucked her again!).
The same sexy sentiments would apply to the following beautiful couple I'd encountered at First Time Fatties in a stunningly sexual celebration of young plumper love in bloom. She's a super cute chunky brunette light plumper named Juliette who's just this side of chubby with a voluptuous figure for those who like a woman of substance and ample 36DD breasts adorning her chest (which, although I don't consider them to be particularly large in light of some of the truly massive breasts I've blogged over on MyBoobSite, she's nonetheless a beautiful well-endowed woman in my book) and he's a slender blonde boy – well, actually a bit of a twink in misappropriated Polari parlance – quite reasonably well-endowed with a circumcised cock.
So if you're like myself in not being afraid to show your appreciation at the sublime multisexual sight of a sexy young couple coitally coupled in carnal consummation (or just fucking, if you must), you'll no doubt appreciate lovely DD-cup plumper Juliette and her blonde boyfriend in these hardcore photos & videos that come courtesy of FirstTimeFatties.com:
Juliette DD-cup busty plumper hardcore videos from Plumper Pass
Juliette DD-cup busty plumper hardcore videos from Plumper Pass
CLICK HERE FOR MORE OF JULIETTE AND HER BOYFRIEND AT FIRSTTIMEFATTIES.COM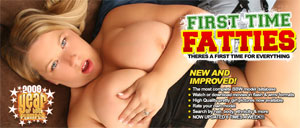 (webmasters)