Why is this picture on MyBBWsite? Especially as this particular post is titled Young Chubby and Horny.
Whereas I cannot vouch for her horniness, or lack thereof, it is quite fair to say that this woman is neither that young nor in the slightest chubby.
She is here because she is called Madison Stone and she just happens to also be a (retired) porn star.
The Madison Stone we are concerned with today is young and chubby. Also, it does sound like she is perpetually horny.
I have no information about her yet. I don't know what that wonderfully wobbly belly measures nor her big, yet firm, butt. I neither know what size boobs she has, nor how many stone and pounds she weighs.
It was whilst looking for this information that I kept cumming up with results for the older woman we see at the top.
With absolutely nothing to tell you about this lovely lady lumped looker, I can but quote Plumper Pass (who bring her to us today):
Her name is Madison Stone and all this chubby babe wants to do is fuck. We love a plumper who knows what she wants and Madison is exactly what we love. She is super cute and she's sexy as hell. She's plump, petite and has a nice rack. Madison looks awesome in her bikini and when that oil hits her tits you will get turned on, I promise. Madison is ready to fuck. Are you?
So, drink in the hazel-eyed, auburn haired, buxom beauty that is the young, chubby and horny Madison Stone.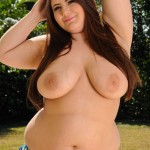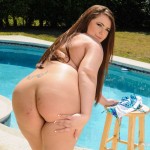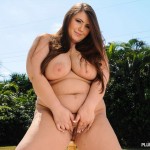 See This Awesome Plumper Babe and other hot BBWS on WebCam at Plumperpasslive.com