Callie Mack is a cute, young BBW, and finally has the balls to admit her crush on her friend Amethyst! Callie is dressed in a sexy little plaid outfit that shows off her huge tits and curves of her body just right. She's been building up some courage to talk to her friend in this BBW Land scene. At first, the blonde BBW sits in bed with her friend and tells her that she has a confession to make! Amethyst didn't even know Callie was into girls! She's never been with a girl before, which means she had a lot of bravery to summon before finally admitting her feelings.
And good for Callie Mack! Her bravery gets rewarded. Amethyst didn't quite expect her admission, but she's more than willing to teach Callie the ways of being a lesbian. Amethyst is also a young beauty, with a svelte frame and tempting good looks. She's covered in tattoos and piercings and is eager to give this girl a chance to feel what it is actually like to be with another girl! Now it's time for Callie to explore something she's never done before: fuck a girl.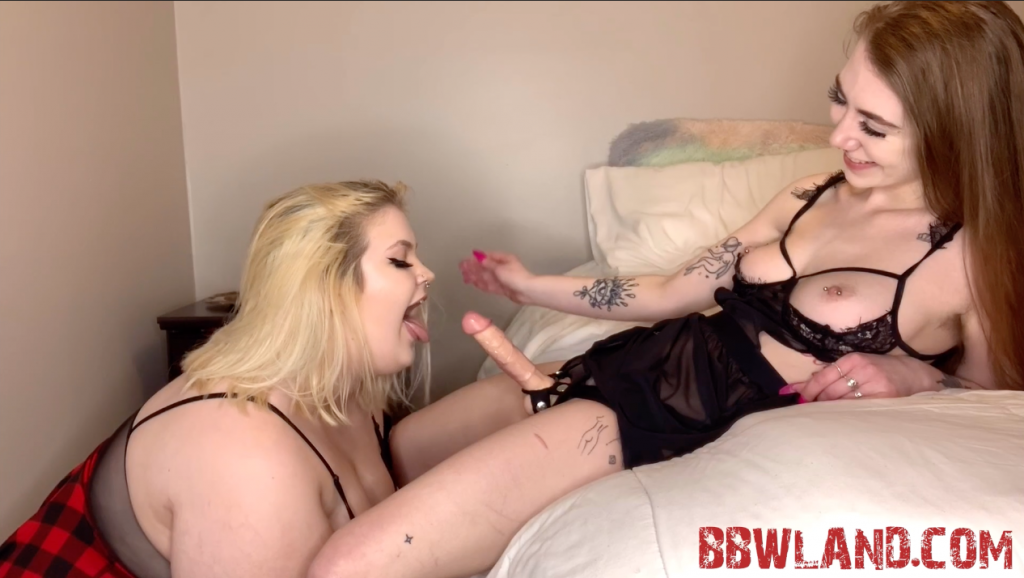 Young BBW Chokes on Strap-on Dick
Amethyst always thought Callie Mack was pretty and happily opens up the opportunity for them to finally fuck. As soon as Amethyst gets the go-ahead from young BBW Callie, she pulls out the strap on and teaches her how good strap-on fucking can be! She starts by laying back, and having Callie suck on her strap-on dick. She guides her through, petting her hair and driving her mouth down hard. Then she makes her choke a few times before she decides Callie is ready for an actual fuck.
Callie Mack seems to enjoy her experience thus far, and takes a good long time to enjoy choking on that dick! Amethyst plays with her nipples, watching Callie become a good little slut just for her. These friends are now lovers, and Callie is a quick study! She's handling that cock like a pro, and Amethyst is loving watching her take every inch.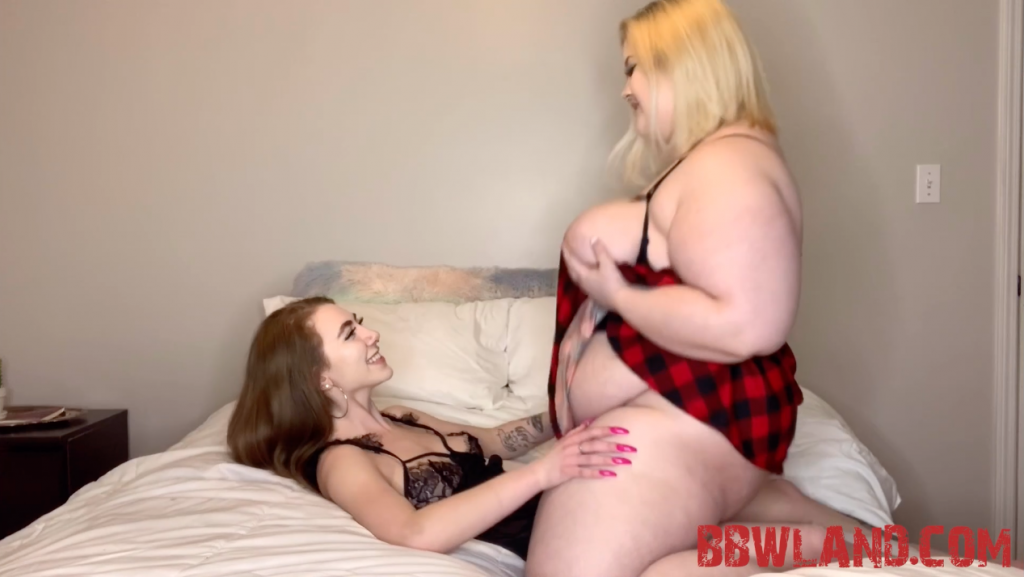 Callie Mack Has Lesbian Sex For The First Time
Cock hungry slut Callie Mack is enjoying sucking cock, but she is ready to ride that dick. Amethyst is getting more and more turned on by watching her, loving how she chokes on it. She begins to fondle her nipples while she watches. When Callie is ready to take some more, she climbs on top of Amethyst, overtaking her tiny frame, and showing off that big, thick belly of hers.
Callie Mack plays with her tits as she rides, loving how good that cock feels in her pussy! Her first lesbian experience is going so well for her, and she's happy to be a good girl! Callie continues to beg for more, when Amethyst decides it's time for her to take a good fucking! She loves how she takes that dick, and makes sure Callie cums hard.
Watch Callie Mack in her first lesbian experience over at BBWLand!