Agatha Ludovino is a young BBW with a penchant for cock! She loves cock so much, she's prepared to take hree in this scene for BBW Land! This horny, tattooed brunette BBW loves having her choice of cock in this gonzo setup. There isn't much for teasing. She gets right down to business, with cocks right in front of her, running her hands over their naked chests and touching each of their cocks one at a time. This thick babe is already good to go!
Agatha begins on her knees with her tiny denim shorts riding up her thick, luscious ass. First, one of the guys reaches up to bare her breasts, letting her little tits free to bounce as she readies herself to suck some cock. She slips her mouth over one cock at a time, ensuring each cock gets equal attention. The guys share duties, even going as far as to push her head down further on each other's cocks. That's teamwork, for sure. This foursome is ready to get this young BBW stripped down.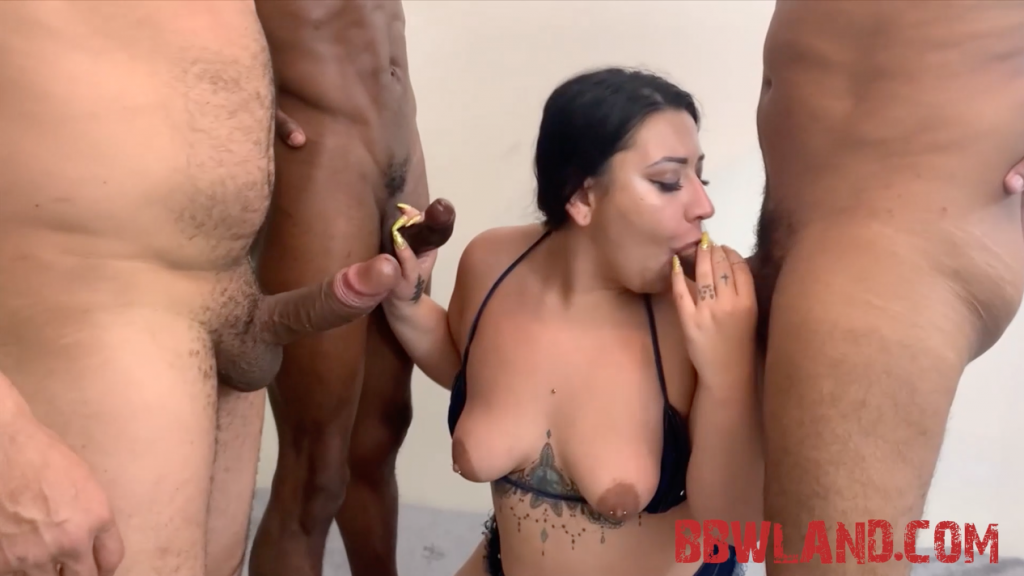 Agatha Ludovino Takes Three Horny Studs
Agatha Ludovino spends a long time pleasuring these cocks with her mouth, while one of them slides underneath her to eat her lubed up pussy. She's excellent at deepthroating, building up pleasure before they get to the real raunchy part of the fun. There are ample amounts of foreplay, building each of her partners up so they can fill all her holes. They shift positions often, and Agatha Ludovino appears to really be enjoying the cocksucking.
They begin to make moves, using her body as much as she will allow. She doesn't ever say no, and simply takes whatever they dish out. They aren't even focused solely on their own pleasure! They're licking her nipples, they're rubbing her carefully trimmed pussy, and taking turns filling her up with their big cocks.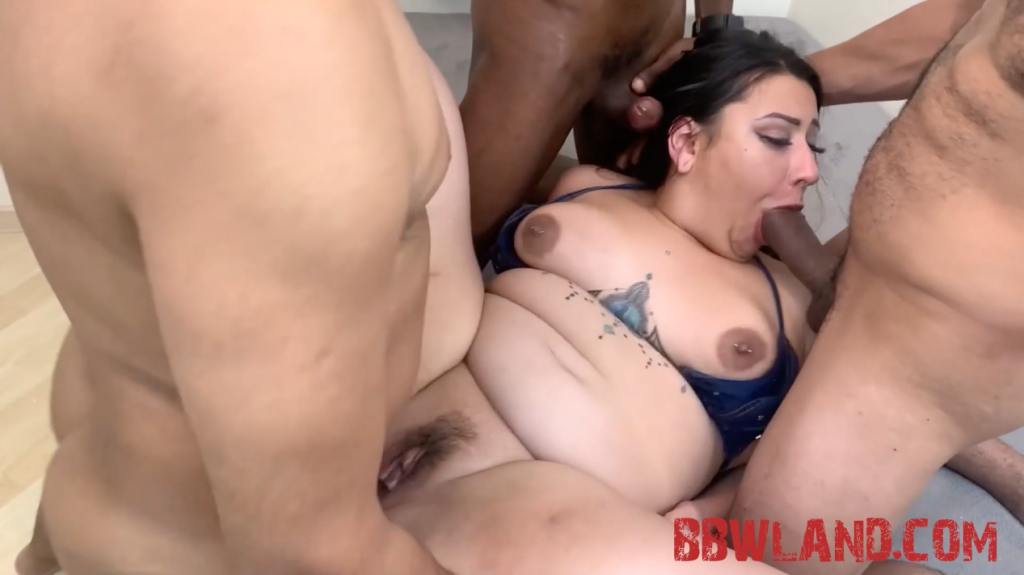 Young BBW Receives Facial and DP
Agatha Ludovino is flipped onto her back. With her legs wide open, she obediently listens to all of their commands. If they want her on top, she happily climbs up. They prepare for their raunchy fuckfest, and she gets to riding the first cock while sucking another dick. Her fat ass bounces, she moans loudly, clearly enjoying getting all her holes filled.
And wouldn't you know it? They give this fat beauty some DP action, easily sliding into her tight asshole while she rides dick. Now this chinese fingertrap has every single hole filled, including her throat and she's loving the attention. The action continues to get rough, but this young BBW doesn't back down once! She takes cock until the very end, ensuring not to spill a single drop of seed.
You can catch gorgeous Agatha Ludovino getting dicked down in a gangbang now, over at BBW Land!