I know it's belated, but I couldn't resist posting just one more BBW Christmas blog, but busty voluptuous vixen Glory Foxxx didn't appear under the big tits Christmas tree until we were well away enjoying a white Christmas up North…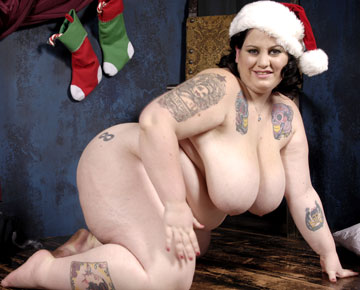 …this curvaceous cutie's unanticipated advent this horny holiday season also gives me the opportunity to address an issue that has been a Christmas bone of contention for me ever since I was but a wee yet precocious grammatically correct whipper snapper anxiously awaiting the arrival of Santa coming down the chimney – the perverted practice of using the lazy abbreviation Xmas rather than writing the whole word! Predating modern text-speak by nearly five centuries, this syntactically offensive shortcut leaves me to wonder if the X in Xmas can be transposed to other X-centric terms like Xbox, X-men and X-ray? But I digress into pedantic grammar police mode which, quite frankly, has no business in porn.
On the contrary, X's role in porn is apropos due to film rating standards, with the X-rating originally applying to mainstream films featuring adult content which was unsuitable for minors. Pornography soon jumped on the X-rated bandwagon extending its definition to include an XX-rating for simulated sex and the ultimate XXX-rating for hardcore porn (of course, this was back in those Puritanical days of innocence when hardcore XXX-rated films were the rarity rather than the norm in porn production). Thus, I'll make an exception for Xmas today since it's being employed in a pornographic context.
In fact, beautiful big belly BBW Glory Foxxx deserves the full triple-X rating implied by her surname, thus giving rise (in more ways that one) to my newly-conceived XXX-mas rating for full-on X-rated Christmas hardcore! In her happy holiday-themed Xmas sex photos and videos, Glory exposes a fake Santa Claus for the festive fraud that he is before fishing for penis in his big red Santa pants to treat his naked Santa cock to a Merry Christmas titfuck and blowjob before the XXX-rated Xmas fucking commences, culminating in a Christmas cumshot which lends a whole new meaning to Santa cumming down the chimney – or, rather, spraying his Santa cum on her belly – in these beautiful busty BBW Santa sex photos and plumper big fat belly creampie videos "cumming" courtesy of BBWDreams.com:
Glory Foxxx Xmas Sex photos from BBWDreams
Glory Foxxx Xmas sex videos from BBWDreams
CLICK HERE TO VISIT GLORY FOXXX AT BBWDREAMS.COM

(webmasters)