A game of pool with Vicky Vixen quickly turns into hardcore plumper fun, with this spunky BBW! This scene for BBW Land begins with her fat ass on full display, as she shoots a solo game of pool. Her partner walks in, and smacks that big ass hanging out from her tiny plaid skirt. She's punky, sexy, and thicker than a bowl of oatmeal. She's a thick goddess that doesn't know that her solo game is about to turn hardcore.
The camera focuses on her fat ass and wide hips, and Vicky Vixen loves the surprise she receives from her visitor. He turns that ass smack into a quick game where she decides that there is another pocket worth mastering with a cue stick. Her man offers it up for her, which she's overjoyed to see! She'd much rather have a girthy-er stick, if you know what I mean! This cued up cutie needs a much bigger load than the pool balls can give her!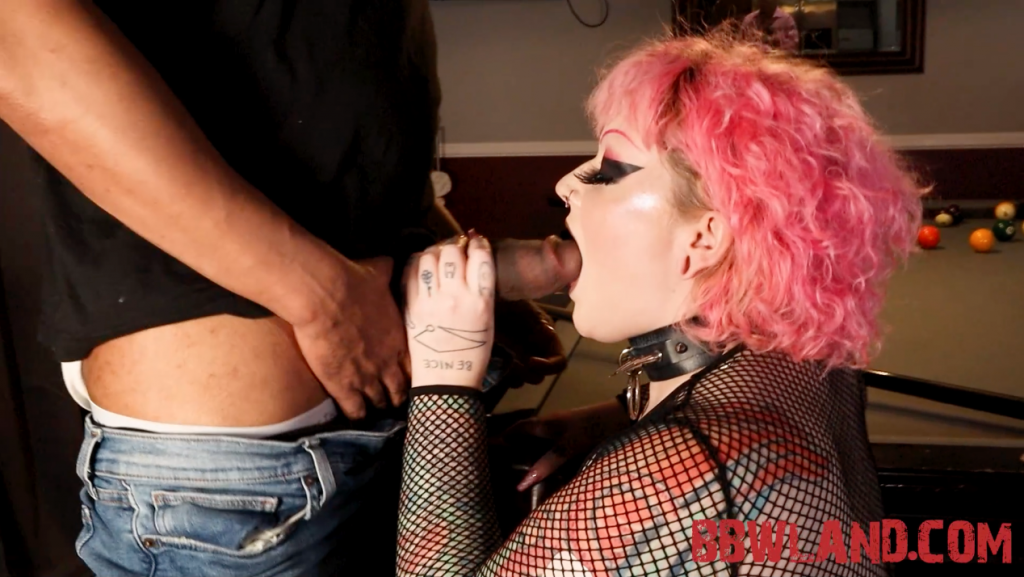 This BBW loves Sucking BBC
Vicky Vixen immediately gets on her knees and slides that cock in her mouth. By now, you can finally see her face, where this naughty girl looks like a submissive slut. She gets that cock deep down her throat, without even messing with her dramatic eyeliner. When her thong comes out, she happily spreads her asscheeks, while the pair whispers filthy dirty talk back and forth. She bends over the pool table, anticipating her man to slide that huge cock right inside of her.
As soon as he slides in, this BBW starts moaning immediately. He slides in with ease, while her ass shakes, and she melts over the pool table. She's still fully clothed in her fishnet top and skirt, and he makes her cum quickly right as she bends over the table. Her pussy is dripping so much hat you can even see her juices flowing down her thick, tattooed thighs. Her joyful moans coupled with her fat ass jiggling make for a delicious sight you'll wish you were a part of.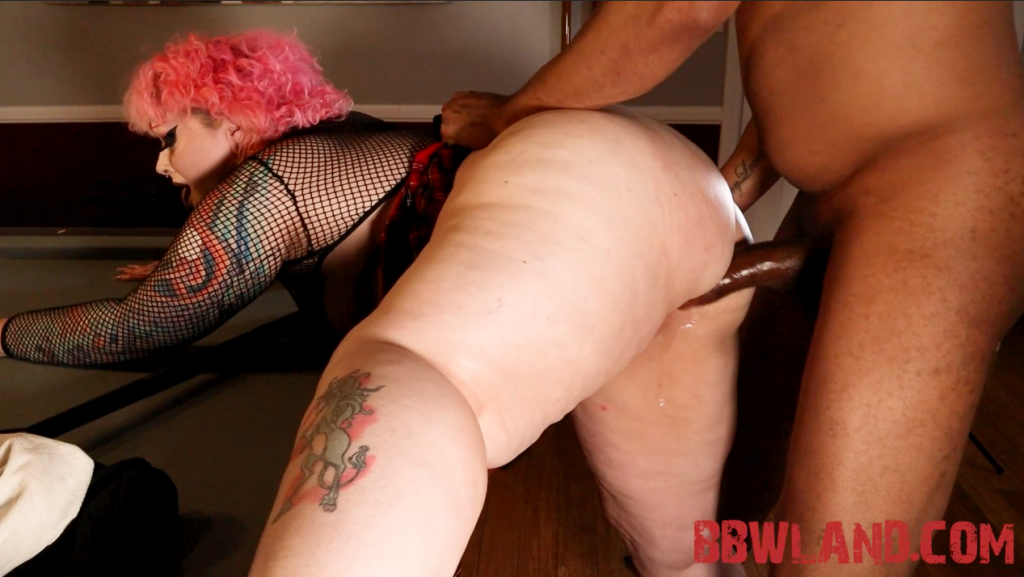 Vicky Vixen Has The Juiciest Pussy
This hardcore BBW gets drilled for as long as she can take it, continuously cumming on his cock. You get every booty jiggling angle, while he handles that pussy hard and she spreads those ass cheeks. Vicky Vixen's clothes begin to slip, letting her tits squish against the table. he uses her skirt as a handle to drill her harder. When he's ready, she gets right back on her knees and sucks her juices off his cock and balls.
Vicky Vixen hasn't has enough, so her man gets right back inside of her to make her wail with pleasure once again. This pink-haired BBW loves receiving every inch, screaming with joy with every thrust. She said she needed a pool partner, and she got all that and a whole lot of BBC! She makes sure to get every last drop of her own juices, while also taking every bit of his in her pretty mouth.
You can enjoy more of Vicky Vixen getting pounded right now at BBW Land!