You know how I've always felt that an already cute girl gets even cuter with a cock in her mouth? Well, although I've not mentioned it nearly as often, something I find even sexier than a girl giving a blowjob is the resulting cock-free girl with cum on her face from a blowjob well done as exemplified to post-cumshot erotic perfection by the lovely Veronica Vaughn from BBWDreams…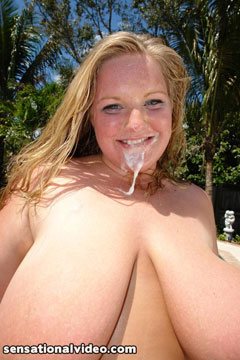 …while I have written about my cum face fetish here before, I'm quite frankly surprised that I don't do so more often since it has such an inexplicable hold over me and just so happens to be the sexual subject of the six pix I jack off to the most. But, to be honest, I sometimes get concerned over the fact that some of my sexual fetishes might not be shared by my porn blogs' visitors – as, indeed, I have made the mistake of posting what many considered to be too extreme a fetish before – so I try to temper my posts to fit more popular porn preferences of the porn perving public at large.
However, when I saw the irrepressibly cute and cuddly cum face photo of sexy Veronica smiling radiantly with a big load of jizz dribbling down her chin and onto her chest with its huge, pendulous breasts hanging heavily below, I simply couldn't resist leading with the pic above since I found this busty blond BBW beauty so immensely attractive in her post ejaculation semen stained state. Of course, voluptuous vixen Veronica Vaughn is an extremely attractive girl even without the jizzy jelly beard adorning her adorable face…
40G Veronica Vaughn softcore photos from BBWDreams
…but besides her cute face be it cummy or clean with seductively sexy steel-blue eyes staring through an expression of innocence belying the horny harlot within ready to pounce on your penis and suck you off to orgasm at a moments notice, our sublimely beautiful busty voluptuous Veronica has so much more to offer big boobs BBW lovers like myself. If you, like me, are a fat fetish fan of sexy stretch marks on breasts as an obvious indication of their well-endowed weight and a beautiful saggy belly hanging down below, then Veronica's definitely a girl from which our BBW Dreams are made.
And, that said, there's still the sexy sequence of events through which Veronica came to get cum on her face dribbling delightfully downward toward the colossal cleavage of those gorgeous G-cup breasts in the first place! So here she is, exceedingly beautiful busty voluptuous vixen Veronica Vaughn fucking and sucking off the monster cock of her very well-endowed large penis partner in these busty blond BBW hardcore photos and videos cumming on her face with facial cumshot loving courtesy of BBWDreams.com:
40G Veronica Vaughn hardcore photos from BBWDreams
40G Veronica Vaughn hardcore videos from BBWDreams
CLICK HERE TO VISIT 40G VERONICA VAUGHN AT BBWDREAMS.COM

(webmasters)