I was looking at Vix' Twitter feed the other day (kinda sad when you have to check on-line to see what your wife is up to) and was somewhat pleasantly surprised to see the following prurient post therein: "FYI if I'm on my elbows, simultaneously blowing & tit-wanking you, YOU need to push them together. Eyethangewe. (multitask = fail) lol" – Heh, my wife posting a primer on titfuck etiquette tips on Twitter? How cool is that?! :~)
This mammary masturbation top tits tip on Twitter entry which reads more like a footnote in the Beginner's Guide to Breast Sex is not without precedent, though. You see, shortly before it was penned, my wife & I had entertained a gentleman caller visiting one fine Friday evening who'd come in search of an impromptu blowjob to kick off his weekend as an erotic alternative to just going home and jacking himself off – 'twas, polite enough, though, as he'd brought over a nice Australian Shiraz to wash down his jizz afterwards.
Although I'm indeed well aware that there are some husbands who would be offended by a bloke popping in out of the blue and soliciting blowjobs from their wives, I've grown rather used to it over the years – the two of us having developed the reputation of being a right promiscuous pair of dirty fuckers wherever we go – knowing full well that, more often than not, my sexy slut wife is more than happy to lend a helping hand to a cock in need of a good cum should the opportunity arise. And, as for me, I must admit a certain perverted pleasure upon wandering into the bedroom only to catch my wife having sex with another man on our bed. ;~o
Anyway, we were sitting on the couch watching the telly when he arrived with wine in tow. He sat down opposite us and my wife soon joined him and began stroking his crotch, the noticeable bulge straining in his tight jeans providing erectile testament to the erotic acuity of her manual ministrations. Unzipping his fly, she then fished his erect cock out of his trousers and began sucking on the engorged erection held firmly in her genital grasp (and I must admit getting a boner of my own from watching this sexy suck off scene!). It wasn't long before I recommended that the three of us retire to the bedroom so that this perverse and prurient progression unfolding before my eyes could go even further.
Blowjob bloke stripped off his clothes and laid back on our bed naked, soon to be joined by my wife in all her voluptuous nude glory. I sat on the sidelines with the voyeuristic intention of watching her masterfully masturbating her male mate's manly meat-stick to orgasm with her mouth (with a bountiful basket of condoms at the ready, should she wish to take things any further and fancy a fuck instead). She resumed jacking and sucking him off for a bit before repositioning herself securely between his spread legs and, taking his throbbing cock in her cleavage, commenced tit-fucking him where he lay – the squelchy sounds of her blowjob borne saliva against bare breast flesh only serving to reinforce my raging hard on.
This is where things took a turn for the worse: In a scene from When Titfucks Go Bad, she hovered above his supine body with his knob in her knockers – her breasts hanging pendulous and free free as a fleshy phallic frame for the pulsing penis probing her cleavage in carnal anticipation. However, as she propped herself provocatively above him using her elbows for support – her beautiful boobs ready for a good fucking as her lips parted to give him a blowy in the process – he made the most elementary mammary masturbation mistake of not squeezing her tits together to provide the pussy-like penile pressure necessary for a nice tight titfuck! It soon became painfully evident that my wife's blowjob buddy was not a tit-man in the least, as any big breast lover knows that the participation of more than their penis is required to ensure total titwank success.
So moving along to successful titfuck technique, beautiful 36G busty blonde Tiffany Blake from Big Babe Blowjobs takes an entirely different titfucking tack – kneeling between her penis partner's legs as he sits erect in a chair primed for terrific titfuck / blowjob combo action. The breast sex runs hot with plenty of excellent titfucking in this sexy series, and I especially enjoyed the way she entices her eager lover into torrid tit sex by rubbing his dick head seductively beneath her warm inframammary fold before dragging his cock through her cleavage. The rapid-fire jackhammer titfucking sequence with Tiffany's super soft floppy knockers pounding his penis repeatedly is pretty good, too! My only complaint is that he withdraws his willy from her well-endowed wonders at the last moments preceding orgasm and begins jacking himself off to cum in her mouth instead of letting this gorgeous G-cup girl finish the job herself.
All in all, though – despite the self-inflicted cumshot – there's loads of lovely massive mammary intercourse included in this feature length tit fuck flick so, without further ado, here's the beautiful 36G Tiffany Blake in busty blonde cock sucking titfuck photos & videos from BigBabeBlowjobs.com:
36G Tiffany Blake in G-cup big breast sex titfucking photos from Big Babe Blowjobs
36G Tiffany Blake in G-cup big breast sex titfucking videos from Big Babe Blowjobs
CLICK HERE TO VISIT 36G TIFFANY BLAKE AT BIGBABEBLOWJOBS.COM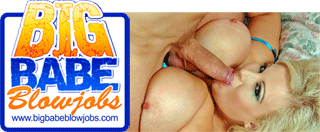 (webmasters)