Okay, I feel bad – almost as if I've been unfaithful. My transgression can be traced back to my recent Desiree Devine blog wherein I expressed my desire to fuck her fat belly as an ultimate BBW fantasy of mine and, in doing so, fear that I may have dissed the one woman whom I consider to be the single most beautiful BBW in the world. I'm speaking, of course, about supremely stunning busty blonde BBW Xtacy from PlumperPass.com…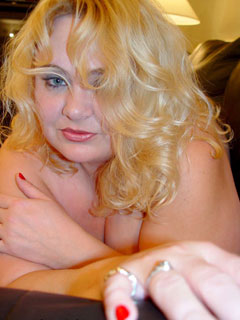 (photo courtesy of PlumperPass)
…ever since I first laid eyes on her, I fell simultaneously in love and in lust with this pulchritudinous picture of plumper perfection who instantly ticked all my boxes. Blonde? Check. Pretty face? Check. Huge tits? Check. Fat belly? Check. Plump pussy? Check. And, to top it off, the fact that Xtacy is a bit of a dirty slut propelled her into the status of ideal woman in my eyes. I've always tended to hold a special place in my heart for the more promiscuous, cock-hungry girls and have long considered such horny sluts to be ideal long-term relationship material.
However, I also realise that what's good for the goose is not always good for the gander and, just because I'd be perfectly content with my wife or girlfriend fucking other people, she might not necessarily feel the same (and, in my humble opinion, it's only cheating if you don't have permission). Curiously, the fact that I've never actually met Xtacy in person and my lustful desires are purely relegated into the realm of fantasy doesn't seem to enter into the equation – I still have that nagging twinge of guilt as if I've cheated on her. And, for that, I am sorry.
And so, as an act of contrition, the only thing I could think to do to make it up to my sweet Xtacy was to blog her (a feeble attempt, I know) and tell the whole of the BBW & plumper loving world how I feel. Sure, I may blog loads of other plumpers & BBWs here, but that's strictly business and my feelings for Xtacy are a bit more personal. Indeed, she's one fantasy that I'd love to make a reality (hmmm, I wonder if the wife would mind?). Anyway, as proof positive that busty blonde Xtasy is by far and away the most beautiful BBW in the whole wide world, I offer these photos of my dream girl naked courtesy of PlumperPass.com…
(photos courtesy of PlumperPass)
…then again, considering that Xtacy does fuck other people, I would suppose that monogamy isn't all that high on her sexual agenda – so maybe I shouldn't feel so bad about my fantasies for other women. Given the opportunity, though, I'd gladly be willing to eschew all other plumpers & BBWs if it meant I'd be in with half a chance of fucking Xtacy. She's the perfect plumper fuck for me, bar none, and I'd love nothing more than to get into her knickers.
I'd work my way down to the top, of course, relishing the curvaceous charms of her voluptuous body only after I'd finished snogging her face off whilst running my fingers through her lovely long blonde hair. My appetite for sucking face duly sated, I could then trace my lips down the gentle contours of her neck, proceeding ever Southward until, traversing the erotic expanse of her huge chest, I at last reached the oasis of her most beautiful big breasts whereupon I would linger with my eager lingus exploring the cleft of her cleavage and suckling her nipples until I'd had my fill. Next on the agenda would be her delightfully chubby belly within which I would wallow in her naked glory, grabbing girt handfuls of flabby belly flesh whilst probing her navel with my tongue. Taking firm hold of the lovely love handles protruding provocatively just above Xtacy's ample hips for leverage, I'd edge myself ever lower on the bed, tongue still extended as I trace a trail of saliva down her fabulously flabby fat belly toward her plump pussy, stopping to press it into her clit before retracting it into my mouth and sucking her clitoris whilst teasing my tongue up and down the edges of the fleshy triangle where her clitoral hood meets her vulva to stimulate erection (hers, not mine, as I'd've been well hard since the snogging). Rearing back to capture the full vulvic view as I replace my tongue with two fingers, I'd slowly stroke my way down the seam of her outer labia before gently parting her pussy lips to reveal the glorious glistening vagina hidden therein, already wet from the sexual stimulus of my extended oral attentions elsewhere. Moving inward, I'd begin stroking the sensitive pink flesh where the inner surface of her labia flaps join with the vaginal wall to form the vestibule I so wish to penetrate with my penis. However, considering that I've likely already spontaneously cum several times during the course of perving over this voluptuous vixen's body, she'd probably have to settle for a deep finger fuck whilst I wait impatiently for my spent cock to regain it's composure.
Xtasy, however, would have other plans for me, her having become somewhat frustrated by this sexy session of extended foreplay sans fucking. Shoving me forcibly down onto the bed and mount my face with her plumper pussy, those hefty thighs holding my head firmly in place as I commence cunnilingus upon her corpulent cunt with her huge ass eclipsing my entire field of vision. Leaning down into a girl-on-top 69 position and propping herself up in her elbows, Xtacy then begins to suck my flaccid penis deep into her mouth, her tongue twirling around the flange of my post-orgasmically hypersensitive cock head. Suffocated by the sweet scent of her pussy grinding against my mouth and feeling the immense weight of her massive breasts crushing down upon my abdomen – not to mention the lovely hard sucking blowjob to which she's treating my limp member – it's not long before this mutual oral sex session results in restoring erection (erm, that'd be mine, this time). Dragging her wet pussy down my chest and straddling my hips so that the tip of my throbbing cock is just barely touching her clit, she reaches down to rub one hand across the gaping expanse of her vagina to gather more lubrication with which to slather my sensitive circumcised penis for a gripping handjob. With every stroke of her sweet hand, Xtacy rubs my cock head up the wet slit between her labia lips and jerks it against the underside of her clit as if to tease me with the promise of pussy penetration. Not wanting to risk another cumshot before we get to fucking, she suddenly thrusts her hips downward taking the full length of my turgid erection into the delightfully tight depths of her vagina until my glans are pressing firmly against her cervix. Xtasy then begins humping my hips with abandon as if to masturbate herself with my male member, her cock starved cunt at long last getting it's phallic fill.
As much as I'm enjoying this perfect plumper fuck with Xtacy's long blonde locks cascading down her back as her ample ass repeatedly pounds down like a pile driver against my crotch reverse cowgirl style, I can't help but think of the amazing view I'm missing out on of her beautiful big tits bouncing with every thrust. I plead with her to spin around on my spindly cock and fuck me face to face, but my begging falls upon deaf ears as she selfishly satisfies herself with my phallus. "Fair enough," I think to myself (after all, I'd already indulged myself to distraction, not to mention multiple orgasms, with her big beautiful body so I suppose it's her turn now) and instead sit up so that I can reach around her bountiful body to take hold of the huge heavy handfuls of breast flesh beating against her chest. Feeling her erect nipples brushing against my palms provides for an unexpected treat as I fondle her big breasts from behind. Hearing sexy Xtacy moan in sexual ecstasy as her vaginal wall contracts in a cock crushing orgasm proves to much for me and I can't help but release the last remaining contents of cum from my beleaguered balls through my pulsing penis and into her pumping pussy. Both of us now well and truly fucked, Xtacy collapses on the bed next to me spooning in for a sublimely sensual post-coital cuddle as I eagerly await the return of my erection so that I can enjoy the immense eroticism of sloppy seconds.
Alas, if this gorgeous girl would only let me in – both figuratively and literally – but I dare say that this fantasy of fucking Xtacy shall likely never become a reality (more's the pity), I've nonetheless prepared a few video clips of Xtacy fucking some other lucky bloke so that I can at least live out my unrequited waking wet dream through the wonder of porn. The fact that this is an interracial video only serves to accentuate the beauty of Xtacy's milky white skin against the big black cock to which she's attending. To hear her moans of pleasure as her partner's masturbating her pussy – beautiful big belly fat jiggling hypnotically against the trusts of his fingers in her vagina – provide a tasty aural sex treat until Xtacy at long last muffles her moans of arousal by sensually sucking his formidable chocolate cock into her mouth for a blowjob. I can only pray that I'll be forgiven for today's rather extended video feature but, as I've said before, I simply cannot get enough of this gorgeous girl. And so, here's stunning busty blonde Xtacy in what I can only hope will serve as a fitting tribute to the most beautiful BBW in the world in interracial hardcore plumper fucking videos that come courtesy of PlumperPass.com…
CLICK HERE TO VISIT BUSTY BLONDE BBW XTACY AT PLUMPERPASS.COM

(webmasters)
…truly, I believe that our most lovely Xtacy should rank amongst the BBW superstars of our fat fetish niche; a chubby chaser's dream so sublimely sexy that my lustful attraction to her borders upon obsession. I only wish that I could find more of this perfect plumper princess on the 'net. Thus, if any of you have seen Xtacy anywhere else, PLEASE leave me a comment and let me know where to go to further indulge in my insatiable desire for her. Thanks in advance for any pointers you can provide. :~)
.
.
.
P.S. Oh, and before you send me links to ImLive, I'm already painfully aware that my sweet Xtacy is doing live webcams shows over there as SweetXtacy4U as I'd detailed in this post over on MyBoobSite: