I've had super-sized BBWs on the brain ever since I'd received an e-mail from MyBBWSite visitor JB from Argentina who respectfully inquired, "Hello, first of all sorry for my bad english. Congratulations for your blogs I read them almost every day. Just one question? Why you don't post really big women more often, I mean SSBBW like Wonder Monique? Just an idea. Anyway, greetings and keep the good work."
Well, JB, let me first say that your English is far better than many native speakers of the language! As for the question of blogging super-sized big beautiful women more often, I have to agree that such extra voluptuous vixens would be most welcome in representing larger ladies in the BBW spectrum to balance out the little IBWs I occasionally include in availing ourselves to the smaller side of BBW beauty.
With Wonder Monique (whom I've blogged again & again & again), it was all about the tits as, at the time, I hadn't quite developed my fat admirer's appreciation for every curvaceous nuance of the super sexy SSBBW figure. However, it was not all too long ago that a new-found fat belly fetish took hold and I began seeing stunning SSBBWs like heavenly hefty H-cup honey Desiree Devine in an entirely different light…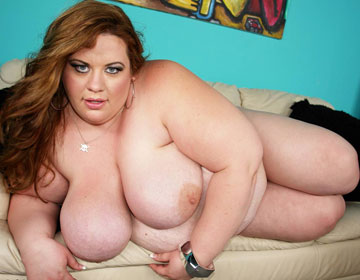 …with SSBBW Desiree Devine (whom I've likewise blogged again & again & again), regardless of the big breast lovers' allure of the heavy handfuls of H-cups she has on offer, it was all about her beautiful big belly cleavage. In combination with divine Desiree's adorably sexy face and magnificently massive breasts (those two anatomical features having been all I would've paid attention to previously apart from her pretty plump pussy), the sexy fat belly flesh of her titanic tummy of my chubby chaser's dreams elevated this blue-eyed big belly super busty brunette to the top of my Rubenesque rankings as the sexiest SSBBW in the world!
So yes, JB, I certainly shall pay more attention to SSBBWs in the future on my BBW blog and, considering the state of my rapidly "growing interest" in delightful Desiree engorging as we speak, I'm well on the road to finding fat fetish fantasy fodder hidden amongst the super sexy secret crevices of her many other curvaceous charms as well! And, although our Desiree has plenty of hardcore content in her latest series for the PlumperPass family of BBW sites, I've decided to go all softcore on you today so that we can appreciate the ample assets of this extremely well-endowed woman in all her nude glory without the distraction of dick in the way (as there's plenty of time for sex in another BBW blog entry), here's the sublimely sensual and breathtakingly beautiful Desiree Divine naked exposing her sexy belly fat in SSBBW photos from PlumperPass.com:
H-cup SSBBW Desiree Devine nude exposing her beautiful big fat belly at PlumperPass
CLICK HERE TO VISIT 44H SSBBW DESIREE DEVINE AT PLUMPERPASS.COM

(webmasters)