This BBWLand scene stars Eliza Allure and SSBBW Cotton Candi showing off their gargantuan proportions! Both of these fine fat vixens are ready to play, and are armed with a hitachi to begin. Ms. Candi leans back letiting her big tits move as they will, and she's ready to receive. They're excited to play, and Eliza happily lifts up Candi's skirt to get this pleasure party flowing. Ms. Candi begins to spread her legs, letting eliza jiggle those thighs as she teases with the vibrator.
This live cam show is getting more and more wild, with Cotton Candi and Eliza Allure at the helm. Eliza turns up the vibrations, giving Ms Candi get first powerful sensations. We're a little surprised they're letting her cum so soon, but Eliza is determined to really get her off over and over again. She hasn't even taken her clothes off, she's so focused on giving Ms. Candi the pleasure she deserves.
SSBBW Babe Cotton Candi Cums in Girl on Girl
Eliza Allure keeps digging that vibrator into Cotton Candi's pussy, making her moan louder and louder. She's already cum so hard during this scene, and we're only a few minutes in! Naughty Eliza keeps going with her, vibrating her clit more and more while she plays with her mountainous rack. These plumpers are having a wild time, but things are about to get more fun as Eliza keeps bringing up Candi's orgasms.
Cotton Candi cums once again, screaming at the top of her lungs. Eliza Allue was giving her no mercy and now she's can't even breathe from the wild explosion she's experienced. Finally, things can take a turn for two pleased pussies. Both babes strip down and show off their large proportions to the camera. They bump those big asses together, jiggle their massive tits, and set the stage to cum even more with each other. They begin to play more, drowning in each other's tits and bouncing their jiggly asses and bellies everywhere!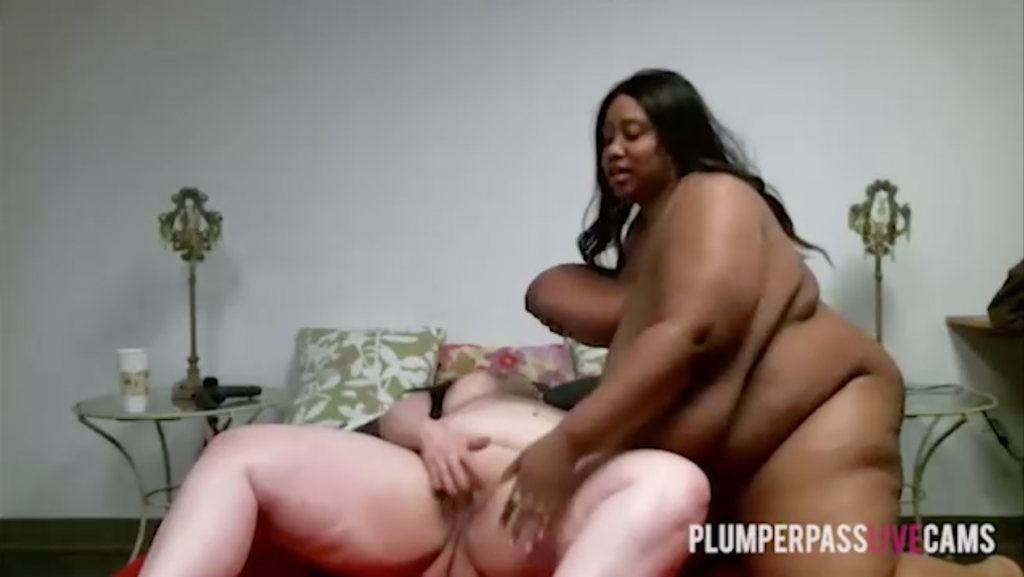 Eliza Allure Lesbian BBW plays with Vibrator
These two fat SSBBW babes stand together, as a beautiful titty show unfolds before us. They grab their bellies, they flop their tits, and they get right back down to business. Eliza Allure and Cotton Candi are soon back at it, getting hot and bothered with each other. Slowly they begin to makeout again, ready to engage in full lesbian play. These two indulge in each other's taste and more, creating a real BBW Lesbian dream.
Big belly lovers, this is the one for you! These plumpers indulge in a ton of belly play as they play. They motorboat, they play, and they taste. These plumpers even slip on new outfits to show off their bodies in bikini outfits. These hot BBW babes simply have a whole lot of orgasmic, big belly fun while they make themselves cum live on cam! They looked good while they really enjoyed each other's bodies, showing off their massive tits!
You can watch sexy SSBBW babes Cotton Candi and Eliza Allure right now over at BBW Land!