Reese titled this one, as he does with most, as well as selecting the pictures, just leaving me to write this bit, as I am sure you are aware, by now. I mention this, because I don't quite get the coitus interruptus bit.
Don't get me wrong, as a good Catholic girl, I am quite familiar with the term. As a pornographer, I am more than familiar with the practice. We all need to see the money shot, after all. As a woman I am, of course, familiar with the activity… I quite like cum on my tits or face. 😀
Here, in this FFM threesome, we have Molly Howard and Jaylin Germany fucking and sucking an unnamed chap. As seems to be the fashion, at the moment, he is possibly there to contrast his black skin with their milky white plumpness. Or it could be that he has a nice, big penis. Who can say.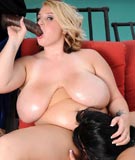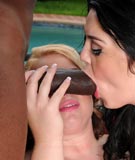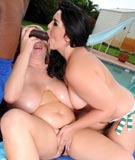 Then I watch this video from PlumperPass.com and I totally get why Reese has named this what he has. Both girls get to give the unnamed dick a good fucking and sucking. But, when Jaylin seems to be at the point of getting her rocks off, whilst bouncing her big boobies and bounteous booty up and down on the guy, Molly whips his cock out of her cunt and starts sucking at it like her life depends on it. Leaving poor old Jaylin, straddling the guy, looking over her shoulder and watching the untimely blow-job.
CLICK HERE TO VISIT MOLLY HOWARD & JAYLIN GERMANY AT PLUMPERPASS.COM