Big news in the world of big boobs busty BBWs as the stunningly voluptuous 34J Simone has at long last exposed her big beautiful BBW belly naked for all the chubby loving world to see in her first fully nude photos and videos for the Plumper Pass family of BBW porn sites! The following photos lovingly capture the very moment of her ample abdominal revelation from covered breasts and belly to stark bollock naked full frontal nudity…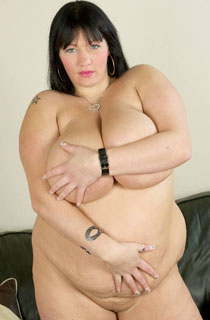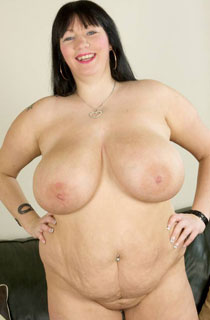 …by far, the biggest complaint I get on my BBW blog is that so many of the lovely voluptuous ladies herein tend to cover their big bellies in photo and video shoots, and sexy Simone was no exception when it came to hiding her adorable abdominal endowment. Ever since she joined Hot Sexy Plumpers a little over a year ago, she's made an annoying habit of covering her belly up with whatever was at hand, be it a band of sexy lingerie draped around her magnificent midriff or a pink polka-dot top dropped below her huge boobs to conceal her cute cuddly belly bits. Why, once she even resorted to wearing tiny cut-off shorts during a blowjob scene so that only the titanic tits on her topless top half was visible to the naked eye, largely leaving the rest of her curvaceous charms to the erotic imagination!
Although super busty Simone has never had any qualms about showing us her massive boobs or even flashing her pretty plump pussy at the drop of a hat, that fabulous fat belly remained strictly out of bounds, leaving fat admirers who appreciate the pendulous pulchritude of a plump tummy in the lurch, forcing us confirmed chubby chasers to seek out ample abdomen alternatives like Sophie or Desiree for a super-sized stomach to feed our BBW belly fetish. Personally, I blame BBW porn producers for all of these pleasingly plump girls hiding their best bits. Don't then know that fat fetish fans fancy big fat bellies in addition to big tits and round asses?
But fret no more, as the sublimely sensual and stunningly sexy 34J Simone has at long last put her misplaced abdominal modesty aside and revealed all, gigantic J-cup juggs and big beautiful belly and cute chubby cunt included, in these fabulous big belly fat fetish photos and huge breast sucking busty BBW pussy masturbation videos from PlumperPass.com:
34J Simone exposing her beautiful big belly in busty BBW nude photos from PlumperPass
34J Simone shows off her beautiful big belly in BBW masturbation videos from PlumperPass
(note: actual HD videos available for download at the site are 1280×720 high-resolution)
CLICK HERE TO VISIT 34J SIMONE AT PLUMPERPASS.COM

(webmasters)