With stretch marks and all, Mae Quira is ready to show off that thick, rotund body for the folks over at BBW Land! She starts the scene with sexy music playing, rubbing her rolling belly, and showing off those thick thighs. She's dolled up and bejeweled, in a glamorous red dress that is practically made for temptation. This sexy redhead BBW is feeling awfully horny and has a penchant for pleasure.
Mae Quira begins by dancing to some sexy mood music, and lifting up the skirt of her dress. Now she's showing off her matching thong panties. This plumper knows exactly what you wanna see, tempting you into her luscious butt cheeks with a little wiggle. She plays with her huge tits, and shakes them before finally slipping off her dress. She tosses it to the floor and gets ready to crawl her thick ass into bed.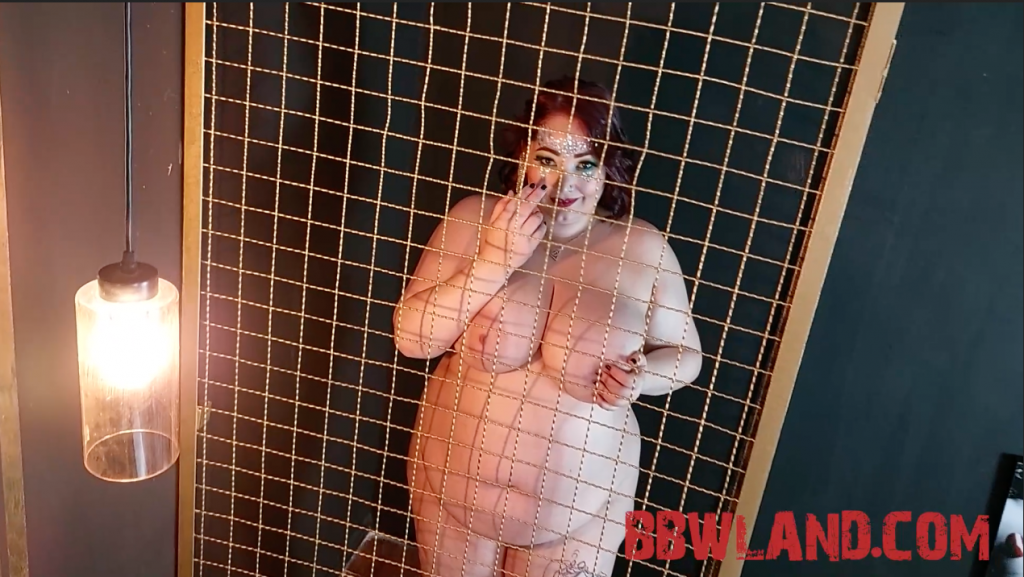 Redhead BBW Strips and Masturbates Solo
Gorgeous redhead BBW Mae Quira slips off her panties and crawls into bed. She grasps and spanks those big butt cheeks, and spreading them wide. She winks her tight little asshole for you while she spreads, now fully naked for you to enjoy. This busty redhead is all up for filth, and she's happy to tempt in every single way she knows how. That includes everything from her raunchy tease, to getting off with a finger in her tight asshole.
When Mae turns back to the camera, now you get to see her pretty face paired with her big belly. Her huge tits are remarkably perky for their natural size, making them a sight to see! Her shaved pussy is now all too tempting, when she spreads her legs and gets a little taste just for herself. Mae Quira is one naughty girl, and she's about to turn the heat up a notch as she turns to a vibrator for pleasure.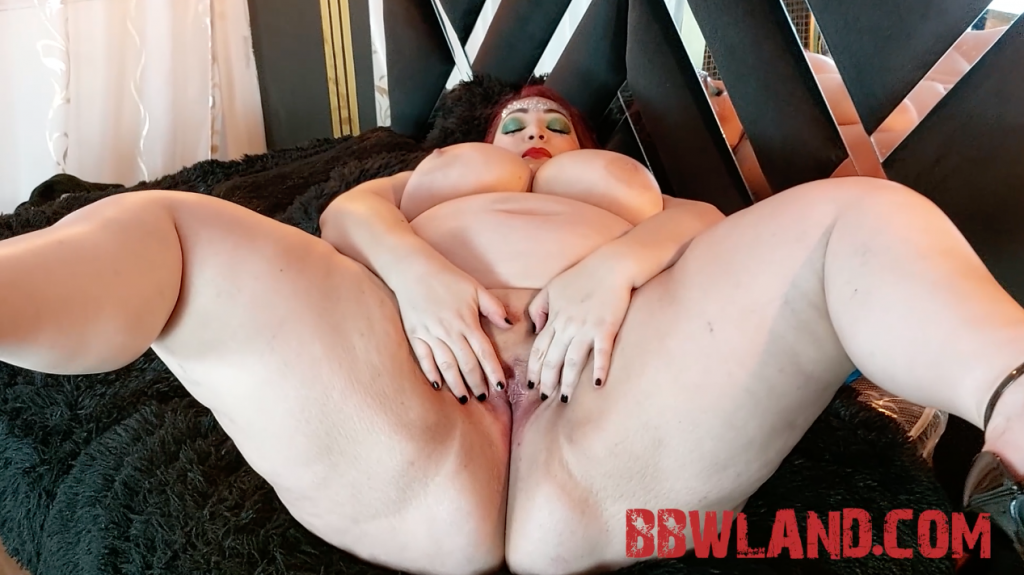 Mae Quira Strips and Dances in a Cage of Lust
This BBW is a mistress of tease, slipping into the golden cage in her bedroom. She shakes her tits, and presses her plump belly against the cage, tempting with her tongue before she's finally unleashed. Now that Mae is free to do as she pleases, she lays back in bed with a vibrator. She doesn't start there at first. First she begins touching her cleanly shaved pussy and getting a taste of herself before she works on cumming for you.
Mae Quira is on the road to orgasm, plunging her wand vibrator into her pussy. She plays at all angles, even making sure to twerk on the vibrator that plunges deeply into her fat pussy. She likes a little extra pleasure, fingering her tight little asshole as she vibrates her pussy. Mae is filthy, wanting you to see all her holes while she really gets off, and puts on a sexy show while doing it!
You can watch Mae Quira fuck herself now over at BBW Land!