I know I'd gone on recently about getting Emma Bailey alone for a change but, thinking long and hard about it, I expect it wouldn't be long before we'd find ourselves inviting a spare penis 'round for her to have a go on (should she so desire) since there's nothing quite like seeing a super sexy, horny girl with a cock hungry look in her eyes given a shiny new penis to play with…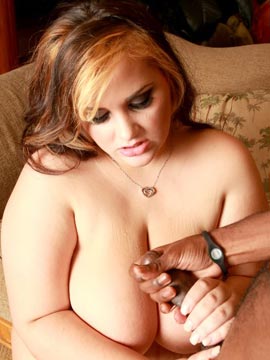 …(wait, that was a bit of a fail, wasn't it? I mean, you can't even see her eyes 'coz she's too busy staring at cock and salivating as if it's some spicy meat stick treat ready to eat!). You see, my personal top 10 hardcore porn photos of all time feature my own busty blonde dream girl with a cock in her mouth (or at close penis sucking proximity to her lips, at least) and, although I love blowjobs as much as the next guy, watching a girl give a blowjob is an erotic experience that can't be beat (erm, unless you're talking about beating off to it, that is)! It's just something you can't get from a first-person point of view since her head gets in the way of enjoying the best oral sex perspectives.
Ah, but there's more than merely the visual erotica element when you watch your wife or girlfriend sucking another man's cock off to oral orgasm. On the purely physical side of the erotic equation, you have the sexual sympathetic sensation from the known carnal knowledge of how your phallus feels with her prick teasing lips locked tight around your swollen shaft, tongue flicking your frenulum as teeth graze ever so gently over your sensitive genital flesh. Call it penis pleasure by proxy, if you will. But, even moreso than the expert blowjob to completion I know she's preparing to orally administer upon his sexually aroused male anatomy, it's that tense moment before cock sucking commences, making her fuck buddy lay there filled with sexual expectation in erotic anticipation of getting the blowjob of his life as she gently rests her head on his belly, face facing phallus, and purposefully positions his already erect penis between her lips, mouth wide open so as not to touch his overly expectant erection just yet lest her oral sex session be over all too soon.
It's at this penultimate eternal instant of delayed gratification she makes eye contact with me as a deliciously deviant sexual expression crosses her face, as if to acknowledge my perverted presence as voyeur to her sordid oral sex scene whilst I ever so anxiously await watching her masturbate another man with her mouth, her sexy eyes glistening as engorged genitals obscure what would seem to be a most seductive smile save for the penis parting her lips, and I'm totally blown away even before her blowjob begins! Maybe it's just me, but it feels almost as if she's making her new blowjob buddy endure the genital torture of this artificially prolonged sexual frustration for my benefit, withholding fellatio favours to let me relish the sublime sensual splendour of this third party penis perspective on her cock sucking skills yet to "cum".
But as much as I wish this lustful little prick tease portion of her prelude to a blowjob could last forever (as it does in my time stretching mind), at length she relents, closes down on his cock and makes his long wait worthwhile.
Emotional porn at it's best, for me. Far beyond the sympathetic sensation of feeling her suck my penis by proxy, it's the erotically expressed intimacy of our connection established in one hypersexual moment making eye contact with each other from across an uncrowded room (no, I never did buy into that whole "two's company" nonsense) as her hopelessly horny expression of contentment with cock burns into my brain that turns me on to no end. And, as such, I enjoy blowjob porn just to catch the odd glimpse of genital glee in a girl's gaze whenever she happens to be looking at the camera with a face full of penis in need of relief. Truly, this opto-oral sex voyeur's view is not one you often get to see when it's you getting a good blowjob (and, in that event, your mind's probably on matters more personally intimate anyway).
This virtual voyeurism is one of the reasons I love the Plumper Pass family of porn sites so much, since they really go to erotic excess in pandering to my personal perversions. Case in point, their latest teen BBW Emma Bailey video came with a complement of over 750 fucking photos from the shoot, giving me more ample opportunity to look for that lurid look of lust in her eyes as she salivates over the swollen shaft of her new found phallic friend cum fuck buddy in beautiful busty blonde BBW blowjob photos for BBWsGoneBlack…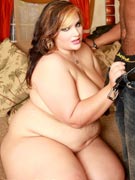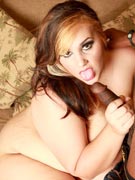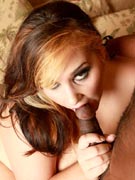 …and, although this is but a small sampling of the super sexy Emma Bailey vs big black cock sucking content therein, it does feed my fetish for blowjob eyes (that last one being just too cute as she sits there naked and contented with her semen stained smile and face full of cum from a blowjob well done whilst her freshly blown flaccid penis pal hangs limp but happy beside her).
As for our Emma Bailey blowjob videos, I thought it might be nice to see our busty blonde BBW beauty perform oral sex from a different perspective. The first video clip finds this fine female fellating his phallus deep throat style as best she can, given the big black boner she's bobbing for using her bouncy big boobs in his lap for buoyancy, his engorged genitalia glistening with her saliva as the drools over his dick as she struggles to suppress her gag reflex just a little while longer and, although it's good to hear a girl laugh giving a blowjob (not to mention the additional oral stimulation from her vocal chord vibrations), I cannot help but wonder if her chocolate cock companion thinks she's laughing at his penis size instead? I strongly suspect he wouldn't even care if she was, given the serendipitous cock sucking circumstances he's in!
Our second blowjob video clip offers even more cock sucking comic relief in that it's taken from the still pulsing penis point right after his most colossal cumshot occurred, blowing his big load of hot jizz on her face and cum in her mouth just before the clip begins. Trouble is, our cute little cock craving girl refuses to stop playing with his penis post-cum! Hasn't she learned from all her chronic masturbation behaviour just how overly sensitive genitals get after orgasm? I'm sure she does, and yet she just carries on manhandling his man-handle (™Vix) until he's left writhing around in absolute agony over the post-orgasmic cock discomfort she's inflicting for a laugh! Well, it just goes to show stunning beautiful Emma Bailey can be a bit of a pain in the penis as well judging by these interracial blowjob videos from BBWsGoneBlack.com…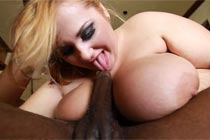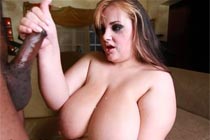 …and, believe you me, I know how that feels! Ah, but doesn't such playful penis torture also prove our genitally giggly and sexually insatiable cock slut of a girl is a really fun fuck with a good sense of humor about sex? Surely it does! But if you'd like to see her get more serious about fucking, here are a couple more photos and videos of Emma Bailey from BBWsGoneBlack.com:
48D Emma Bailey hardcore from BBWsGoneBlack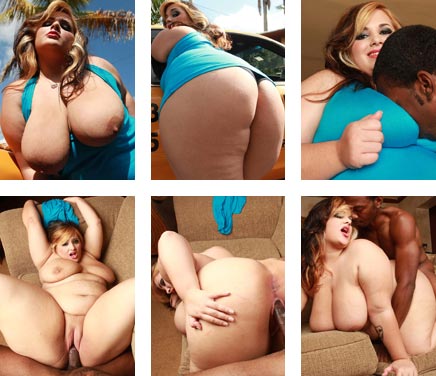 48D Emma Bailey videos from BBWsGoneBlack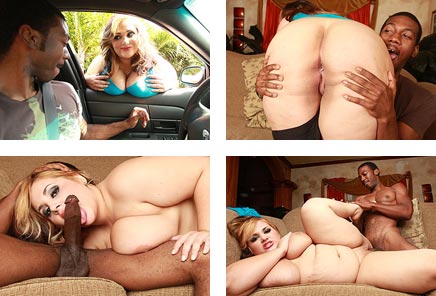 CLICK HERE TO VISIT D-CUP TEEN BBW EMMA BAILEY AT BBWSGONEBLACK.COM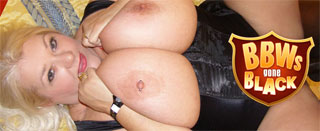 (webmasters)