Ah, a threesome. One of my favourite things to do. Especially (read "only") if its an MMF threesome. I do like to have two guys paying attention to me. It's just the most obvious choice for the bigger woman.
Trouble is, unless you have the confidence in your tool, it can be quite intimidating for a guy. There's a lovely big, beautiful woman in front of you, but there's also another man. With his cock out. Ready to do the do. Is his erection bigger than yours? Is his flaccid penis bigger than your soft-on?
Will your cock touch his dick? Will any part of another man touch any part of you? If it does and you're enjoying yourself, does that make you gay?
Well, all these thoughts are normal, in my experience, but they are also unnecessary.
If you're in such a situation, there's a horny woman looking at you. Waiting to have sex with you. Both of you. It is not a competition and worrying will only make matters worse.
Imagine you are in the situation depicted below: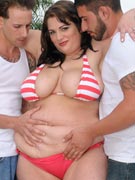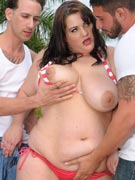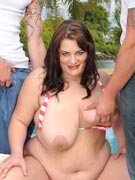 The gorgeous plumper Brandy Ryder, here on PlumperPass, has two guys servicing her and enjoying making her gag on their cocks.

CLICK HERE TO VISIT 40H BRANDY RYDER AT PLUMPERPASS.COM