Having just blogged the lovely busty blond BBW Scarlett Rouge over on My Boob Site focusing on her extra wide cleavage (after all, how many times do you get to use unique phrases like "sexy sternum" in a big breast blog?)…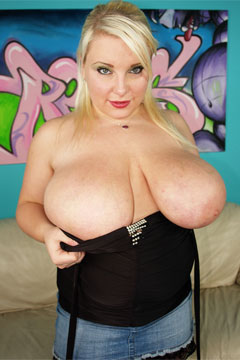 …I thought it might be nice to make a big tits transition with a seamless segue between sexy Scarlett's softcore photos & hardcore videos from this sensual series. When we last left well-endowed Scarlett Rouge on MyBoobSite, she was in the process of getting a big oily boob massage from a man with a long penis (although he was politely keeping his big cock in his pants at the time), spreading her wide tits apart even farther to reveal the glorious glistening canyon of chest flesh exposed between her big boobs – a colossal cleavage cavern so deep and wide that you could easily lose your dick in it (hmmm, I wonder if that's why he was afraid to titfuck her?)!
So carrying on from that perverted point in their erotic carnal escapades in oily breast foreplay fun, I suppose that fondling her tits and sucking her nipples left him with such a big erection bulging against his trousers that he had no choice but to whip his dick out in self-defense. Faced with his long cock exposed in all its lengthy genital goodness before her very eyes, sex siren Scarlett instinctively drops to her knees and, positions his penis between teeth and tongue, and starts sucking his cock off with a busty big boobs BBW blowjob! From there, it's on to the fucking with lust Ms Rouge laying back to invite his long penis in her pussy in bareback sex in a voluptuous variety of penis positions until he blows his load of cum on her tongue in the end.
And so, here's super sexy Scarlett Rouge taking a long cock everywhere but within her carnally captivating extra wide cleavage in big wide boobs busty BBW hardcore photos & videos from HotSexyPlumpers.com:
Scarlett Rouge hardcore photos from HotSexyPlumpers
Scarlett Rouge hardcore videos from HotSexyPlumpers
CLICK HERE TO VISIT SCARLETT ROUGE AT HOTSEXYPLUMPERS.COM

(webmasters)