There are some who feel that hitting the "Big 4-0" is a major life-altering mid-life milestone. However, I've heard it said even moreso that turning 38 is the most difficult age to endure. One need only ponder John Lennon's Suddenly 38 from his "This is My Story Both Humble and True (take it to pieces and mend it with glue)" series of artworks to see a reflection of the inner conundrums caused by this particular chronological change (and, having experienced it myself a scant five years ago, I can attest to its veracity).
Some, however – like sexy Samantha 38G – are able to escape the snares that come courtesy of reaching such a lifetime landmark, taking it instead as an opportunity to become more adventurous and make the most of every moment. If you'll recall, it was just a little over a month ago that we celebrated Sam's 38th Birthday, and I'm pleased to say that she's just getting better and better! As it contains some important insights into where she's at at the moment, I sincerely hope Sam won't mind if I quote one of her recent blog entries verbatim…
Sam wrote:

Blame it on a full moon.

Never before have I been with two guys before on film. It was a great fun, we all had a blast and many laughs. I think you will enjoy the new scenes and it is like you have never ever seen me before. To live in the moment and enjoy what is going on is great.

Personally tired of the porn out there on the web where the girl is being abused and degraded. The female being abused does not look happy and she fakes her orgasms. SEX is fun and should be fun for all those involved. If not, then why bother. How many guys would have sex over and over again only they did not climax? Why bother? I am of the same school of thought. If I do not orgasm, why bother.

If you want a girl to have sex with you on a regular basis, then her enjoyment is extremely important. So do not take your clues from those sites that degrade, demean or abuse the women in them. Those models are paid and are only there for the money. Not for anyother reason.

Sex is fun. Sex is an adventure for me, lately and pushing my limits and doing some exploring of my sexuality lately. Stay tuned, stay a member. Future updates are going to be more action like you have never seen me do before. No where else will you find this kind of action of me having soooo much fun.

Have to say, sex at 38 years old, AWESOME!!!!!

I left this particular shoot with a huge smile and a very tired body. I came so much, that I was exhausted and barely drove back to my hotel room. I slept GOOD.
…so, actually, we have not one, but two firsts in Samantha's new video – not only is it the first time she's taken a cum facial on film, but also her first MMF threesome (and an interracial threesome at that)! Although I can't show you footage of the facial itself, I was able to secure one brief clip of its aftermath, as well as another demonstrating the profoundly fine degree of cock-crushing pussy control that Sam has in her pelvic muscles!!
After sexual experimentation into a variety of spit-roasting positions with her two male partners, Sam ultimately settles woman-on-top upon one cock in order to enjoy the sort of orgasms that she just can't achieve with reverse-cowgirl style sex. It's so good to see a woman who knows what she likes and has the confidence to openly express what's needed to provide her with the ultimate orgasmic pleasure. In fact, I don't think I've ever seen Sam orgasm so much as she does in this video!
Here are a few clips from Sam's first two-on-one MMF interracial threesome video at SexySamantha38G.com:
CLICK HERE TO VISIT SAMANTHA 38G AT SAMANTHA38G.COM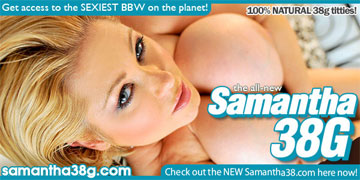 (webmasters)