Not that I'm trying to convert you to the swinging lifestyle or anything, but aren't threesomes just the most wonderful way to have sex? As avid swingers, Vix & I engage in such sexual exploits as frequently as possible. It's like 1-on-1 sex with a bonus, as you can enjoy long, drawn-out fuck sessions and, when one partner needs a break – to get a nice cup of tea or rejuvenate a spent erection, for example – the remaining two can keep each other occupied quite nicely!
And a long, drawn-out session is precisely what Samantha & Eden get up to with fuck-buddy Eric in the latest videos on SexySamantha38G. However, this particular threesome exhibit an extraordinary amount of stamina in that it's three-way action all the way without the need for fuck-breaks! It could be the newness of the experience, though, as Sam admits early on in the video that this was her very first threesome ever (with a camera rolling, at least).
That Eric's a rather lucky guy, too, getting to enjoy the sensual attentions of two bisexual women with big tits at the same time – an enviable position indeed. They're quite cooperative, too, squeezing each other's breasts together to form a tight tunnel of cleavage to facilitate a nice tit-fuck – Sam even goes one step further by giving a pre-titfuck blowjob to lubricate Eric's cock to the task (although the sensation of two tongues teasing together can be rather pleasurable as well)!
The best thing about this particular threesome video, however, is that it's evident how much fun they're all having. Let's face it, fucking can be fucking funny sometimes, and all the real swingers that I know don't mind laughing at themselves and the "sticky situations" they often find themselves in. The fact that Eric, Samantha & Eden are comfortable enough with each other to share a laugh during sex is refreshing (compared with the faux "seriousness" of most hardcore porn).
Here are a few choice video clips of Samantha 38G, Eden 38DD & Eric from their delightful little menage et trois episode at SexySamantha38G.com:
CLICK HERE TO VISIT SAM'S WEBSITE!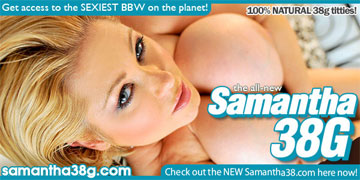 (webmasters)