This scene by BBW Land has Samantha 38G and Jane Blow looking sexy as hell on a night out at the bar. These two big tits BBW babes didn't find any interesting guys at the bar, and Samantha decides to ask Jane if she wants to go back to the hotel with her, alone, instead! There aren't any guys to tag tam anyway, so they might as well make the most of each other's lust and big fat tits.
The two big tits BBW babes don't stay at the bar for very long, and make their way back to the hotel. We get to start with a luscious treat of watching Samantha 38G strip before Jane Blow gets her chance in the spotlight. She tenderly unleashes her huge tits, removing them from her little black dress. First you get to enjoy her big floppy tits and nipples before she begins working that dress off her big thick figure. She makes way for Jane who cannot wait to tease for herself!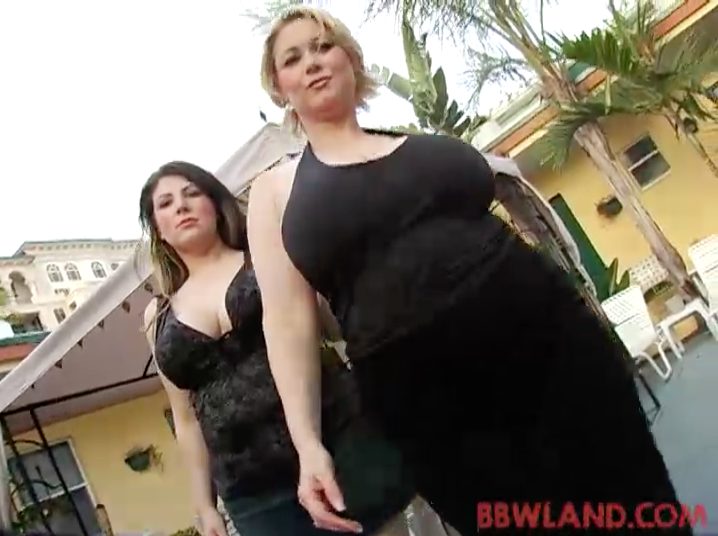 Samantha 38G and Jane Blow Low Showing Their Big Tits
When Jane Blow slides into bed, she teases with upskirt shots and tempts you with her very deep cleavage. We don't know about you, but we cannot wait for this big tits BBW babe to reveal her breasts! When she finally does, you'll be in BBW heaven, enjoying every inch of this beauty as she jiggles those big tits and gives them quite a lick! She slips off her top and plays with them until she's ready to reveal what's under her denim skirt! We get a taste of her shaved pussy before Samantha 38G can even get her hands on her!
Now these big tits BBW babes are ready for some fun! They join sexy forces now that they're fully naked, and start with toys and fingers buried in their pretty pussies. The naughty pair begins to masturbate together, investigating each other's pussies more and more as they grow wetter with every stroke. Jane Blow begins to moan louder, as Samantha 38G takes time to play with those big tits, herself!
Now that they're naked and pleasuring each other, you can enjoy watching them play individually and together as their big tits jiggle! We especially loved how Jane Blow spreads her pussy and how hungry Samantha 38G grows as she hears her friend pleasure herself. Things begin heating up as these two beauties play, and move for a little more than just fingering.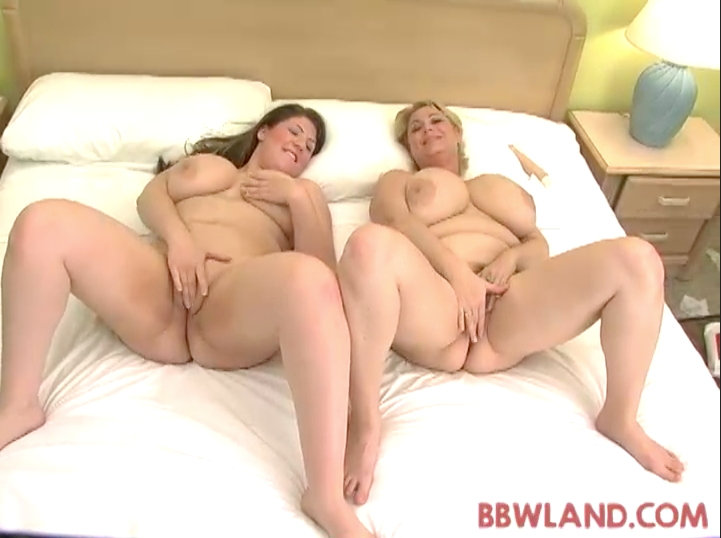 Samantha Loves Jane's Shaved Pussy
Samantha 38G is the first to push for more fun fucking! She whips out a toy and finally starts fucking that hungry pussy, calling Jane Blow a good girl as she takes it. She joyfully moves her body, giving you all the jiggles you crave as she pleasures Jane's pierced pussy. Play grows more and more involved after Jane tastes herself on the toy.
These two big tit BBW babes find plenty of ways to show you their curves, teasing each other with ice cubes over each other's huge nipples and moaning as their nipples harden. They continue to play, allowing you to see them both cum with joy!
You can watch Samantha 38G and Jane Blow have fun in a hotel now at BBW Land!