As a realtor, redhead BBW Ruby Sinclaire is determined to be successful. She starts this scene for PlumperPass hyping herself up to make the sale, and she waits for her client to arrive. She hears a knock on the door, and finally Jay Bangher has arrived, and this redhead bounces towards the door. She's dressed professionally, and polished, even though her tattoos peek from under her skirt. When she answers the door, she seems surprised to see him. This sassy MILF is surprised to see he isn't even dressed for an open house! No big deal, she doubts he has the funds to make it happen anyway, judging by appearance alone.
Ruby Sinclaire learns more about her client Jay Bangher, and finds that he's a pornstar! This house is price, and she almost cannot believe pornstars made as much money as he's claiming to make. She ignores her reservations and suggests that they go on a tour of the home. After she highlights all the features of the house, she continues to push him for how much he can actually afford. When Jay shrugs her off, he tells her that he can offer in cash. This piques her interest. This redhead BBW really needs the sale, and needs to make sure her client is happy enough to make the deal happen.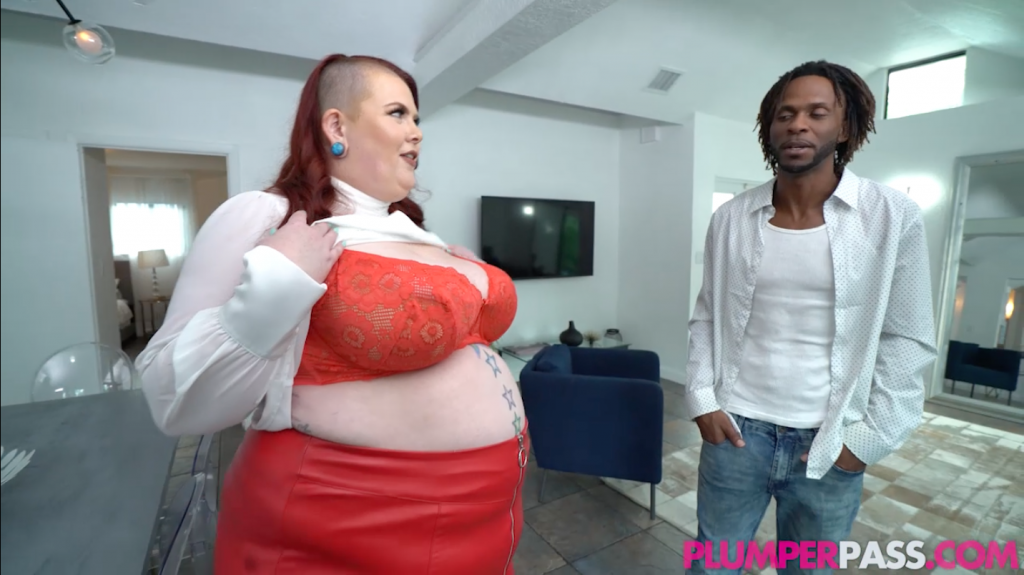 Redhead BBW Flashes Her Big Tits in Lingerie
When Jay Bangher continues to brush off Ruby Sinclaire's offensive remarks, he makes a bold move! She can continue to highlight the features off, or just take her shirt off for him. If she wants to make the sale, she could easily do this for him. He assures her one more time that the cash is there. The redhead BBW is desperate to sell the house, and she wasn't counting on stripping down today. He continues to push her, and she starts to warm up to the idea. He helps her take her shirt off and those big, fat titties are now available to him. She bounces them, teasing him and working hard for that sale!
He pushes for more as they walk through the house and she's really into this. Ruby Sinclaire is bending over, showing off those thick thighs and her fat ass while she makes a series of naughty innuendos.She clearly needs to remove more to convince, and she thinks he's really taking advantage of the situation. Then she begins to drop her skirt, spicing up the sale with a view of her beautiful, fat ass and big ass belly hanging over her panties. She is now in her lingerie, but he wants to push for more, as soon as they get into the bedroom.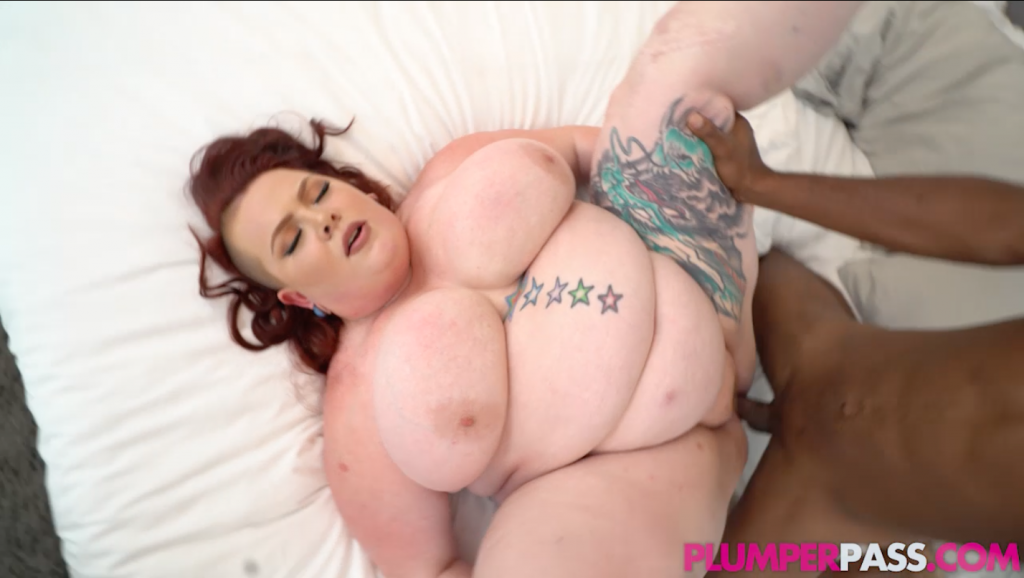 Ruby Sinclaire Makes The Sale With a Big Black Cock
Ruby Sinclaire is getting turned on and starting to push harder for the sale. He's clearly enjoying this naughty house tour, and they happen to have a bed. She wants to see that big ol' cock! When he whips it out, this horny redhead BBW gets her mouth right on that cock, gagging while she's on her knees. They fuck hard, and you'll love how this thick ass plumper fakes that big black cock.
You can see Ruby get down with BBC now at PlumperPass!