A silly tits title, to be sure, but that's what Plumpers at Play called this sexy BBW photo & video series (well, the Rud-A-Dub-Dub bit, at least). What's more, this heralds the heavenly huge hooters return of hefty H-cup honey Annie Marie 42H, whom you may remember from my busty redheads blog gone by. At that time, however, she was busy enjoying a massive oily breast massage as foreplay to some fucking fun…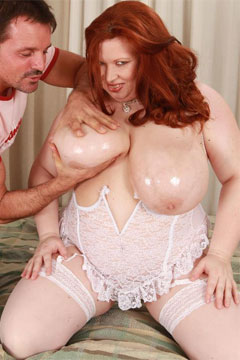 …this time, though, gorgeous ginger goddess Annie Marie is all by her lonesome with nary a phallus to fuck, so she plunges the pulchritude of her invitingly voluptuous body and beautiful big boobs into a bubble bath for some good, clean fun instead (she was being a deliciously dirty girl last time we saw her, after all). But, soon enough, the erogenous excitement of massaging her big soapy tits (mmm, slippery tits can be a very good thing indeed!) and brushing her erect nipples and areolas clean gets the better of our colossal cleavage cutie so she turns her erotic attentions southward and begins masturbating with the brush hard against her pussy pulling her labia lips clitward (get it? that's clit for clitoris and… oh, nevermind) with its prickly bristles every firm yet sensual stroke from the soft, curvaceous cleft of her ample ass crack upward against her shaved vulva (stop, it's pussy scratching time!).
The sexually contented orgasmic moans of pleasure Annie Marie emits orally as her massive breasts hang between her legs untended whilst this extremely intense genital stimulation ensues bears a tits teasing testament to the sexual success from her bath brush masturbation technique ('though one suspects her pretty plumper pussy was itching to have something inside of it as well) and, once she's cum to multiple orgasm from her rough wanking solo sex session, she turns the water spurting head of the shower towards her twat for some soothing relief from rubbing her pussy raw and red (then again, a swollen pussy has it's merits as well, sexually speaking in the penetrative sense!).
Ah, but enough of my take on this beautiful sexy busty redhead BBW masturbation video and on with the porn perspective itself – here, in voluptuous visual form, is our exceedlingly lovely Annie Marie taking a big boobs bath and masturbating in the shower in photos and videos cumming pussy pleasing pleasure from PlumpersAtPlay.com:
42H Annie Marie photos from PlumpersAtPlay
42H Annie Marie videos from PlumpersAtPlay
(note: actual HD videos available for download at the site are 1280×720 high-resolution)
CLICK HERE TO VISIT 42H ANNIE MARIE AT PLUMPERSATPLAY.COM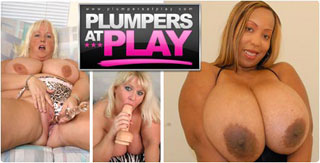 (webmasters)