I was perving my way through the new photo galleries at BBW Dreams when I came across something that suddenly struck a chord in me. Specifically, it was this photo of a model named Keira…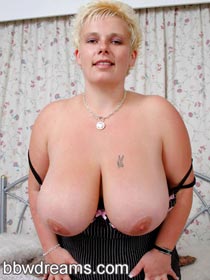 …looking at her short-cropped blonde hair and huge breasts dominating her voluptuous plumper body, I was instantly propelled back to the early-'90s when a 24-year-old BBW model by the name of Roberta Smallwood appeared on the porn scene. Far from the diminutive dimensions her name might denote, Roberta had the biggest tits I'd ever seen up until that time (this being prior to my discovery of massive mammary wonder that is Monique) and, based upon my breast-obsessed nature, was quite possibly the reason I got into plumpers & BBW porn in the first place!
Sadly, Ms. Smallwood's career was short-lived, spanning just two years from 1991 to 1993 (although she still re-emerges every now and again in the form of nostalgic archive photos & footage). During her time in the spotlight, though, Roberta made a big impression in the porn world, appearing frequently as a centerfold feature in men's magazines as well as alongside other big-breasted giants of that era like Melanie Anton, Fawn Miller & Trinity Loren in hardcore videos (including one of my classic but now-dated favourites, "The Plumpers of Sundance Spa").
No one seems to know why Roberta Smallwood retired from her immensely successful modelling career, but I can take comfort in the fact that we have new models like the lovely Keira to inspire fond memories of those days gone by. Besides, Keira's sex scenes seem so much more natural than those choreographed sexual escapades of the early-'90s. Unlike many of her last century counterparts, Keira actually appears to enjoy fucking – a refreshing change from the plastic productions long past. And so, here's more of lovely busty blonde BBW Keira from BBWDreams.com:
CLICK HERE TO VISIT KEIRA AT BBWDREAMS.COM
(webmasters)