Mylie Moore shows off that plump BBW body in this hardcore scene for Plumper Pass! Mylie is truly exceptional, showing off her thick, natural body and juicy ass in sexy panties while she bends over and lets that ass jiggle like a waterbed. We're eager to see more from this redhead BBW beauty. She's truly got an LA face and an Oakland Booty, showing off her model-like looks as she strips down, showing off all her juicy rolls.
Lovely redhead BBW Mylie Moore looks as fine as can be when she starts to strip. You're going to love looking at her belly and thighs jiggle as she dances and continues to twerk. She's truly got a luscious ass that at this point, we cannot wait to see getting pounded from behind! This curvaceous redhead is ready to have some fun beyond the naughty striptease.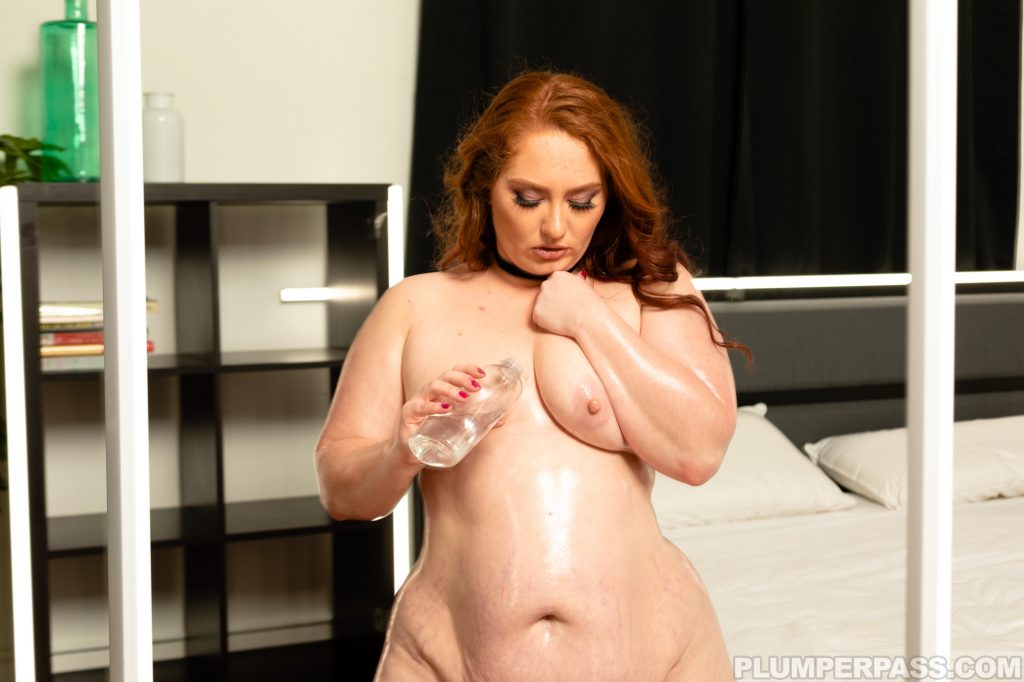 Big Ass Redhead Plumper Twerks and Strips
It's no secret that Mylie Moore is an absolutely gorgeous Plumper, but this redhead can put on a masterful tease! The folks over at Plumper Pass always know how to show off a thicc af girl in the best light, and Mylie looks fine at every angle. She teases off her lingerie, except her panties. She's still got lots of ass shaking to do for you. First you'll enjoy her sexy little titties, and this beauty will get right on the bed to treat you to more of that luscious ass. She looks incredibly inviting, and by the end of her tease you should be rock hard and ready for sexy Mylie!
Now that Mylie Moore is super horny, she's finally ready for the final tease with her scene partner. She strips off her panties, showing off that the carpets do indeed match the drapes! The redhead BBW is ready to spread those pussy lips for you to see, as she reaches over her big belly. She sinks her fingers iinto her pussy, giving herself the first moments of pleasure while she puts on an exciting performance. She moves into covering her entire thicc body with baby oil, rubbing it all over her low hanging belly.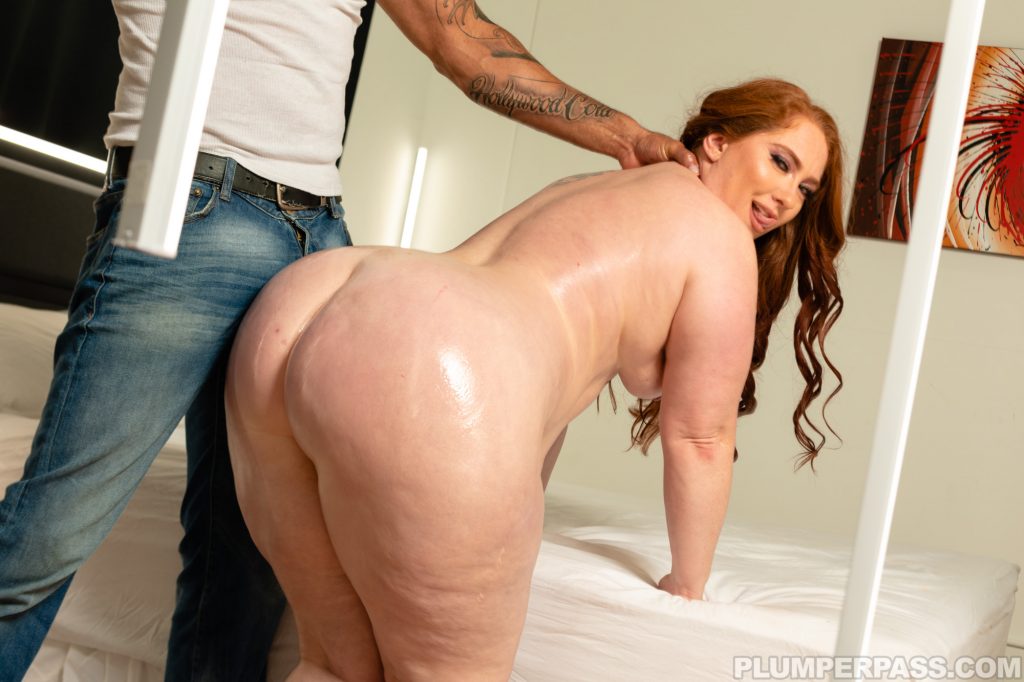 Mylie Moore Oiled Up and Hardcore
Watching Mylie Moore masturbate is fun, but if you're hoping to see her get fucked, this is the one! She gets her belly rubbed and her full body caressed immediately, and moans with every touch. He handles her body gently and sensually, drizzling more oil over her curves. His hands begin to run more smoothly over her belly, and she is loving every bit of attention.
Mylie Moore is such a good girl! She begins bending over and listening to everything her man says. This babe gets spanked, massaged, and tasted and loves every minute. The redhead BBW is eager to get fucked, but he is certainly taking his time with her pleasure. She loves every moment his face spends between her ass cheeks! And now she's about to get a deep dicking she won't soon forget.
Mylie Moore gets filthy and nasty while getting fucked in every position, and you can watch it all now over at Plumper Pass!