Today we have a feast before us, with delectable Alexa Grey showing off her big thick body in this scene for BBW Land! This gorgeous redhead BBW is sensual and sexy with big tits, a big ass, and a belly and thighs you'll love as she begins to undress. She shows off those big natural 38FF titties as Pussy Bandit fawns over her body, just like you will as she gets hornier and hornier. This naughty BBW babe is excited to get down and dirty with a big Black cock for this scene, where she'll get to enjoy her favorite positions.
Pussy Bandit is in charge of her interview (and ultimately the fucking, too! Lucky him.) and we get to know a whole lot about this sexy redhead BBW! Alexa Grey is happy to show off her body, her legs, her feet, and more as he asks her questions about her sex life and her career thus far. This beauty is super open minded, having dabbled in the BDSM community and more. she's ready to try just about anything on camera!
Alexa Grey Is Hot, Horny, And Loves Big Black Cock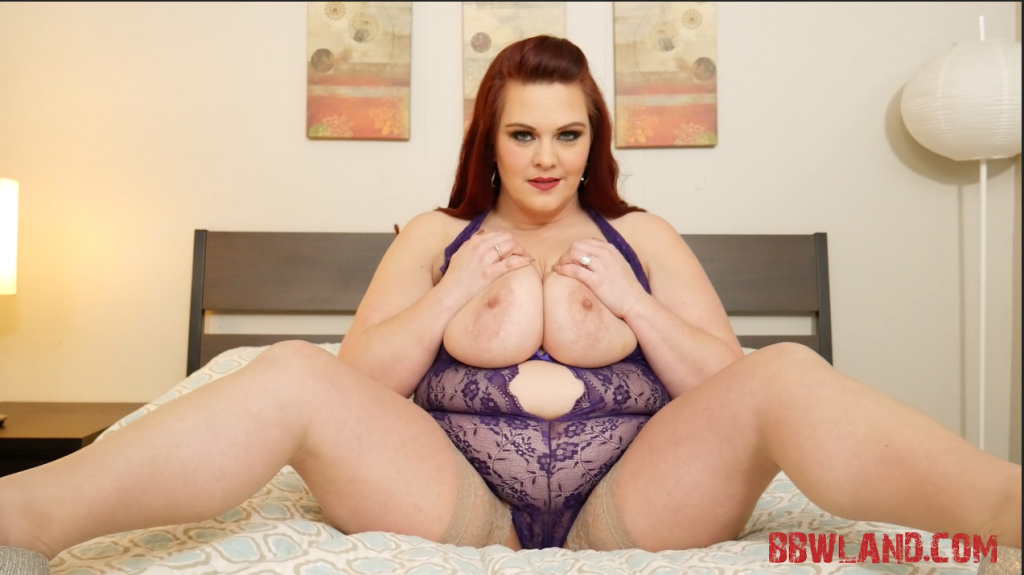 Alexa Grey wearing sexy purple lingerie and thigh high stockings ready to get fucked. She teases and shows off her beautiful body as soon as Pussy Bandit steps away to undress himself. You can hear him in the background expressing how much he loves a good redhead BBW, and she's about to make quite an impression for all redheads around!
Lovely Alexa starts by spreading her legs, letting that shaved pussy breathe as she plays with her tits. Alexa Grey begins to moan louder and louder as she continues to play. She starts to finger her pussy with spit-lubed fingers, and uses her long nails for stimulation. Before long, you'll have this redhead BBW stripped naked and getting fucked!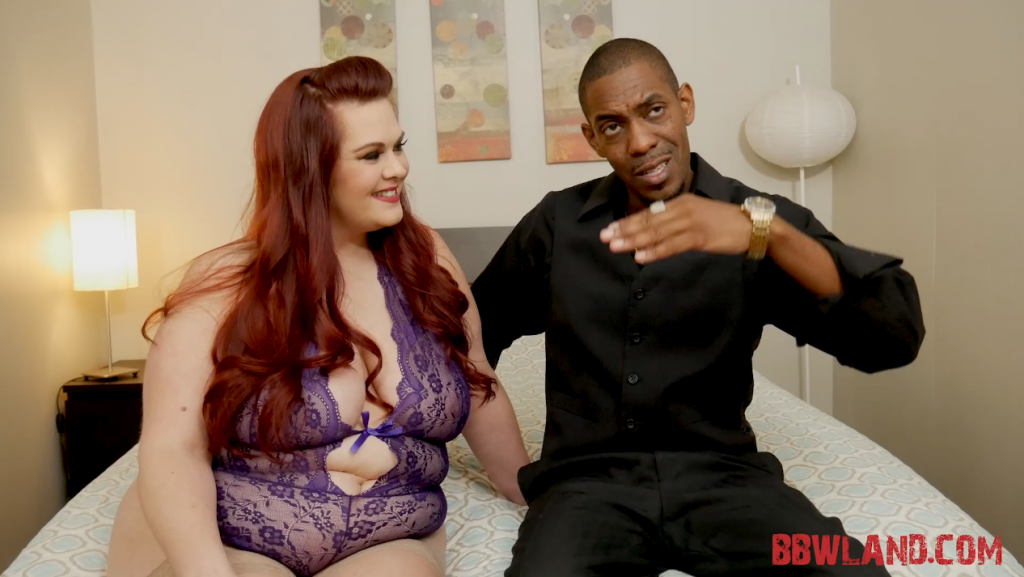 Redhead BBW Craves Lots of Cum
When Pussy Bandit gets back on the scene, he's more than ready to get a taste! He digs his face right in, and she tarts to tremble with pleasure as he goes! Alexa grinds into his face as he works hard to pleasure her, screaming out with pleasure! It's quite a scene, watching her tits and thighs jiggle as she grabs her tits. She's a BBW lovers visual dream!
Alexa Grey's next move is to savor that big black cock that she craves! This redhead BBW begins to slurp and suck. She is enjoying the taste as she ensures he's lubed up and ready to slip inside of her pussy. She retains her lingerie, climbing on top of him, moaning, "fuck, it's so big"! What a hell of a statement! She loves that huge cock, and looks good riding it. You can see she can barely keep a straight face as she rides!
This redhead BBW loves every inch of cock, filling her up. She's hoping to get all the cum she craves! And she works so hard to do it! She keeps switching between bouts of sucking his cock and taking a hell of a deep dicking. She starts in cowgirl, then rides him hard so you can see that glorious ass bounce from all angles. She's working hard to get the cum she desires.
If you want to watch Alexa Grey as a total cumslut, you're going to want to get to BBW Land now, and watch this hot scene!