One look at sexy MILF redhead BBW Quinn Rain, and you'll want to bury your face in her mountainous titties! Puerto Rock is the lucky man that gets to do exactly that! This naughty redhead surprises him in her sexy pink outfit, in this new hardcore scene for BBW Land! You can see clearly that she wants more than just sleep!
Quinn Rain says she can't sleep. So instead she took the time to get dolled up in a sexy little outfit. She definitely needs to get laid, and tries her best to play coy. However, we think it's pretty obvious she needs to get dicked down. She starts sweetly and innocently, creeping into bed with him. With her big tits overflowing from her fuzzy lingerie you know she's up to no good! She's sexy and pleasing to the eye with curled hair, makeup, and her pleasing fuzzy lingerie. Who needs sleep, anyway?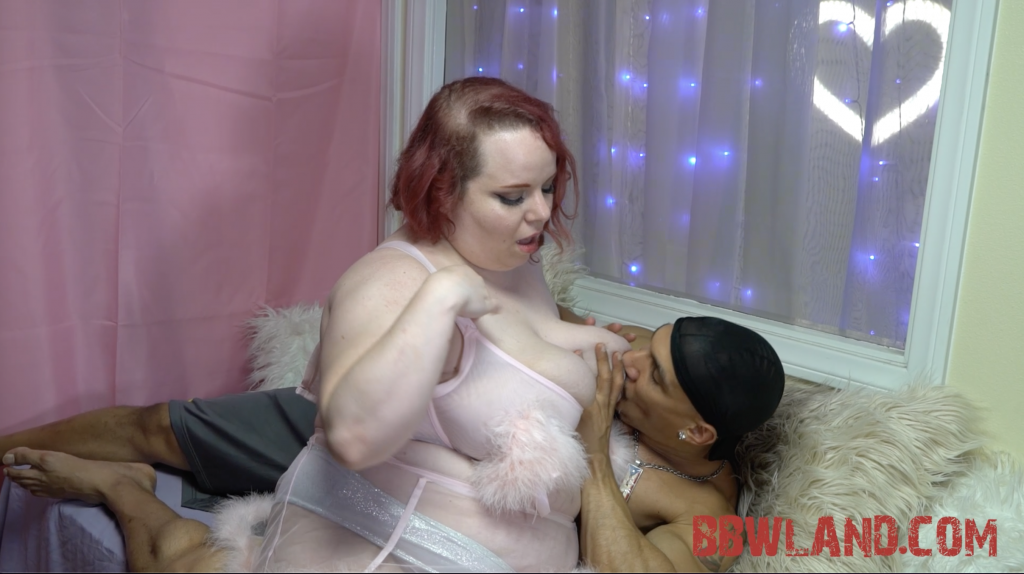 She's a naughty plump freak needs to get dicked down!
She lets her man pull her big tits out to suck on her nipples. Her outfit is sexy as fuck, but he definitely loves her naked. First thing he does is grab hold of her ginormous tits, and slips her nipple into his mouth.
If you appreciate a woman with some extra curves, Quinn Rain is your girl. This naughty redhead BBW oozes sexual prowess, and goes for exactly what she wants. Even if she pretends she's shy about it! This submissive, sweet babe is also voraciously horny, becoming a real temptation for her man. She tempts while she undresses herself and shows off her rolling belly and thick thunder thighs.
Once Quinn Rain gets her titties played with, she goes right for his cock. She lubes him up with her spit like a pro! She moans and giggles as she strokes, loving his cock deep in her throat. When it comes time for her to get dicked down, she submissively lays back, stripping off the rest of her lingerie. Then she allows him to slip right inside of her pussy. He doesn't hold back, making sure he grabs her belly as he goes.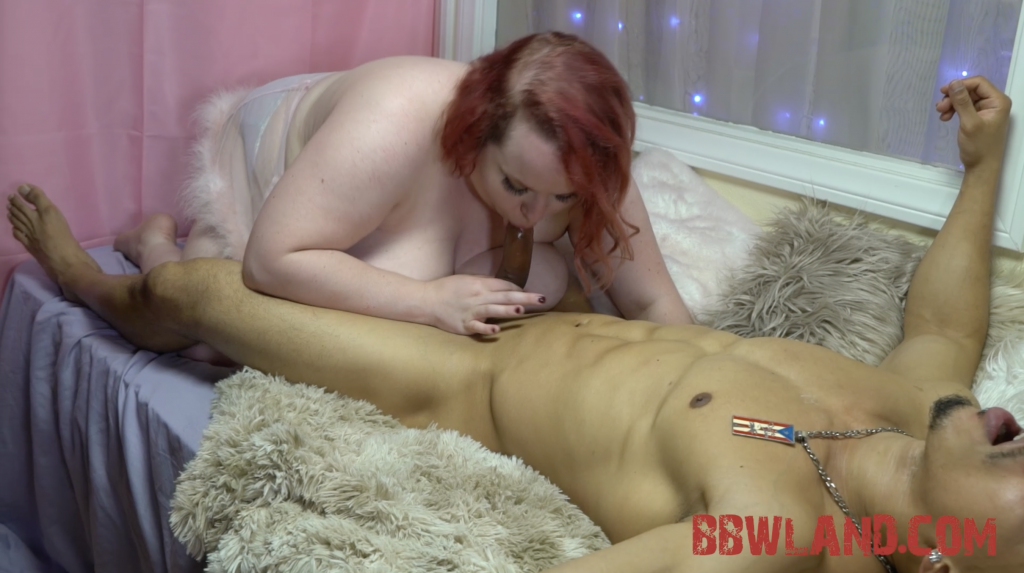 Quinn Rain is a BBW Redhead Hungry for Hardcore
Big natural tits and a big belly like hers jiggle like a dream. She's lovin' that stroke game and loves her big tits sucked on while he goes. He moves her body into every position he wants, making her yell "FUCK" as he pounds her harder and harder.
From slow strokes to straight up railing, Quinn Rain takes his cock in every position. You can enjoy every fold of her body as she spreads her legs wide begging for more. Even in doggy, she's thrilled with hard ass slaps on all fours.
Watching Quinn Rain is something special. She enjoys every moment of pleasure as she listens to every instruction from her man. She throws out a few commands of her own, asking for him to cum all over her beautiful BBW MILF tits. He made a hot mess of her once glamorous look.
You can enjoy this scene for yourself now, at BBWLand!