There's nothing quite like busty BBW Bunny De La Cruz and her big juicy tits, while she flies solo and pregnant in this scene for BBWLand! She's got her pretty face totally tolled up as this glamorous busty blonde shows off her thicc af body in her black lingerie. It's time for some tit play, for those of us that like tits you can only describe as "majestic". She's got everything from sucking her dildo, to tittyfuck and so much more in this luscious scene that really MILKS her skills.
If you didn't know Bunny De La Cruz could use those big tits as more than just sexy props, you've got another surprise coming. This juicy blonde BBW shows off her massive tits first while she teases with dirty talk all by her lonesome. She's still horny as hell, and cannot wait to show you what her tits and belly can do. First she shows off those huge tits, pulling them out of her lingerie and delighting us with the way they jiggle. This naughty busty BBW finds new ways to tease, including with her big, pregnant belly.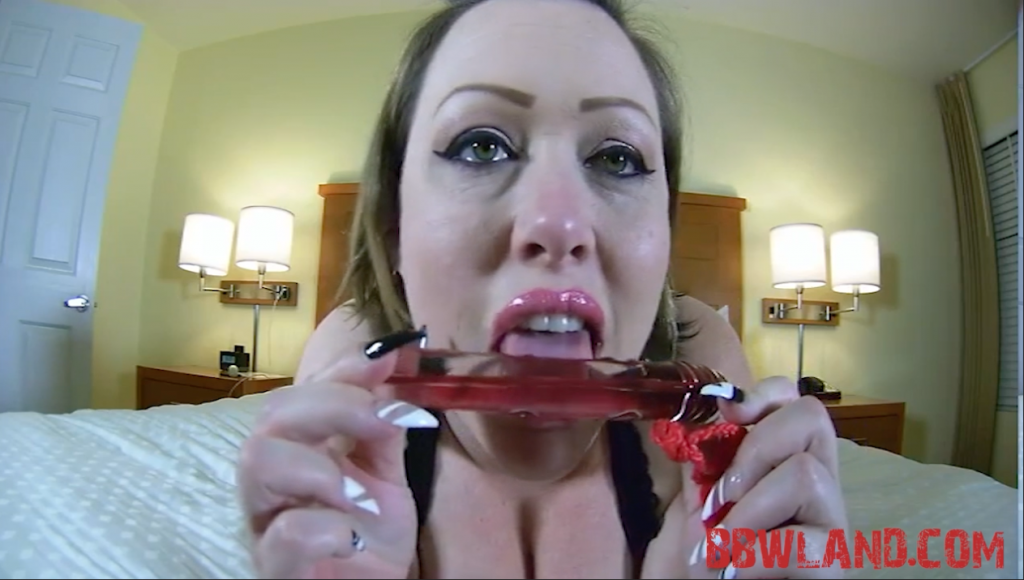 Pregnant BBW Shows off Big Tits
Bunny De La Cruz of course has a whole lot of extra cushion, which we love about her. The naughty blonde BBW is happy to show off her entire body, starting with her belly. She shakes it, showing off her smooth skin and revealing the joys of a pregnant belly. She rubs it, bounces it, and invites you in for more of her tit play. And what a surprise! The busty blonde BBW can even expel a little milk from those big mommy milkers.
She continues to show off, beginning to strip off her black lingerie and showing off her thick legs in fishnet pantyhose. She reveals more of her fat tattooed body, moving her huge ass towards the camera. It jiggles like a waterbed, and she's thrilled to continue her tease in her thong clad outfit. Soon she's pulling off her panties and tasting her own wetness while she teases you with them between her teeth.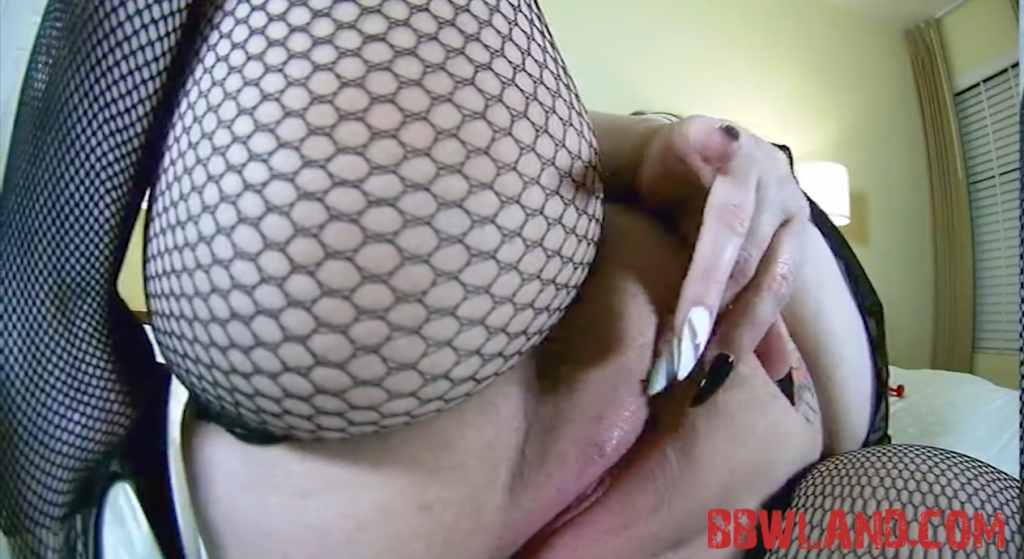 Bunny De La Cruz Solo Pregnant Masturbation
Finally Bunny De La Cruz spreads wide to show off her "fat rainbow pussy". She's got a bouncy rainbow right above her pussy, jigglign that FUPA right as she makes her way to her juicy clit. This fat babe begins to lay back so she's perfectly positioned to rub that fat pussy. Now she can put that toy she's been teasing with to use! She's ready to plunge that bad boy deeply inside of her and give you the show you really want.
First, Bunny De La Cruz has to warm up her pussy, ensuring she's slick enough to slide that toy right inside. She finally gets it deep inside and teases her way to pleasure, plunging it deeply inside of herself. This naughty blonde BBW makes sure she hits every spot, so she is fully satisfied when she finally cums.
You can get the full scene of luscious Bunny De La Cruz now over at BBW Land!