It's certainly no secret that I'm a big fan of pussy fisting. and so when I saw that beautiful brunette BBW Candy Curvaceous did this hour long marathon orgy interracial gangbang video for First Time Fatties which included a fair amount of fisting amongst its many extreme hardcore scenes, I had to dash off for a download of what I expected would be a most magnificent movie!
And I must say that I was certainly not disappointed, as I got to see a couple of guys taking turns cramming their whole hands into Candy's plump pussy and, judging by her reaction – at first shocked & surprised but then getting all hot & horny as she relaxed into the fantastic feeling of a full fist filling her gaping vagina – she seemed to really enjoy this unique sexual experience to orgasmic proportions!
While there is a hosted video gallery for this porn flick which provides a variety of good gangbang sex scenes, I decided to cobble together my own extended video trailer with a focus on fisting pussy…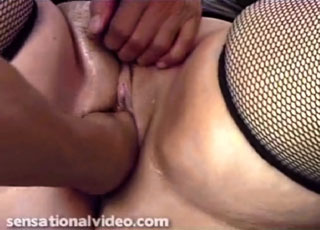 (note: actual fisting video available for download on the site is 640×480 resolution)
CLICK HERE TO VISIT BBW CANDY CURVACEOUS AT FIRSTTIMEFATTIES.COM
…now, in my experience, plumper pussy isn't any bigger than anyone else's in terms of vaginal volume so, if this was Candy's first time fisting (which I rather strongly suspect it isn't), them I'm not surprised by her reaction to such extreme genital stretching! Kudos, though, to the first guy who shoved his whole hand into her vagina for having the foresight to engage in plenty of foreplay to make sure her lovely plump pussy was all wet & ready before penetrating her with his fist up to the wrist.
Since Candy's webmaster so kindly provided a video gallery to go along with this splendid gangbang fisting movie, I figured I might as well share that with you all as well (although I must object to the second bloke who stuffed his hand in her gaping snatch as wearing a wristwatch is not good pussy fisting etiquette!). Anyway, here are the rest of the preview video clips from the Candy Curvaceous interracial gangbang courtesy of FirstTimeFatties.com:
CLICK HERE FOR MORE OF BBW CANDY CURVACEOUS AT FIRSTTIMEFATTIES.COM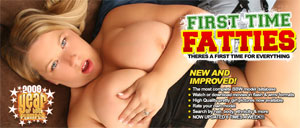 (webmasters)