With an ass and thighs that won't quit, Phoebee Sunshiine is ready to rock your fat girl lovin' face off! This scene for Plumper Pass is extra sweet! She's got tons of tattoos, and a sassy short haircut, and ass that is mesmerizing. Her big thick thighs jiggle just below that motor boat worthy ass of hers. This juicy MILF BBW is ready to make those cheeks clap for you, and tempt you well before she gets really down and dirty in this hardcore scene.
Phoebee Sunshiine is a playful, fat goddess, with all the ass you could ever want. They begin this scene with quite a tease, as she shows off that tattooed ass, her tattooed nipples, and even little peeks at her most private areas as she twerks. Those ass cheeks are a show all on their own, but this horny BBW MILF is aching for attention, even as traffic passes her by.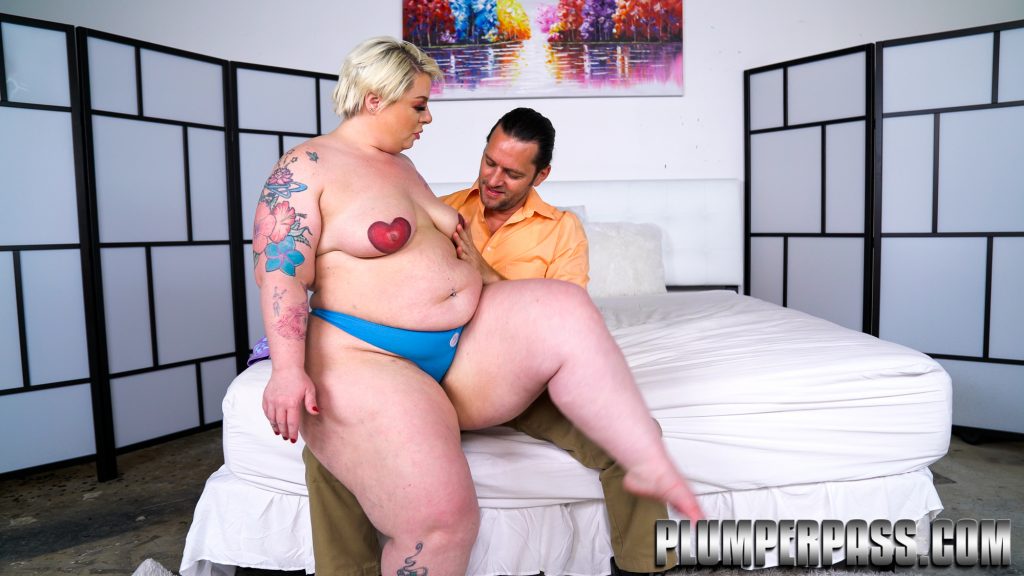 Blonde BBW Twerks in Public
Phoebee Sunshiine is only wearing a thong under her dress. This fat beauty is a master at working her ass over, and cannot help but capture the attention of passersby. We're surprised more traffic isn't stopping, to get a view of this ass, but her new friend takes notice of her curves and cannot help but want to capitalize on the opportunity. Clearly this blonde BBW is all horned up, showing off her ass on the side of the street.
He wants to make some memories for himself, with that unforgettable ass! Phoebee Sunshiine has got it going on! She is happily flashing her colorful tattoos that are almost as attention grabbing as her whole big ass, itself. She is happy to show her new friend her assets up close, when he asks if her place is nearby. Lucky him! This big ass blonde is happy to welcome him into her humble abode. She provides him a more private view of her twerking ass.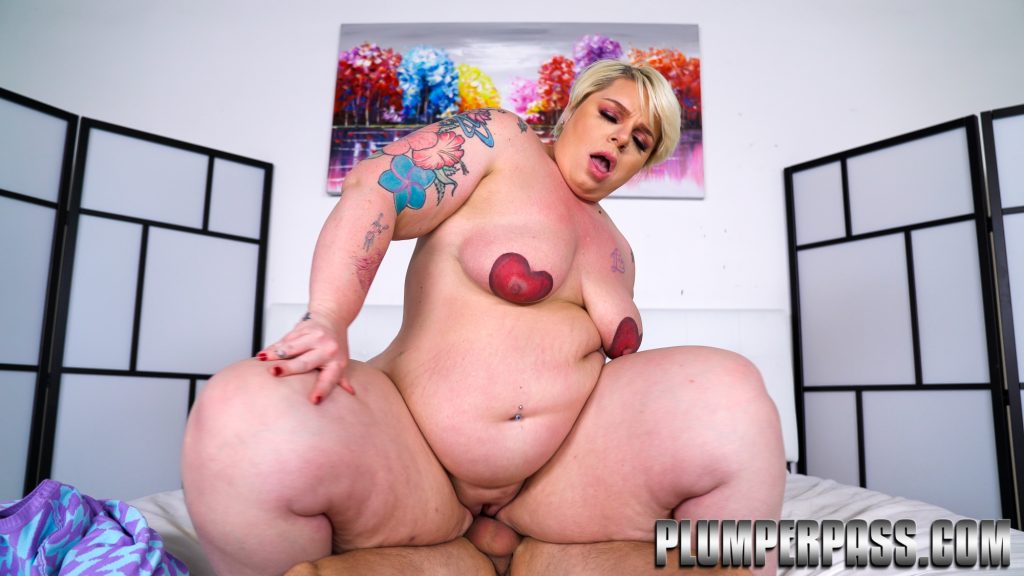 Phoebee Sunshiine Aches To Get Fucked
That jiggly ass and jiggly belly need proper attention. Her new friend is more than happy to run his hands over her body. Phoebee Sunshiine allows him to explore her curves. He shakes her ass, cups her breasts and begins to strip this fat beauty down. She loves him slipping his hands into her juicy folds of flesh, and he's getting hornier by the minute! Phoebe is happy to give him more of her body and she's getting wetter and wetter.
Phoebee Sunshiine is happy to relieve him of tension, dropping to her knees to slurp up his thick cock. She's such a good girl, keeping her eyes wide open while she dips his head further and further down her throat. This fat girl can really gobble! She ensures that she pays extra special attention to his balls, working him into a frenzy. He'll fuck her properly, with this kind of build up! It won't be long before you're watching her juicy, tiger striped body bouncing on his dick.
If you're down to watch Phoebee Sunshiine orgasm, you can do so now at Plumper Pass!