Oppaibby is an Ebony BBW babe that knows exactly what you want! This beautiful succubus was sent from the 69th circle of hell. She's kept her eyes on you and knows your sinful desires. This chubby slut knows it all, and has even dug into your internet history. So if you've been searching for the right succubus to bring you to a HELL of an orgasm, this filthy minx is about to take all your power. This scene for Plumper Pass is perfect to settle your cravings for big thighs, big tits, and big bellies!
This BBW babe is all dolled up, looking like a real succubus. She's got sexy lingerie on, revealing her rotund belly easily. She's got all the hallmarks of a real matron of sin and she's ready to give you a taste of what you desire. Oppaibby lists off everything you undoubtedly have been searching for; big tit babes, BBW blowjobs. She might be your type!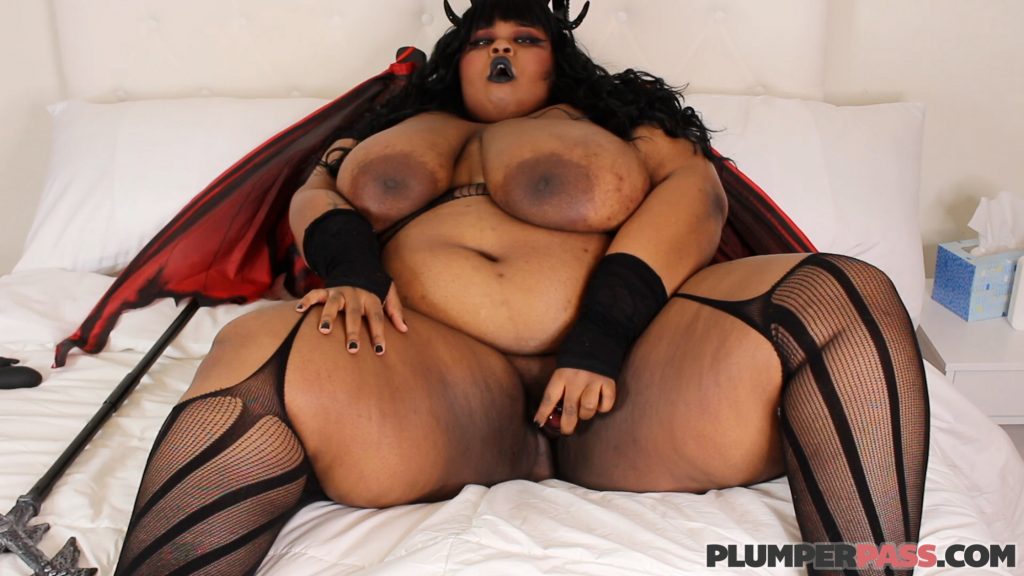 Oppaibby is a Perfect Ebony BBW Slut for your Desires
This expert succubus knows the key to your loins, and begins speaking filth while she reveals her favorite dildo. Oppaibby doesn't fuck around! This naughty girl is about to make your eyes go wide and your mouth water, when she finally inserts that dildo into her ever horny pussy. She asks you to play with your cock, and we're sure you're already getting hard for her.
She spreads her legs and slides her dildo right inside of her pussy. Her big tits jiggle along with her belly, filling you with desire. Oppaibby is a mistress of lust and hopes for you to fuck that luscious, fat pussy. She talks dirty and offers you a closer look of her naughty work, while playing with her dinner plate nipples and massive tits. We'd frankly be shocked if you didn't want to suck on those, too!
Chubby Slut Fucks Herself with a Dildo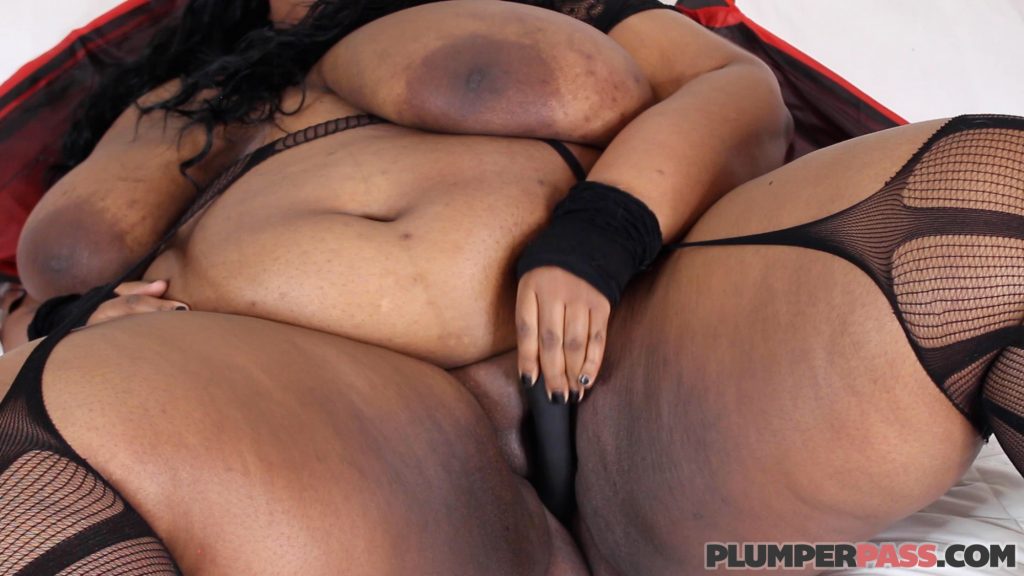 Her moans are enough to send chills up and down your spine! Are you jerking with the beautiful Oppaibby yet? She asks for you to play along with her, sliding her dildo in and out of her wet pussy. Her thighs barely allow you to see how wet she is, but you can clearly see that this naughty ebony BBW cannot get enough. She spreads her fat pussy lips wide so you can see that it's smoothly shaved perfection. She's oozing with girlcum, and asking you to stroke in between her lustful breaths.
Oppaibby digs her fingers into her lips, rubbing her clit harder and harder. This is when she pulls out another toy to ensure she's finished off right. She slides her black rabbit dildo over her clit, moaning with the vibrations and wishing you were there to be the one to get her off. She's ready to make sure you cum, and penetrates herself hard to make sure you get the visual pleasure you really deserve.
You can see more of Oppaibby fucking herself now at Plumper Pass!