Sex isn't just about the fucking. Sex is about having fun and sharing physically intimate moments with friends and thus strengthening your bonds as "body buddies". I can fondly remember our old "cannibal stew" parties we used to have whilst I was growing up – basically an omnisexual wine & cheese gathering of male & female mates getting naked together to explore and delight in each other's bodies (the fact that we usually all ended up in the hot tub being the "stew" bit). Sex (or, more accurately, proper coitus with cock in pussy) was the last thing on the menu, as it was moreso about enjoying each other's company in a nice group grope session of mutual fondling amongst friends – a big handful of tits here and some genital massage there without anyone getting too overtly sexual. Rather, it was merely a means of sating our young lust without the consequences of casual sex (not to mention enjoying some fine wine & tasty cheese in the process, claret & camembert being my favourites, respectively).
One thing that was on the menu at said gropey gatherings was plenty of massage oil, and seeing this collection of well lubed nude bodies writhing together in asexual ecstasy was indeed a sight to behold (although I do not envy the poor bugger who had to clean out the hot tub the next day). I was reminded of these sensual but impromptu orgies of touch in a recent visit to BBWDreams wherein I witnessed beautiful 32FF busty blonde plumper Libby getting her voluptuous body all oiled up for the fucking. However, before we go there, I thought it might be nice to see lovely Libby unlubed before we get her summarily messy…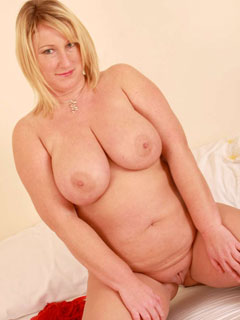 (photo courtesy of BBWDreams)
…the oily action starts when our luscious light plumper Libby grabs a nearby bottle of body lotion and proceeds to dribble it generously on her FF-cup breasts as her male masseur massages it into her magnificent mammaries from behind until tits & tummy are glistening in slippery delight. Relishing the feel of hands against flesh, it seems she's blissfully oblivious of the emerging erection of cock against coccyx. However, it's not long before Libby's on her back sucking his cock and teabagging his balls whilst her dedicated masseur carries on with his sensual oily breast massage.
And this is where the action departs from its similarity to our friendly fondling parties of yore as, as one would expect in such a one-on-one encounter wherein the alluring vision of such a voluptuous vixen glistening nude is just too much to resist, the two naked bodies of our connubial couple couple in coitus and the fucking commences. Ah, one can but wistfully imagine the luxurious weight of Libby bearing down upon her man as she mounts him cowgirl style, her ample tits dangling in his face for the sucking until, at long last, he can contain his cum no longer and explodes in a sticky orgasm against her chest. Whoever said that oil & semen don't mix?! Anyway, here's our lovely & well-oiled light plumper Libby all lubed up and primed for fucking in hardcore photos & videos from BBWDreams.com:
32FF Libby photos from BBW Dreams
32FF Libby videos from BBW Dreams
CLICK HERE TO VISIT 32FF LIBBY AT BBWDREAMS.COM

(webmasters)