Of all the swinger sex the I've indulged in over the years, I tend to like threesomes the most as they provide the open-minded couple with a means of exploring new sexual horizons and expanding intimacy without the inherent insecurity and cheating aspects of "playing away". And, given the choice between FFM & MMF threesomes, both Vix & I prefer the latter "two guys on one girl" variety. I like them because they provide me with new insights into her sexuality (and, besides that, I really do rather thoroughly enjoy watching my wife fucking another bloke for a bit before joining in with the fun) and she simply asserts that the poles-to-holes ratio is far better in terms of balance (and, besides that, Vix just loves cock).
However, I must sadly say that we've not enjoyed the greatest of luck in the swinging department as of late. Our latest (failed) attempt at threesome sex occurred at a weekend swingers' party. The two of us had successfully lured a likely young lad up into the bedroom and, considering that he was nervous having never participated in a threesome before, I left the two of them on the bed to get better acquainted with each other's bodies whilst I stood aside watching with voyeuristic intention. Just as things were beginning to heat up as the sexy fumbling ensued, there was a knock at the door and, not receiving an answer, our hostess barged in to ask if we needed anything. :~P This, of course, totally broke the mood and it took a good several minutes to get back into the "swing" of things.
After the two bed buddies had settled back into one another, I took off my pants and joined them for some three-way heavy-petting in preparation for the main event (said "main event" typically involving 2-into-1 DVP or some such other activity for which only two cocks will do). Then, just as our new-found fuck-buddy had become comfortable enough to get his cock out, yet another partygoer storms into the room in to retrieve something from his suitcase! :~P Needless to say, this second incursion was more than enough to put our already-anxious group-sex virgin off his stroke completely and the three of us, amidst our collective laughter, decided it might be best to pursue our mutual erotic objectives further in the relatively uninterruptible privacy of a non-party environment at some later date.
The upshot of this and several other equally-disappointing attempts in the past is that we've only been able to have sex with each other for the past six months or so (oh, the trials!). In fact, by now we've probably forgotten how a proper threesome should go! And so, I thought it might be a good idea to post some sample MMF threesome videos to refresh our memories. To that end, I've headed over to Plumper Pass and recruited the lovely 36F Ivy Dreams (whom you may remember from such blogs as "Best Sex Positions for Fucking Busty Plumpers") & her partner to provide a demonstration!
The video starts off with Ivy's boyfriend having invited a mate over to play the voyeur whilst he and his girlfriend are having sex. Despite the two having discussed experimenting with 3rd-party voyeurism before, Ivy voices her objections to him having invited a stranger to invade their home (to which her partner offers the lame excuse that "he felt sorry for him"). The sex play commences nonetheless whilst the interloped watches and it's not long before he's got his trousers off! However, not content with merely wanking himself off, he somewhat presumptuously sidles up to the side of the bed and slyly deposits his cock into Ivy's outstretched hand…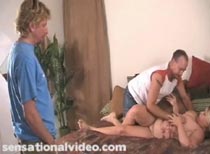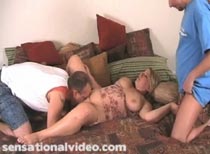 …Ivy soon warms to the fact that their erstwhile voyeur has abandoned his watchful position as she takes firm hold of the newly proffered penis and begins jacking him off whilst her boyfriend performs cunnilingus upon her. Next, it's off with the top to fully expose her fabulous F-cup breasts and all-change as Ivy shifts position to suck her boyfriend's cock, thus allowing their visibly aroused new arrival to take over in going down on her for a taste of that succulent, plump pussy…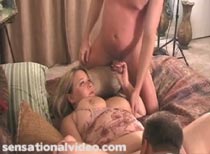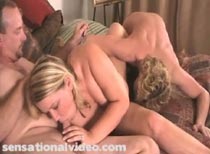 …taking full advantage of the dedicated sensual attentions of two men at the same time, Ivy seem in all her glory reclining comfortable on the bed, her boyfriend sucking her big tits whilst her masturbation buddy turn the tables and plunges a digit deep into her wet pussy before withdrawing and fingering her swollen clit. It's only then that the true benefit of having a bonus cock to hand becomes evident when he replaces his fingers with something a bit more substantial with which to fuck her as Ivy treats her boyfriend to a combination titfuck / blowjob…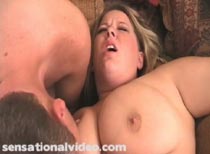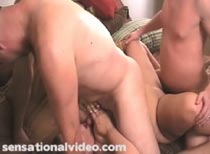 …at length, our multiple cock-hungry fuck-slut Ivy gets up on her hands & knees for some deep-penetration doggy-style sex and experiences her first spit-roasting by continuing to administer oral attention upon her boyfriend's throbbing erection. But the frenzied fucking proves to much for Ivy in the end, and she has to forgo the cock-sucking momentarily in favour of orgasm (just as well, really, as she might've bit his cock off otherwise!), thus granting us a glorious view of the big tits bouncing frantically beneath her…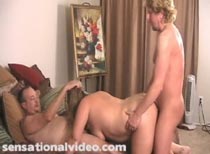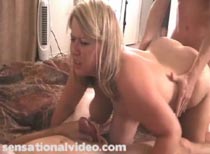 …sure, there's a great deal more to this epic 30-minute movie – including Ivy getting her ample ass bathed in cum – but I believe the above conveys the essence of MMF threesome sex adequately enough. In order to see the rest, of course, you'll have to visit PlumperPass.com! ;~)
CLICK HERE FOR MORE OF 36F IVY DREAMS AT PLUMPERPASS.COM

(webmasters)