Ah, it seems so long ago that I first became acquainted with this super busty black BBW back in April of this year. Describing herself as a California Country Girl, born and raised in California with a Southern heart and old soul, she'd sent me some photos asking my assistance in setting up a personal website (an aspect of the business from which I've since retired). I must admit that I was stunned beyond belief at the sight of those massive I-cup breasts mounted like mocha mounds atop her perfectly voluptuous body and eagerly did everything I could to get her started.
Sadly, though, with the economy going totally tits up as it has over recent times, I found that the majority of porn surfers simply weren't signing up for single model sites as they had in the past, so it was with great regret that I departed from such website pursuits as I found it difficult to deal with the disappointment – and I can but imagine how hard it was on the girls not to receive the rewards they so richly deserved for their dedication. :~(
But every cloud has a silver lining, I suppose, as I've since seen many of the girls I'd worked with back then cropping up on various multi-model big tits & BBW sites strewn across the 'net. Teri Fox went to work for Busty Britain, Alix Lakehurst came to Plumper Pass and then, just today, I found our lovely mocha Minxxx and her immensely massive mammaries popping up in hardcore videos for Big Babe Blowjobs!
So hugs & kudos to all of these gorgeous girls for not giving up in the admirable pursuit of helping to make the 'net a bustier place, and I wish them all of the continued success in the world. And, of course, I'll continue to do my part – albeit from a distance – to ensure their tireless efforts get the recognition they deserve. And, on that note, here's stunning busty black BBW Minxxx in big tits blowjob videos & pics from BigBabeBlowjobs.com:
46I Minxxx photos from Big Babe Blowjobs
46I Minxxx videos from Big Babe Blowjobs
CLICK HERE TO VISIT 46I MINXXX AT BIGBABEBLOWJOBS.COM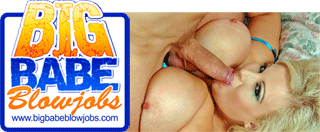 (webmasters)