Big tits, big breasts, big boobs – it's all I've got on the brain most of the time. In fact, I was just stepping out to the shop a minute ago and shouted into the kitchen, "Be right back with 'baccy and boobs!"
Where did that come from? Sure, I was going to get milk as my second item (so there is a loose correlation), but boobs just came out of my mouth from nowhere! Breast obsessed indeed. But, although my general tendency is to actively seek out the most massive mammaries I can find as a rule, the closer to home truth as that I'm pretty much happy with any tits as long as they at least measure up to my breast size ideals. Then, of course, there's the issue of breast beauty where, although size matters when it comes to boobs for me, incomparably beautiful breasts are a big tits treat to be savoured.
Enter Little Miss Perfect Tits (or Seana Rae as she's more commonly known at the Plumper Pass family of well-endowed websites)…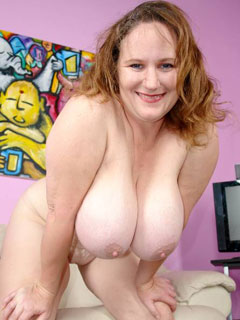 …from the first time I blogged Seana, I realised that her perfect breasts were a force to be reckoned with. If fact, such a picture of big breast perfection was she that I came to consider her the most beautiful BBW of all (erm, until my fickle dick got a hard on for Xtasy (sorry, Serena, but that's what happens when I start thinking with my cock rather than my head!)). Indeed, super sexy Seana Rae is, to me, the erotic epitome of busty plumpers and still serves as a constant reminder of why I love BBWs.
Which kinda makes you wonder why she hasn't been on the busty BBW blog of late, doesn't it? Well, it does me. Sure, she made a cameo appearance a while back when I blogged big women wanking, but it's high time to get sexy Seana and her perfect boobs back on MyBBWSite! So I searched Plumper Pass for signs of Seana Rae and found to my dick's delight that our huge hooters heroine and her "udderly" gorgeous GG-cup juggs were busy with a big black cock over at their plumpers' interracial sex site BBWs Gone Black!
The series starts off with Seana Rae solo so we can "cum" to appreciate the busty voluptuous vision of beauty that stands before us fondling her breasts nude before bending over so we can behold that big beautiful ass of hers while she has a reach around spreading her pussy wide so we can likewise witness her inner beauty as well! ;~) Then it's back to full frontal nudity until her big black penis pal "cums" onto the scene to suck her tits and fuck her (and I love the way she sucks his flaccid black cock to erection in the first video clip below). And so, here's our ever lovely 38GG Seana Rae and her perfect tits tit-fucking, sucking and fucking a big black cock in big boobs interracial photos and videos from BBWsGoneBlack.com:
36GG Seana Rae has the most perfect tits in interracial porn photos from BBWsGoneBlack
36GG Seana Rae has the most perfect tits in interracial porn videos from BBWsGoneBlack
(note: actual HD videos available for download at the site are 1280×720 high-resolution)
CLICK HERE TO VISIT 36GG SEANA RAE AT BBWSGONEBLACK.COM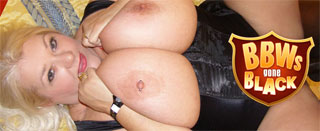 (webmasters)