As I've been experimenting with micro-blogs on My Boob Site in an effort to deliver more porn updates more often (since, honestly, it takes me forever to prepare my traditional blogs, what with all the photo selection, video editing, thumb-nailing, coding and writing and such), I thought I'd try it on My BBW Site as well. Of course, I'll still keep doing my regular BBW blogs with bonus pics and clips composed with care (seeing as that's where my true passions lie), but think these quick and dirty little entries might well be the best way to fill the busty voluptuous void in between.
And such shall be the case with the latest arrival to the PP family, lovely busty plumper Linda Charmed. Regarding their new model…
Hot Sexy Plumpers said:

Linda Charmed is here and isn't about playing games. This hot bbw babe wastes no time and starts to show off her great big natural boobies as she kisses her man friend. She pulls out his hard dick and starts to give him an amazing blowjob. Then her young plumper pussy gets pounded to bits. Great hardcore chubby sex for you guys and gals. Enjoy!
…her "man friend"?! C'mon, now, get serious!! Meh, could never abide porn speak, me. But this is supposed to be a micro-BBW blog and, if I were really taking the time to talk about lovely Linda and her curvaceous charms, I'd no doubt focus on those perfectly pendulous breasts low-set upon her chest well-endowed with wonderfully wide cleavage from the bulk of her big tits separated by the most captivating contour of her cute little chubby belly bump (oh, and she's got some sexy love handles going on there as well!) but, as I'm just doing a quickie here, I guess I'll just post these gorgeous galleries of photos & videos of Linda Charmed at HotSexyPlumpers.com: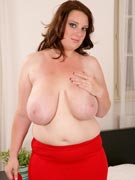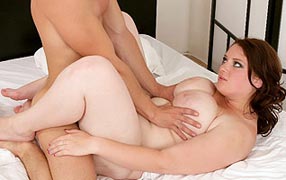 CLICK HERE TO VISIT LINDA CHARMED AT HOTSEXYPLUMPERS.COM

(webmasters)