Pink Kandi and Ash Lauren are ready to take turns on each other's shaved pussies in this raunchy new Lesbian BBW scene for Plumper Pass! Their big bellies are out in all their glory, and these two match-y lesbos are ready to fuck and play! If you don't know who they are, Ash Lauren is the voluptuous blonde, and Pink Kandi is the ebony goddess, and they're ready to enjoy themselves so that you, too, can really enjoy every last drop of visual pleasure.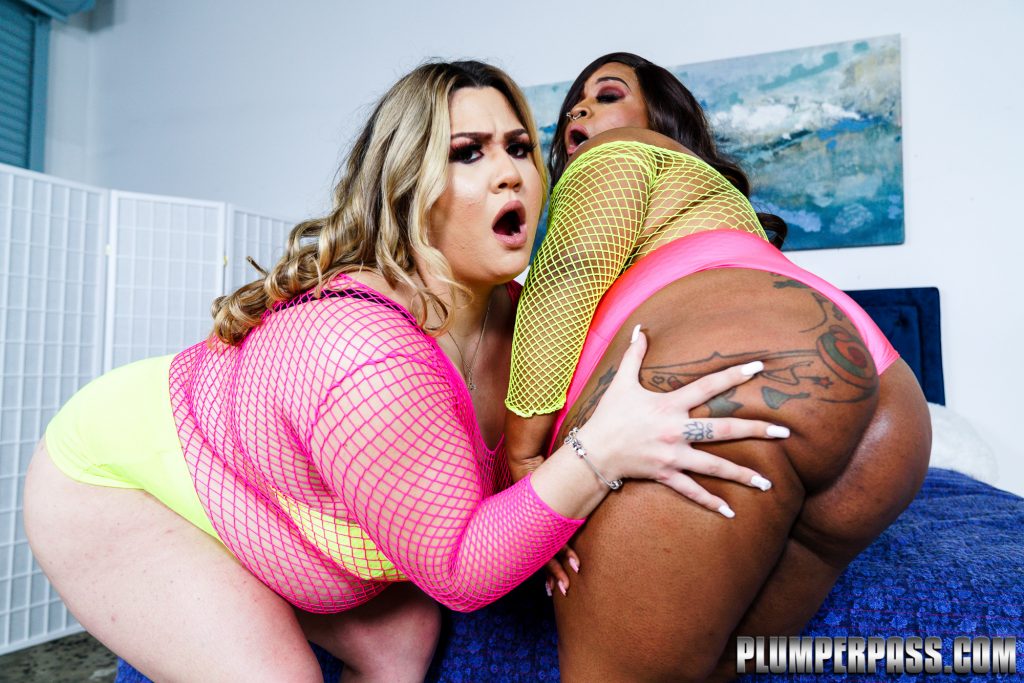 There is so much titty in this scene, you'll be satisfied for days! Both babes are beautiful with ample tits and more curves than you'll know what to do with. From their rolling bellies and thick thighs to their gargantuan tits, you'll want more and more. Don't they just make you wanna shove your face in between them? Well, that's what Ash Lauren goes for first, to get a taste of Pink Kandi's big tits.
Not only are Ash Lauren and Pink Kandi extra frisky, they're color coordinate! They have cute fishnet tops holding in their bellies before Miss Kandi goes in for some delectable belly play. They're working off each other's sexy little outfits little by little. They're getting each other hot and wet in the process in this lesbian BBW scene.
Pink Kandi Lesbian BBW Loves Eating Pussy
If their pussies weren't dripping by the time their clothes come off, we'd have been surprised. It's a good thing they take their time with each other, to guarantee nothing but pleasure. They keep showing off their bellies with their big tits bared, so you can enjoy every jiggle and stretch mark. Ash Lauren starts going to town on Pink Kandi's big body, giving her spanks and fingering her belly button.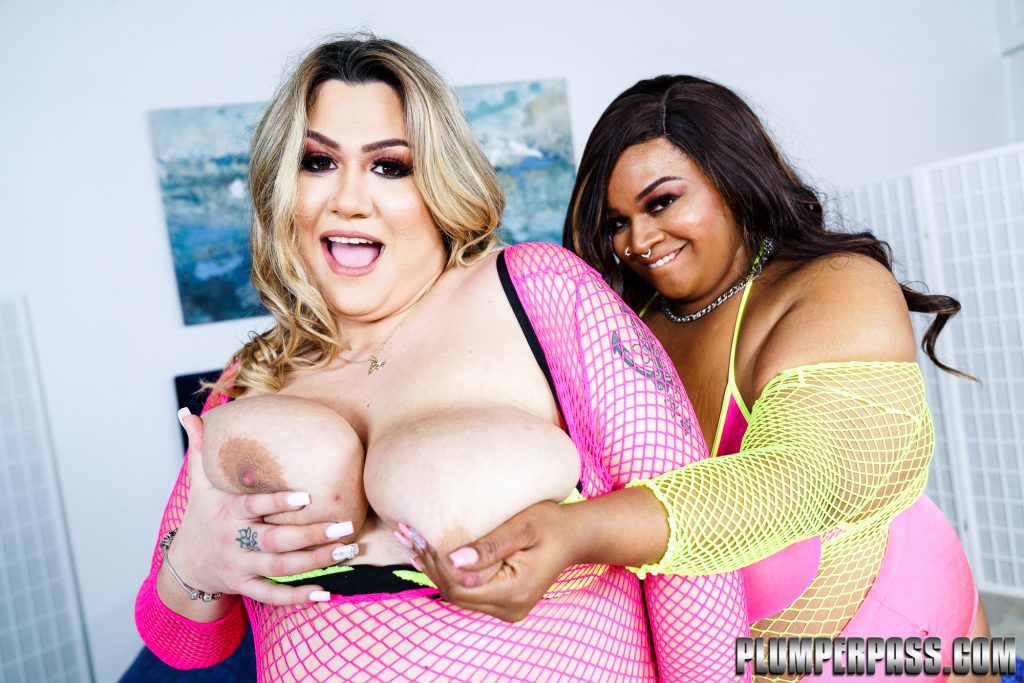 The show doesn't end here! Pink Kandi is the first to start twerking until Ash Lauren cannot resist slipping her fingers in her shaved, pierced pussy. Now you get to view that pretty pussy as she plays, and that big ass of Miss Kandi's shakes in your face. Both of these bangin' Lesbian BBW babes are getting hotter as it goes. Time for them to take turns on their hungry wet pussies.
Throughout the scene, you'll see loads of nipple sucking, belly play, and pussy licking. Pink Kandi kicks things up a notch, licking Ash Lauren from head to toe. Almost literally! This scene actually makes us feel like they're really into fucking each other, slurping up each other's juices with vicious pleasure.
When Pink Kandi finally whips out the dildo, she drives it deep into Ash Lauren's pussy, making her taste her own juices in between bouts of getting fucked. They make sure to take turns, torturing each other with teasing lips over the rolls of their round bodies, and giving each other almost endless orgasms.
If you love big floppy tits, jiggling ass and belly, on gorgeous women with a penchant for carpet munching, you'll love watching Ash Lauren and Pink Kandi fuck each other and eat each others pussies. If you're feelin' these two beauties, you'll love their Lesbian BBW scene for Plumper Pass!