Just a quickie for today, as we're busy getting ourselves to ready attend a perverts' party this weekend. However, when I received an e-mail this morning alerting me to the fact that busty redhead plumper KoreGoddess had a new blowjob video gallery available, I just couldn't resist popping in for a moment to share it with you!
However, having gone on so much about the beauty of a blowjob as I have in the past, I fear I really don't have much more to say on the topic. So rather than just repeating my prior preponderances upon the pleasures of oral sex, I've decided to write a little song instead entitled "Suck My Cock" and sung to the tune of "Jingle Bells"… :~)
Oh, I love the feel of getting head
It's the very best foreplay
Cock compressed between your lips so red
While your tongue swirls away
Grazing teeth across my frenulum
Make a sensual delight
As your head bobs like a pendulum
Just be sure that you don't bite
(Oh!)
Suck my cock, suck my cock
Blowjobs all the way
Oh what fun it is to cum
In your mouth (is that okay?)
(No?)
Suck my cock, suck my cock
Blowjobs all the way
Oh what fun it is to cum
In your mouth (oops, it's too late!)
…there, now wasn't that fun? It's even better if your partner giving you the blowjob hums along in harmony as you sing! [However, considering the potential that some of the attendees of this weekend's pervy party might be reading my blog, I suppose I should post a disclaimer: "The above lyrics are meant entirely in jest and are not intended to convey an accurate depiction of the ultimate outcome of said oral sex act upon their author. Thus, should you find yourself giving Reese a blowjob on Saturday night, he will not cum in your mouth unless expressly invited to do so." ]
Now that that's out of the way, we can get back to the lovely KoreGoddess! Although I tend to prefer blondes, I do have a rather special place in my heart for redheads. Growing up, it was always the ginger girls who had the biggest tits, and the biggest breasts with which I've ever had the pleasure of cock / cleavage interface came courtesy of a stunning voluptuous redhead as well (hmmm, I wonder if she'll be there this weekend?!)!
And, in my humble opinion, stunning ginger goddess Kore is the epitome of busty redhead goodness, with a gorgeous face, huge H-cup breasts and a big beautiful body just begging to be caressed – which is why I once again cannot understand how the bloke in this blowjob video can keep his hands off her! However can he resist temptation toward the tactile experience of every exquisite square inch of Kore's curvaceous charms?
It's just not right. However, I suppose that a blowjob is a blowjob, and to get one from sexy KoreGoddess would indeed be a dream come true (still, keeping my hands to myself in the process would no doubt prove a challenge of epic proportions). So, as I finally get back to packing for a dirty weekend away (curiously, this blog turned out to be far longer than I'd expected), here's beautiful 40H voluptuous busty redhead Kore Goddess in these lovely blowjob videos from PlumperPass.com: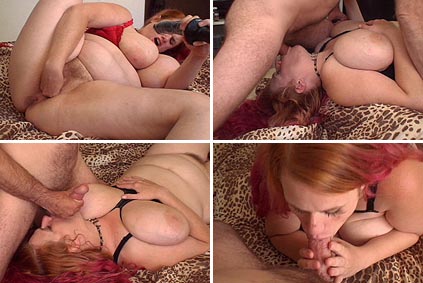 CLICK HERE TO VISIT KORE GODDESS AT PLUMPERPASS.COM
(webmasters)