You'll no doubt know from my "Beauty of a Blowjob" blog that I find the sight of girls sucking cock to be a beautiful sight indeed. To my mind, having their ruby lips wrapped around an erect penis increases a woman's sexual attractiveness a hundred-fold, as nothing says "I'm a lovely, sexy slut and you want me" more than blowjobs (well, it does to me, at least).
The most recent time was this past weekend. I was sitting downstairs at a house party this weekend, just drinking and chatting away, when I suddenly had to go to the loo. Walking up the stairs, I noticed a lovely young girl perched prone on the steps, precariously positioned between the legs of a gentleman who was himself laying supine and spread-eagle on the landing. The two were both semi-clothed, though, so the naughtiness potential was limited to her running her hands up and down his inner thighs and occasionally stopping to stroke the noticeable bulge in his undies. I carefully made my way past and carried on to answer the call of nature that had summoned me up there in the first place.
When I returned from the bathroom, the pair were still at it. Same position, same thigh and trouser-sex style stroking. "Don't they get bored with that?" I mused silently to myself, thinking that I would rapidly grow impatient with such a non-contact sexual situation. Honestly for me, it proved sexually frustrating just to watch! Thus, I decided to do something about it. Being the proactive and shameless slut that I am (and, besides, both of them were good friends of mine anyway), I reached down and fished the throbbing erection out of his underwear and pointed it in her general direction. As if by magic, her mouth eagerly descended upon the proffered penis and much delightful cock-sucking ensued.
"That's more like it," I thought, and continued to enjoy this sexy scene for several minutes. It was then that I remembered that I'd promised myself to keep my trousers on for this particular party, which was now proving to be a major trial as my own cock strained against their confines. 'Twas a shame, too, as witnessing her in the simple act of giving a blowjob made this already-sexy young lady totally irresistible to me. *sigh*
Oh well, another opportunity missed. Perhaps at the next party I shall vow instead to keep my trousers off the whole time. I was reminded of this erotic experience today when I encountered a gallery of a gorgeous redheaded plumper with huge tits called Kore Goddess over at PlumperPass. Instantly, she embodied my vision of a stunning cock-hungry slut to a tee, laying back and masturbating with a dildo whilst she awaits the genuine article.
Then suddenly, as luck would have it, an erect penis conveniently appears in the periphery and it's "let the blowjobs begin" from that point forward as Kore shows off her cock-sucking proficiency by deftly drawing the hovering slab of man-meat into her mouth with her almost prehensile lips and tongue (although it escapes me how the anonymous male organ donor in this scene can resist having a go on those lovely huge tits of hers)!
Here's voluptuous busty redhead Kore Goddess from PlumperPass.com: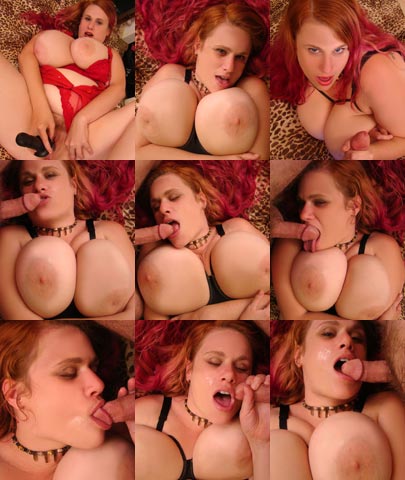 CLICK HERE TO VISIT KORE GODDESS AT PLUMPERPASS.COM
(webmasters)