When I think of BBWs Gone Black, the first thing that cums to mind is obviously the best BBW interracial hardcore site in the world! However, a recent visit there for BBW blog research purposes only (of course), I found beautiful busty blonde BBW Kirsten Halborg lending a whole meaning to the phrase…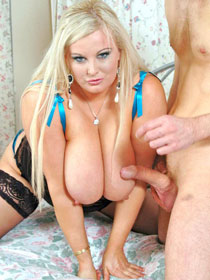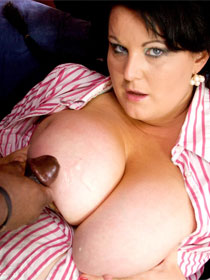 …so forget the colour of the penis she's playing with, the most shocking thing about the series is that this beautiful blonde BBW has gone black by dyeing her lovely blonde locks! Now, I'm not one to be particularly prejudiced when it comes to hair colour as I'll fuck anything with big boobs and a voluptuous body to boot but, when all is said and done, I, like most gentlemen as the saying goes, prefer big busty blondes in my rules of attraction.
Honestly, it reminds me of the time my wife was invited to appear on Channel 4 reality show The Salon and they "inadvertently" coloured her hair! Thus, the wonderful woman whom I'd always seen as being a stunningly sexy blonde suddenly became through the transformation of her tresses a comparatively boring brunette (blimey! does that make me "hairist"?). Then again, it was a bit like fucking another woman for a while, so it's not all bad.
But, as I said, hair colour aside, I'll pretty much fuck anything with tits – even a busty non-blonde freaky goth chick – so I figured I'd best give the super sexy BBW beauty Kirsten Halbourg a chance as a dark-haired individual of exemplary eroticism. After all, she's still got the same huge tits and plump pussy to poke my penis in (and said chance would be a fine thing indeed!). In order to get used to her new look with jet black hair in ponytails, though, I'd best do more "research" on the beautiful albeit non-blonde Kirsten Halbourg in equestrian gear with a riding crop in her cleavage courtesy of these busty BBW interracial sex photos and videos from BBWsGoneBlack.com:
Kirsten Halborg goes black in more way than one in videos from BBWsGoneBlack
Kirsten Halborg goes black in more way than one in videos from BBWsGoneBlack
CLICK HERE TO VISIT KIRSTEN HALBORG AT BBWSGONEBLACK.COM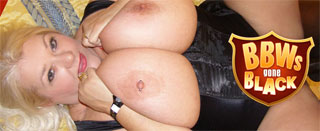 (webmasters)