If you love big belly BBW babes getting freaky, this Plumper Pass has two that fit the bill: Kendra Lee Ryan and Luna Storm! These two huge BBW babes show off their bodies in bikinis, as they get a little better acquainted by the pool. They look incredible, with sparkling bikinis in two different colors. Their bellies hang over their bikini bottoms, showing off exactly how big they are. We love how good they look when their asses and bellies jiggle. They're horned up and ready to go, spanking each other happily as they get into the pool together.
As soon as Kendra Lee Ryan and Luna Storm get into the pool, their friskiness jumps sky high! They splash each other playfully, when they finally reveal a little more skin. Those big floppy titties are now free to play with! They finally begin stripping off those bikinis, spreading their thick ass cheeks and smiling as they play. They drip water all over each other, showing off their incredible lust for each other.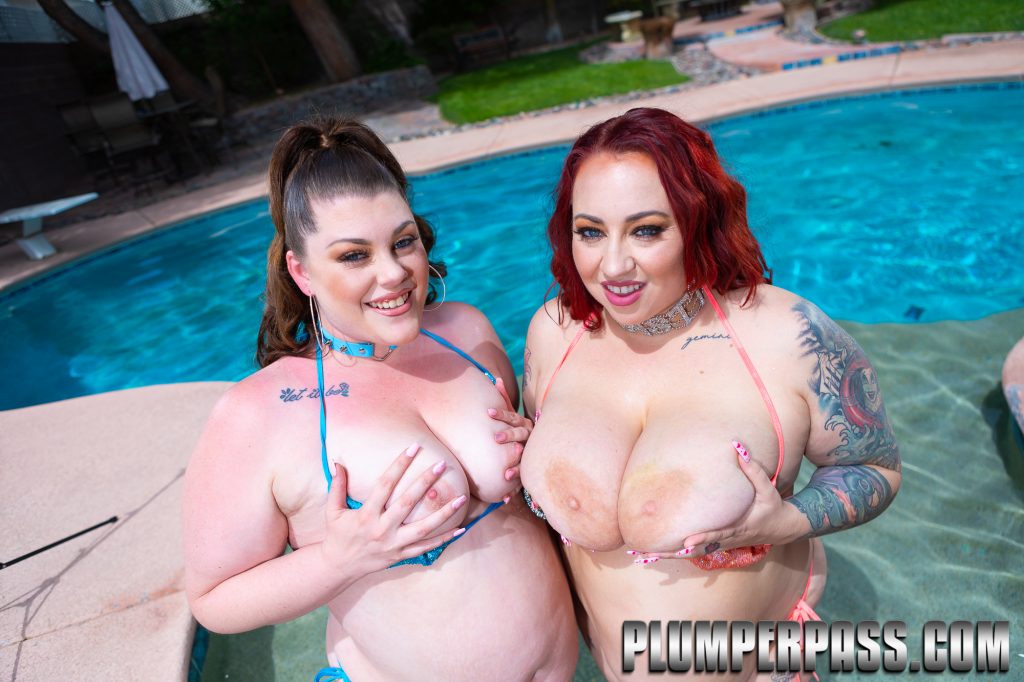 BBW Lesbian Babes Fuck Around in the Pool
The scene starts with just Kendra Lee Ryan and Luna Storm. They're happy getting freaky all on their own. The finally fully remove each other's bikinis, and get the tease really going. Kendra spreads her legs revealing her thick busy, and Luna is perfectly ready to devour that luscious, wet pussy. She slides her fingers in, ready to explore the big tits redhead with her tongue. She jiggles Kendra's belly while she plays, knowing that you love seeing all this hot BBW Lesbian action.
Now that it's Kendra Lee Ryan's turn to play, she gets really creative! She wants to ensure luscious Luna Storm gets tons of pleasure, so she takes time with her hairy pussy. She even uses her huge tits to pleasure her, as she lays on the side of the pool. One of my favorite parts here is Kendra taking Luna's pussy juices all over her tits and making her get a taste of herself. She simply puts her big tits in Luna's face and asks her to taste.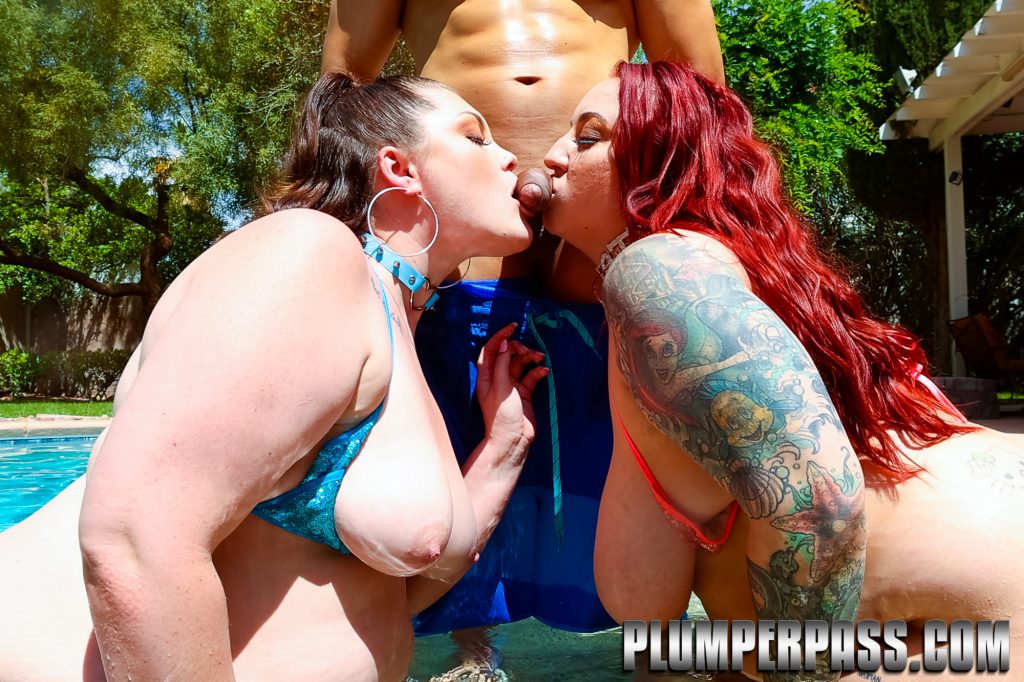 Kendra Lee Ryan and Luna Storm Share cock
After Kendra Lee Ryan gets a healthy dose of eating Luna Storm's hungry hairy pussy, these BBW Lesbian beauties find they get to enjoy some dick, too! Their partner with a BBC arrives to give them pleasure they simply can't get from fingers and tongues. They continue the red hot belly and tit play while they also share cock, swapping that BBC from mouth to mouth. This naughty pair shows off their skills, gagging on cock together. It's fun to watch them bob up and down, while getting more and more wet in the process.
Finally these babes get pounded, which is exactly what they were looking for! First up is redhead BBW MILF Kendra Lee Ryan, getting pounded from behind while she eats Luna Storm's pussy some more. As much as she loves getting pounded, the babes trade places ensuring they both get filled up and fucked after getting those pussies eaten. Their enthusiastic moans and big thick bodies definitely please from start to finish, while these BBW babes work to get each other off!
You can enjoy Kendra Lee Ryan and Luna Storm fucking in a threesome now, over at Plumper Pass!