Kendra Kox in a bikini is exactly what I needed today! Not only is she a blonde BBW, but she's got a super fat ass, big tits, and a pretty, slutty face. This tattooed blonde is down fore some fun in her sexy bikini showing off her jiggly fat ass with sparkling flair. She bends over the side of the jacuzzi and twerks, which makes us feel overjoyed! Hopefully you'll love how this plum babe jiggles and shakes as much as we do in this scene for Plumper Pass!
Lovely blonde Kendra Kox slips into the jacuzzi, getting all her rolls and curves wet when she teases. She twerks more and more, making this PAWG a real sight to see! Her ass bounces in the water, glistening and jiggling. If you can't wait for her to strip, you're not alone. This blonde BBW is ready to strip off her top and make you hard with every curve.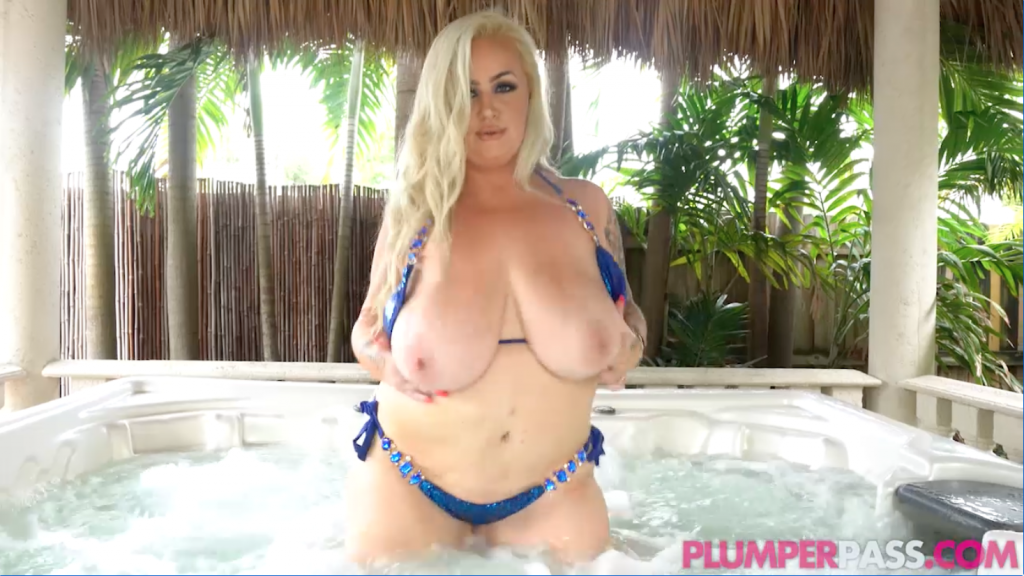 Blonde BBW Strips And Shows Big Tits in a Bikini
The first thing you get to see are Kendra Kox's tits popping out of her tip. She jiggles them freely, dipping them into the water. If you're not already hypnotized by this PAWG we'd be shocked. Those tits are something else, and she loves playing with them for the camera. She knows how tempting she is, and she awaits her brother-in-law to arrive on the scene.
When Sean arrives, he's loving how she looks in her bikini. Those big tits are on his mind, and he'd love to get a taste of her while she's feeling frisky. And who wouldn't want to play with Kendra Kox? She's enjoying the bubbles when he slips into the hot tub with her, spending time alone with her for the first time. They relax together and one thing leads to another, and their conversation begins to get a little Raunchy.
Kendra Kox Shows Big Tits To Brother-In-Law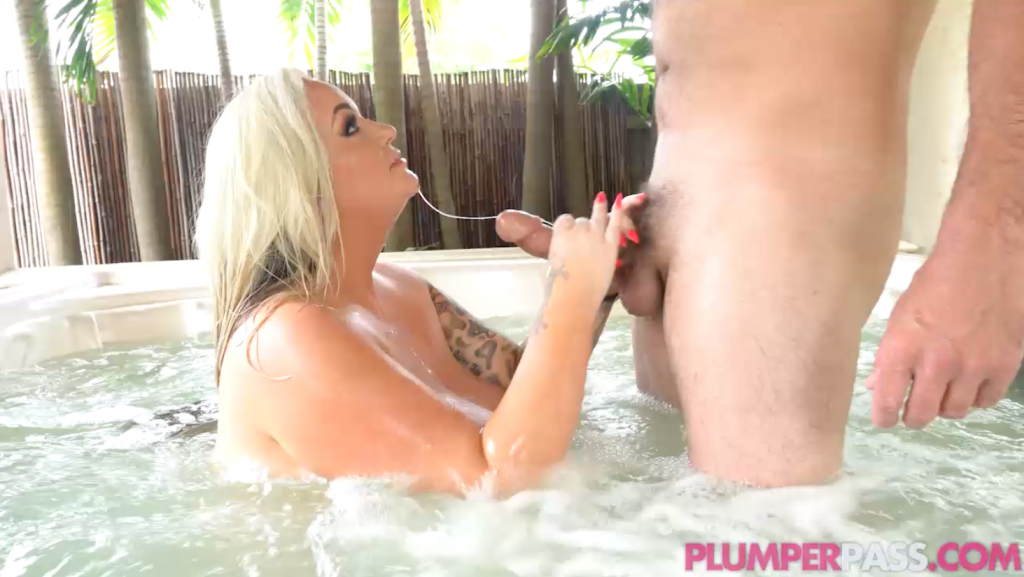 When Sean makes his move, she's surprised to find that he was actually hoping to get her that ngiht she met her husband. They agree that they can play a little bit, as long as they keep it a secret from her husband. Sean simply cannot resist Kendra Kox's big tits, nor can he resist burying his face in that big fat ass! He's going to prove that she picked the wrong brother to bring home! She's cheating on her husband for the first time, and Sean is happier than a kid in a candy store!
He dives face first into those big titties and Kendra Kox is loving the attention! He begins stripping off her bikini and loving every curve on her body, as this tatted, blonde BBW gets hotter and wetter. Sean slips off his shorts and she drops her bikini. It's official, this babe is happily cheating on her husband! She gets down on her knees and sucks his cock hard, gearing him o to fuck her right in the hot tub.
You can watch Blonde BBW Kendra Kox fuck now at Plumper Pass!