Since I've not seen hide nor hair of my sweet Xtasy for a while, I guess it's high time I nominated another extremely well-endowed all around woman to serve as most beautiful BBW in the world, for blog's sake! I'd first noticed blue-eyed busty blond June Kelly yonks ago toward the beginning of MyBoobSite when she was being the big boobs MILF next-door at her own softcore site. Then, I noticed that she started getting a bit more glamorous and sexy when she started appearing elsewhere until she finally gave in and went mildly hardcore.
Lovely mega-juggy June at last came into her own in big-time busty pornstar stylie when she joined up with the Plumper Pass family of BBW sites, exploring the soft sensual potential of her busty voluptuous body and massive breasts to the max as her giving a whole new meaning to milking cock with her tits attests. However, it's in her latest series at BBW Dreams that I began seeing super soft and sexy June Kelly in an entirely different light…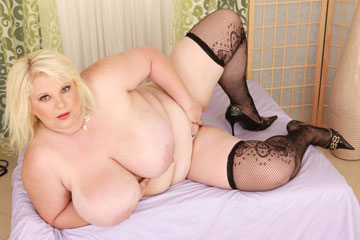 …yes, the one photo above alone was nearly enough to make me forget all of the fabulous fatties I've featured on my BBW blog before. This decidedly hotter and sexier June Kelly almost has the perfect body as far as I'm concerned; that delicious little bleached blond head with its sexy blue eyes fixed in a piercing gaze as if to awaken my penis for entry into her sensual mouth for some slurping cock sucking before I make the voluptuous venture downward for an erotic exploration of her more curvaceous charms – with my hands, though, since the eyes, burning with desire as they are, aren't budging from that radiantly beautiful face of hers for anything. It's a shame, really, as I'll only get to feel her huge tits heavy within my breast fondling fingers and caress horny handfuls of that pleasingly plump belly fat between my pervy palms before wrapping my arms around to hug her hefty hips and lingering on those lovely love handles until the genital gravitational pull of her pussy becomes too much to resist.
Ah, but one must take their time with such a wonderfully womanly woman to sexually savour the teasing tactile sensation of every last curve, crease and crevice of soft fat flesh this extremely well-endowed woman has on offer. Working my way down the outer curves of her ample ass to those sexy stockinged legs seemingly to slender to support her whole package of perfect plumper pulchritude, I only arc upward upon touching the tops of her silky black stocking to then trace a tantric path up her inner thighs into the compelling fat folds of flabby flesh acting as a sensual still-point between luscious leg meat and voluptuous vulva of her magnificent mons pubis where the plump pussy play may commence. Ah, to have gorgeous June Kelly as my very own, laying naked in my bed perfectly posed as she is in the naughty nude photo above – now that would be my ultimate BBW dream!
Yes, June Kelly ticks all my BBW boxes being a busty blonde with huge boobs of milky white flesh and a firmly fat belly all ripe for the fucking as I wallow in her well-endowed wonder for hours on end. I don't even mind the fact that she's not fucking me at the moment, having found some random penis pal to play with in the meantime, as I love a woman who has sex with other men while I watch (yeah, I'm a bit of a pervert, but I do like seeing my girl fucking from all angles for the unique sexual perspectives it provides, something that just isn't possible if I'm the one with my penis in her pussy all the time). And so, let's all become voyeurs of this voluptuous vixen as she sucks and fucks her way to my erotic vision of big boobs blonde BBW perfection in hardcore photos and videos from BBWDreams.com:
June Kelly hardcore from BBWDreams
June Kelly videos from BBWDreams
CLICK HERE TO VISIT JUNE KELLY AT BBWDREAMS.COM

(webmasters)