Whatever could be better than having a voluptuous woman naked and straddled atop you, her massive breasts hanging down from her chest in all of their pendulous glory so precariously close to your face that you need only stick out your tongue to lick her nipples as you reach up to grab huge, heavy handfuls of tit-flesh to steady the undulating motion of their magnificent mammary mass? Not much can top that, in my humble opinion!
The best thing about this particular and intensely erotic breast-centric activity is that it can be enjoyed by boys & girls alike! In fact, I dare say that big boob loving women have it even better off in said succulent scenario, as they've got tits of their own to contribute to the breast-fetish festivities!! Indeed, going tit-to-tit girl-on-girl gives the added bonus of mashing your massive mammaries together in the manner of a tit-sandwich thus creating a colossal combined chasm of "super cleavage" to rival the Marianas Trench and then jiggling your boobs to simulate a cataclysmic undersea earthquake!!!
Okay, perhaps I'm exaggerating there, but there's certainly a world of wondrous possibilities that two well-endowed women can explore together which wouldn't be available to boobless blokes like me… :~( …and, for that, I must admit a twinge of jealousy. I guess I should simply resign myself to the sad fact that there are some sexual activities involving big tits that I'll never get to enjoy, apart from being a spectator.
And so, in order to indulge in the latter with voyeuristic intention, I've invited sexy pair(s) of our lovely Samantha 38G & 40JJ BBW Shugar over to demonstrate! In the latest instalment of the videos they've done together for the former's SexySamantha38G site, Sam & Shugar get down to precisely the sort of huge tit-to-tit action I'm talking about!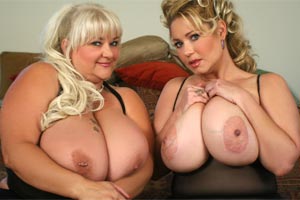 (photo courtesy of SexySamanta38G.com)
[Oh, and Sam, while I've got you here, I've got a bone to pick with you! What's up with you inviting one of my girls, 34FF Ctexsins Chelle, over to yours for some tit-play (the fact that you & Chelle live relatively close to each other whereas I'm about 6,000 miles away notwithstanding)?! It's not fair and merely gives me something else to be jealous over!! That said, I've seen a few of the photos from that shoot and the ones of you licking Chelle's pierced nipples whilst your own huge boobs were draped across her belly were simply stunning! Thanks sooo much for giving Chelle this brilliant opportunity to work with you!! :~D]
But, back to the videos, I have to apologise for the fact that the busty blonde BBW beauty that is JJ-cup Shugar appears largely as an exceptionally endowed extra in these video clips, but I really wanted to focus on the tits with this one. Here's Samatha 38G & 40JJ Shugar together tit-to-tit in the boobsome twosome's latest videos for SexySamantha38G.com:
CLICK HERE TO VISIT SAM & SHUGAR AT SEXYSAMANTHA38G.COM!

(webmasters)