I've been sitting on these photos of Hippy Chick from PlumperPass for a while now (well, not literally, as that would just be silly – not yet being possessed of the superpower to see through my ass – and thus preclude me from beholding the sublime beauty ensconced within their pulchritudinous pixels) as I was troubling myself over how to describe them in a tasteful manner. Inevitably, however, everything that came to mind left me with the impression that readers would interpret my writing to mean that Hippy Chick was a bit of a slut (and, although I consider "slut" to be a term of endearment as well as a positive sexual quality, I am nonetheless beset by the fact that it is, more often than not, used in a derogatory sense). Then, whilst going through my to-do list today and seeing the lovely Hippy Chick latently languishing in my archive unshared, I thought, "Sod it, who cares what anyone else thinks? These pics are far too stunning not to post!" And so I shall.
It was the following photo that caused me the most difficulty in knowing what to say, as it simply struck me as a not-so-subtle invitation to fuck…
…with the voluptuous Hippy Chick squatting down nearly nude and spreading her pussy with a sexy smile that said, "Come and get it!" Needless to say, it was this photo which first caught my attention. What BBW lovers could decline such an overtly sexual invitation devoid of the subtlety, innuendo and progressive efforts required to obtain such favours from women in the "vanilla" world? Indeed, Hippy Chick is my kind of girl and I can only hope that, over time, more increasingly open-minded females come to adopt this straight-forward, no-nonsense approach to sex. Ah, but I digress.
Goaded on as I was by that first spread-eagle pic, I decided to explore the rest of the gallery thumbnails to see what other tantalising treasures might lie therein, and it wasn't long before I happened upon this next photo of Hippy Chick in bed adopting the doggy position up in her hands & knees…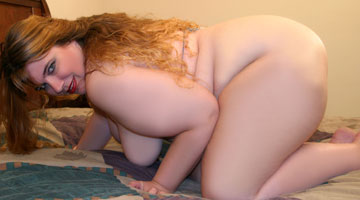 …which, although decidedly less slutty than the first, only served to encourage me even more, inspiring the desire to get naked and slide up behind her so she could feel the throbbing erection elicited by these pics pulsing against her pussy as I leaned forward to fondle her big cuddly belly.
This, of course, only led to far more sexual speculation: How long would I be able to hold out with my penis pushing rhythmically against her clit before I'd have to ease back just enough to allow my cock-head to penetrate that moist, sweet vagina of hers? If I leaned into her enough whilst we were fucking, would I be able to take hold of her big tits with their pierced nipples and her luxuriously plump belly at the same time (and, if I were able to do so, would I just cum instantly and spoil the moment?!)? Or would I rather switch positions entirely, laying on by back with my head between her legs so I could suck on her pussy flaps while those massive thighs pressed firm around my ears? This last one naturally led my mind into a 69-position scenario, with Hippy greedily sucking my cock as I continued to relish the taste of her wet twat, her big breasts resting on my tummy as her own fat belly enveloped the rest of my torso like a warm BBW blanket of plumper goodness. While that first photo just got me wanting to fuck her, this second one engaged me in a body-worship fantasy wherein I wanted to leave no compelling crevice of her curvaceous form unturned, untouched, unlicked or unfucked (and, consequently, leading me to muse over just how you could go about "unfucking" someone anyway, at least in a believable manner).
Blimey!! All of that from a single photo! Honestly, if this entire gallery had merely consisted of the two photos above, I'd have been content. However, there are a lot more where those came from, so I guess I should share a few more samples from this series in which Hippy Chick ultimately enjoys having two big black cocks at her disposal courtesy of PlumperPass.com:
CLICK HERE TO VISIT HIPPY CHICK AT PLUMPERPASS.COM
(webmasters)