Hi, my name is Reese, and I'm an anal virgin. [admin edit: "Hi Reese!"] I've spoken out about my aversion to anal sex before on MyBoobSite – and, in return, received a flurry of comments in support of plowing the Hershey highway – asserting that, while the vagina is a bidirectional orifice designed for penis penetration by nature, a girl's ass is an exit and not an entrance. Indeed, if I had some busty voluptuous nude vixen spread out before me like sex on a plate as in the manner of sexy 38F Dani Amour from the Hot Sexy Plumpers site below…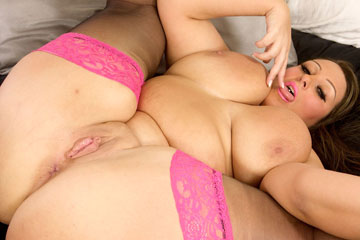 …I'd be sorely tempted to fuck her tits or fuck her mouth or fuck her pussy or even fuck her fabulous fat belly flesh, but fucking her up the ass (despite its convenient proximity to my penis in the photo above) would be the last thing on my mind!
However, I've got a dirty secret to admit today as well. While I say I'm an anal virgin with regard to engaging in uphill gardening with my genitals, that statement is only about 90% true (provided being a 90% virgin is even remotely possible). You see, looking back on my sexual past for a bit, I can recall one erotic experience involving anal activity which refutes my virginity claims completely:
My girlfriend was drunk and decided to go to bed early. When I finally decided to join her an hour later (having had a bit too much to drink myself as well), I opened the bedroom door only to find my girlfriend naked on her hands and knees ass up in the air rubbing her clit and massaging her labia much in the manner of this sexy rear-view photo. Having enjoyed watching my girlfriend masturbating before, I knew she liked having a penis in her pussy to push against in the vaginal contractions of her orgasm.
Thus, with me already sufferiing a raging erection from watching her wanking away and eager to offer my cock in her cunt when she came, I got naked and knelt behind her, pushing my penis down towards her pussy with my boner brushing her bare butt in the process. However, about halfway down its genital journey to her moist vaginal orifice of orgasmic ecstasy, she suddenly rammed her ass hard against me just as my dickhead was aligned with her asshole until I felt her sphincter kiss my penis hole but, rather than recoiling in abject horror upon what I thought at first to be unintentional rectal contact (her sharing my anal aversion when it cums to ass fucking activities), she just kept repeatedly banging her butt backwards bucking against my throbbing knob end whist urgently whispering, "Fuck me! Fuck me in the ass!"
She stopped masturbating long enough to reach up and lubricate my cock in the vaginal juices soaking her pussy fingering fingers before wrapping them firmly around my now slippery swollen shaft to guide my engorged genitalia home into her asshole for non-vaginal violation. I nearly came on contact from the sublime sensation of the horny head of my erect penis penetrating her rectum up past the anally fornicating flange of my glans but, before giving her an instant jizz enema of cum in her ass (which I'm sure she would've regretted), I pulled my penis out of her ass just as she began cumming from the carnal combination of pussy masturbation and anal stimulation at once.
I was so turned on by the penis squeezing sensation of her sphincter contractions around my cock as her orgasm came on whilst pulling my dick out of her ass that I nearly ended up giving her an accidental anal creampie in the process of repositioning my penis in her pussy (as it was, I began ejaculating even before I got inside her vagina but, since I was by then lined up for pussy penetration, ended up jizzing her clit and labia lips in a surprise pre-coital pussy creampie making it feel like I was going in for sloppy seconds instead).
Our continued mutual orgasm upon penetration was intense and the sexual challenge of navigating my already cumming cock into her pulsing pussy tight from the vaginal contraction of orgasm had only enhanced the erotic excitement of the scene. In the end (which was the one place I didn't cum), it was probably the shortest sex session we'd ever shared, but the intense eroticism of my brief experience with the forbidden fruit of anal sex made it a most memorable fuck.
The next morning when I asked her about our unexpected anal entry masturbation session, she didn't remember a thing but couldn't believe that she'd actually asked me to fuck her ass since she was so put off by the prospect. Thus, I'm glad I didn't cum in her butt and that we'd only managed to get 10% of my cock in her ass before disengaging our anal in flagrante delicto (the 10% penis penetration of her asshole being how I justify my 90% anal virgin ass-ertion).
And so, I guess I'm not as averse to anal sex as I'd thought since the masturbatory memory is still a turn-on today. :~)
Which brings us to the stunningly beautiful 38F busty plumper Dani Amour ass fucking away in her latest anal hardcore videos and photos from Hot Sexy Plumpers. While the ass rimming analingus of licking her asshole and tasting the chocolate starfish still isn't quite my cup of cocoa, the anal sex itself is quite tasteful and I especially enjoyed the close-up anal creampie photos where he'd cum on her ass with jizz dribbling down her butt crack and between her big pussy lips (me being a large labia lover) leaving her glistening genitals and gaping asshole covered in cum in these ass licking analingus photos and BBW butt fucking anal sex videos from HotSexyPlumpers.com:
38F Dani Amour in hardcore BBW anal sex photos from HotSexyPlumpers
38F Dani Amour in hardcore BBW anal sex videos from HotSexyPlumpers
CLICK HERE TO VISIT 38F DANI AMOUR AT HOTSEXYPLUMPERS.COM

(webmasters)