Super BBW Latina Sammy Santos is a straight up feast, in this luscious scene for Plumper Pass. She's brunette, MILFY, and super sized, with her belly and tits billowing out of her swimsuit. She looks good, all dolled up, spreading her thighs. She starts by playing with her huge tits, as they spill out of her top. Then she brings her fingers down to her pussy, playing with herself as she stands there, massaging her tits. This naughty BBC is getting hot and horny, waiting to get her hands on some Big Black Cock.
Her scene partner walks over to enjoy a taste of her body, himself. He first grabs her tits, while whipping his dick out. He gets down to exploring this luscious Latina BBW's body, while she grabs hold of his super thick cock. He's already rock hard for her, almost unable to contain himself around all those plump rolls Sammy Santos has to offer. This fat girl is about to get rocked!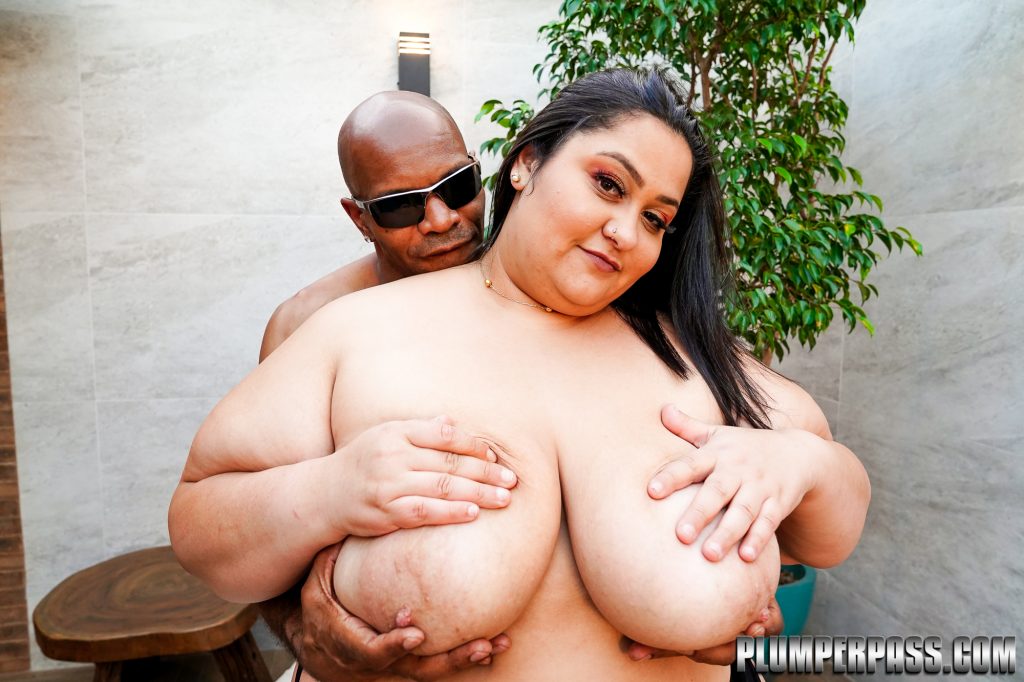 Latina BBW Strips Off Swimsuit and Plays With Pussy
Sammy Santos is a Big Latina, indeed. He cannot wait to strip off her bathing suit and get in all those incredible curves. She willingly bends over for him, while he slides her swimsuit off her fat, jiggly body. He loves watching it all jiggle at his whim. She grows more and more wet for him as he squeezes all her luscious curves and prepares to bend her over.
Now that Sammy Santos is pushed against the wall, ready to take him. Then he gives her big fat ass one last jiggle, and fingers her pussy just a bit before sliding his big dick deeply inside of her. That's a cock that can most certainly get past the cheeks, and Sammy is happy to take it when he finally slides inside. Then he pounds her hard, against the wall, but he needs to get a feel for those very willing lips of hers. He leads her to the pool furniture, where he can easily play with those big tits and slide right into her mouth.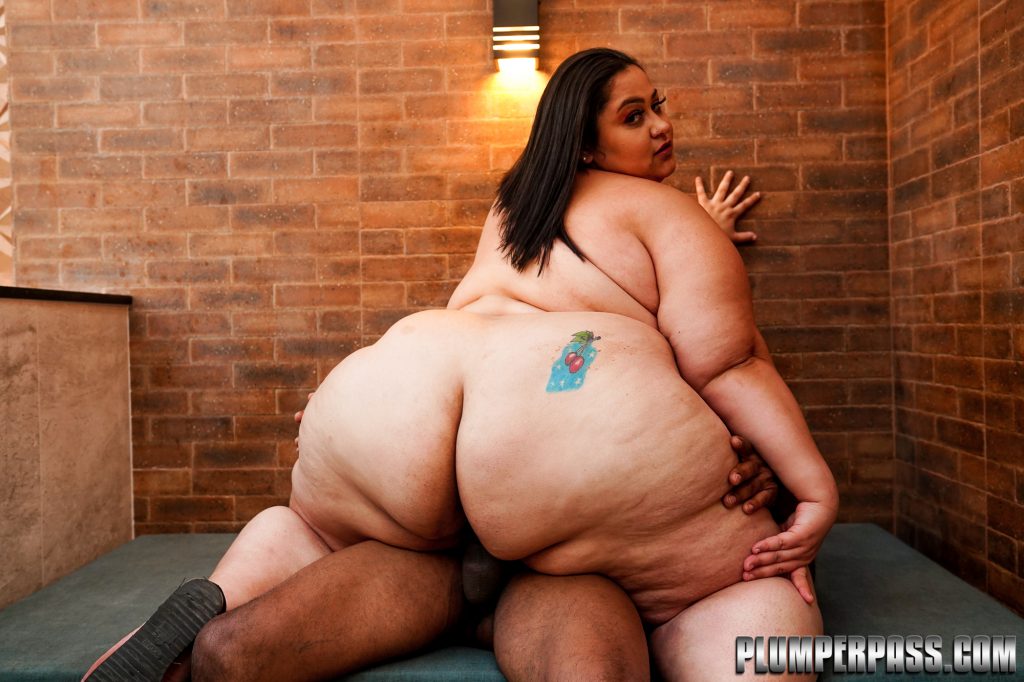 Sammy Santos Hardcore with BBC
This Latina BBW is down for anything. She's laid down, showing off her big thighs and rotund belly in all its glory. When she has balls placed in her mouth, she joyfully suckles them, as her belly and tits are jiggled. Sammy Santos loves to taste herself on his cock, fingering herself as he goes. Her trimmed up pussy gets more and more wet for him, so he dives in one last time to finger her hard and fast. Sammy Santos lays back, allowing herself to be pleasured at his whims.
When he's ready to deep dick Sammy Santos once again, he simply bends her over and slides right inside, sliding his dick all around her pussy and ass cheeks before sliding in. That big tattooed ass of hers jiggles while he drills away! It's a beautiful sight to see, while Sammy moans, taking every inch of that big Black cock.
You can watch Sammy Santos take a BBC now over at Plumper Pass!