I am sure everyone has certain things that hardly happen to them at work: A mechanic not getting oiled; a decorator not getting splattered and splashed on; a politician taking a pay cut… that kind of thing.
Well, in my line of work it's seeing something I have never seen before in plumper porn.
That happens to be the case here.
I feel I should be surprised and upset with myself over this. I don't know why… maybe I feel I should have seen an underwater blow-job before?
And yet, and yet. Until today I had, indeed, never seen a sub-aqua suck-off. I had never even considered the existence of such a thing as underwater oral.
I'm guessing there could be something with the whole breath issue tied up with deep-throating a dick (especially the likes of this big, black cock) and the whole drowning thing that can occur with water.
Anyhoo, here we have just that. No, not a drowning but a swimming-pool, pout-puckering, penis-popsicle.
The lovely, lumpy lass here is Sydney Screams.
[wpsr_socialbts]
Sydney is a cherub of a chubby measuring 42-38-40 and has a 36E bra size. That's not huge, boob wise, when your other curves ae as big as Syd's, but they're still a whole lotta lovely. (After all, no one could call E-cups small.)
I am afraid I can find no information on Sydney Screams' weight, but I do know she is 5'3″ tall. Or short, more accurately. Either way, that's gonna make all that flesh and all those folds be in one compact little fun fatty.
Other than my fascination with the swimming shenanigans, this video has some spectacular skin slapping, as the flabby skirt of a belly that chunky Sydney hefts around gets hefted up and down onto the tight tummied torso of her dark destroyer.
And underwater (Yeah, again. Bite me) wobbly, wet whale wonder that she is, Sydney shows us how the water caresses her copious curves and changes the flow of her flesh, compared to the shuddering and sloshing that we are more accustomed to from our BBW's.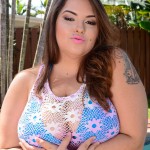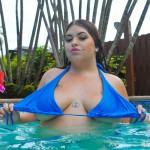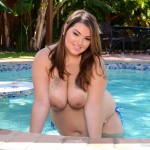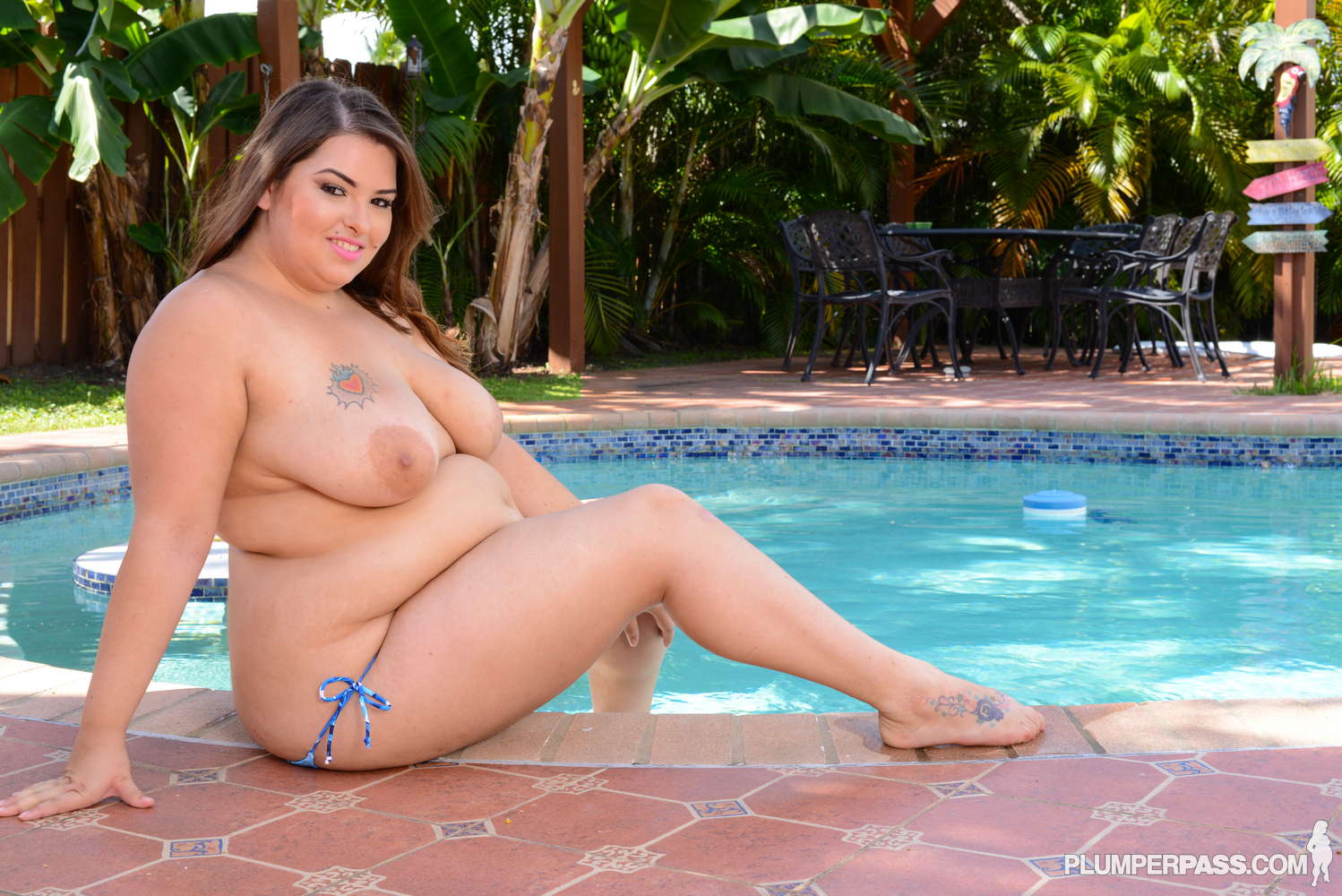 Click here to visit Sydney Screams at PlumperPass.com

See This Awesome Plumper Babe and other hot BBWS on WebCam at Plumperpasslive.com