Like a black widow, Dani Amour cradles her victim, who is wrapped up in front of her in this scene for BBW Land. She's so excited for this plastic-wrapped victim, and she's ready to pounce on him with a titty attack he most certainly will not forget. He's helpless to her advances, and this blonde BBW beauty is ready to use him. There's no where for him to go, but where this curvaceous babe wants him to go, and she has some plans for him for sure!
Dani Amour begins by smothering him with her tits. She's only wearing a tight corset and thigh high stockings, so her luscious body is free to use, and her curves are free to make him struggle even more. This dirty little boy loves suffocating between her tits, even if he seems like he's a bit out of breath. This sweet torture is the kind we all fantasize about around here, while this kinky blonde BBW gives him a show.
Blonde BBW Smothers Victim with her Big Tits
This "poor" boy can't even feel her luscious tits aside from her piling them onto his face. If her naughty grin says anything, it says that she really enjoys suffocating this poor soul, and making him struggle under her breasts. She talks dirty, humiliating him, and calling him a dirty little bitch, while he can barely even breathe. This victim may be out of breath, but he seems willing to take more smothering from Dani Amour. She begins to make moves to torture him further, since he cannot touch her.
Dani Amour reveals her bare ass and pussy to him, torturing him with the prospect of the taste and feel of her body. She makes it easy for him to suck on her pussy, as she grinds over his face, happily shaking her ass and squashing his face in each ass cheek. Now she is tempted to give him a break, after making him struggle under her bare pussy.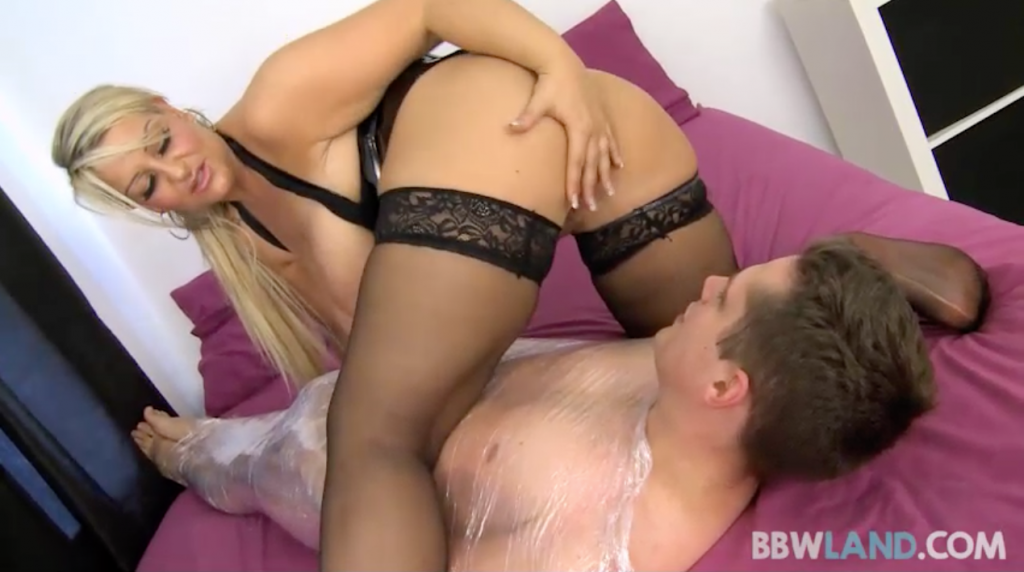 Dani Amour Kinky Smothering Orgasm
Dani continues to make her victim cough and gag under her ass, between her tits, as she humiliates this poor sap. The blonde BBW clearly loves giving him more and more, and he begs under her touch. Lovely Dani Amour cuts off all his air time and time again with her fingers, taking her fist in his mouth to boot! She loves making sure he gets a healthy dose of her beautiful ass, getting his nose and face right up in there while he lays helplessly.
Dani Amour asks him to get his face right back in her pussy, because she is ready to cum after spending tons of time torturing him under her curves. This BBW blonde is loving taking charge of him, making it more and more difficult to maneuver. He coughs and gags, stimulating her clit, while she queens over his face. She clams her legs right, riding his face while he struggles more and more, crying out from his plastic wrap prison.
Get down with Dani Amour, happy to smother her man now at BBW Land!