Remember my complaining there wasn't enough cunnilingus in porn a while back? Well, the porn gods (i.e. big tit pimp Clint) have obviously been listening to my pleas as the latest series from gorgeous J-cup ginger goddess Kore Goddess at BBW Dreams has more cunnilingus content than I can shake my pussy licking tongue at! To get us in the mood for licking labia lips and kissing clits and orally violating vaginas by virtue of the voluptuous vulva this vixen's got on offer to satisfy our collective cunnilingual lust (as if we'd actually need any motivation), here's beautiful busty BBW redhead Kore Goddess nude on the floor spreading her legs and presenting her pussy naked for our oral sex attentions as her perfectly pendulous breasts and sexy saggy belly fat pool to the pull of gravity overcome only by the allure of her erotically exposed genitals exerting their own force of attraction upon her admiring potential pussy licker pulling his penis above her…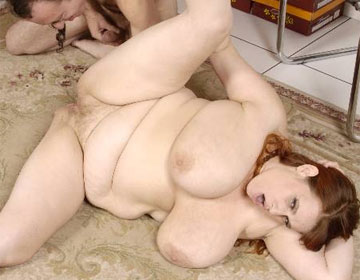 …my oral sex obsession over the female genitalia can be traced back to the very first time I spent the night with a girl pleasuring her pussy in an all night cunnilingus session lasting through sunrise as previously detailed on my vagina blog. And, indeed, from that point forward, any horny girl needing a tongue up her twat need only spread her legs and flash some gash as muff diving motivation for me to lock my lips upon her second pair of the same. And, although I'm not opposed to her orally engaging my gentials as well in an erotic 69 embrace, I much prefer to lavish lingual love on her luscious lady bits without the the distraction of someone sucking my cock as I prostrate myself before her plump pussy in an oral act of genital worship.
And that's precisely what our sneaky penis pulling pussy peeking pervert does repeatedly through the course of the carnal collection of sexy cunt licking photos and videos below! No longer the lonely vaginal voyeur masturbating over her naked body as he lurks luridly close to Kore Goddess' genitals wanking in the corner, the cunning runt releases his cock and leaps into action intent on getting a mouthful of pussy meat to satisfy the perverse sexual desire of his borderline obsessive oral inclinations (to which I can easily relate). Despite gorgeous Kore plying his penis with her feet and mouth and massive tits as a smorgasbord of sexual possibilities before pussy fucking commences, he just keeps getting repeatedly distracted by her tasty twat in what turns out to be busty BBW sex interspersed with a succession of long running cunt licking scenes of him taking constant cunnilingus breaks in between the fuck bits!
Indeed, it's nothing less than a continuous cunnilingus feast for an avid plumper pussy licker like myself, starting off with some foot fetish toe sucking (which I believe is referred to as shrimping in sex circles) and a footjob followed by a cunnilingus break. Then it's on to a juggy J-cup busty titfuck and titfucking blowjob followed by yet another cunnilingus break before she drags her huge tits across his chest and his cock gets mounted masterfully in Kore-on-top cowgirl style sex with her massive breasts hanging as heavy handfuls for his boob squeezing pleasure. "Ah, but whatever could happen next?" I hear you inquire, only to be as surprised as myself to learn that the answer is, yes, another pussy licking cunnilingus break before one final fuck to bust his nuts and blow a load of cum on her tits in the end as she sucks him dry of semen with her sexy cock sucking mouth.
And so, challenging my complaint that there's not enough cunnilingus in porn, here's ever lovely busty redhead Kore Goddess and her gorgeous J-cup juggs in hardcore plumper pussy licking photos and BBW cunnilingus videos from BBWDreams.com:
38J Kore Goddess cunnilingus photos from BBWDreams
38J Kore Goddess cunnilingus videos from BBWDreams
CLICK HERE TO VISIT 38J KORE GODDESS AT BBWDREAMS.COM

(webmasters)