Having just breast blogged April McKenzie's tube top tits on my boob site…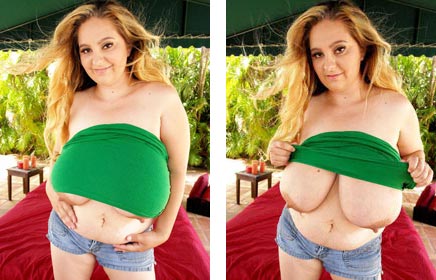 …follows some of my more prurient ponderings upon said self-same series:
Achieving simultaneous orgasm is rare in threesome situations. The only time I've "cum" across it has been during MMF DVP sessions since, once one "goes off" (usually the less experienced male due to the unfamiliar sexual over-stimulus of too much meat being packed into a tight sausage sheath), the throbbing pulse of ejaculation can set off a chain reaction causing the other erection to erupt as well. And, if the multiple cock crushing vaginal contractions of the female orgasm are involved, it's more often than not "end (sex) game" for all three of you!
However, with other MMF threesome sex activities like spit-roasting or the mutual masturbation of two guys jacking off over the girl's boobs bukkake style, it's far less frequent due to the carnal combinatorics involved. Thus, I'm always somewhat impressed when I see a double cumshot as shown in this dick defying demonstration on the "udderly" gorgeous GG-cup breasts of adorable April McKenzie getting jizz on her tits from two cock at once in her most recent series at the Hot Sexy Plumpers site…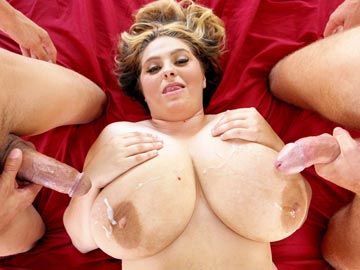 …but this is a bit backwards, isn't it? After all, how often does sex start with a cumshot (well, actually, I've found it to be a semi-regular occurrence after a handjob or a blowjob to cum-pletion, but that's another story altogether)?! And so, let's have a look see how this massive mammaries menage et trois transpired for curvaceous, cute and cum loving group sexy greedy girl 36GG busty blonde beauty April McKenzie in her big boob tube top tits threesome photos & videos from HotSexyPlumpers.com:
36GGApril McKenzie threesome hardcore from HotSexyPlumpers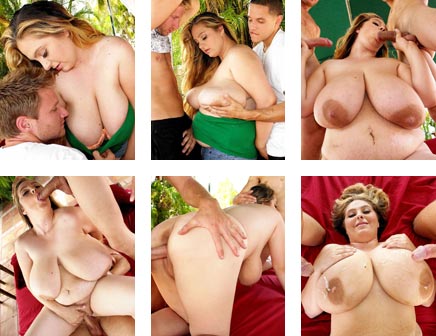 36GG April McKenzie threesome videos from HotSexyPlumpers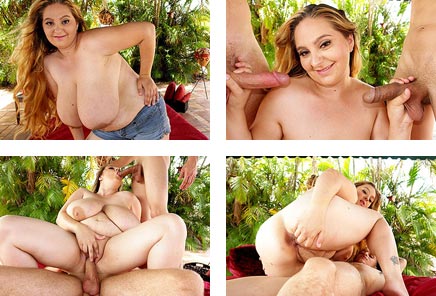 CLICK HERE TO VISIT GG-CUP APRIL MCKENZIE AT HOTSEXYPLUMPERS.COM

(webmasters)